Kolkata
US Consulate, Contact Base host two-day symposium in Kolkata for women entrepreneurs and leaders
Kolkata: The U.S. Consulate General Kolkata, in partnership with social enterprise Contact Base, recently hosted a two-day symposium that focused on building regional coalitions and networks to strengthen women's leadership in the global economy.
The participants in the event included business leaders, change-makers, entrepreneurs and educators, and stakeholders who could ensure economic empowerment of women in India, Bangladesh, Nepal and the USA.
They aimed to build regional coalitions and networks in South Asia to strengthen women's leadership in the global economy, exploring ways of strengthening access to markets as the foundation of women's economic empowerment and exploring tools and approaches to manage well-being at work and harness leadership skills at the workplace.
Speaking at the event in American Center in Kolkata, U.S. Consul General Melinda Pavek said: "This event is one of many efforts across the region that continues our partnership with local organizations to focus on raising awareness and motivating action toward revised policy frameworks, safer work environments, continued education, and equal compensation."
"For our part, we will continue to contribute to the strengthening of this framework as a South Asian dialogue and look forward to continued regional synergies and collaborations," she said.
This meeting was a part of the project 'Women Welding the Workplace'.
Selima Ahmad, Member of Bangladesh Parliament, Entrepreneur, and Founder President of Bangladesh Women Chamber of Commerce and Industry, told IBNS: "It is always a pleasure to see how women entrepreneurs are keen to develop themselves and contribute to their families and even to the society and the nation to which they belong."
"These interactions help them to learn and develop their networks and to further grow their business in the future," she said.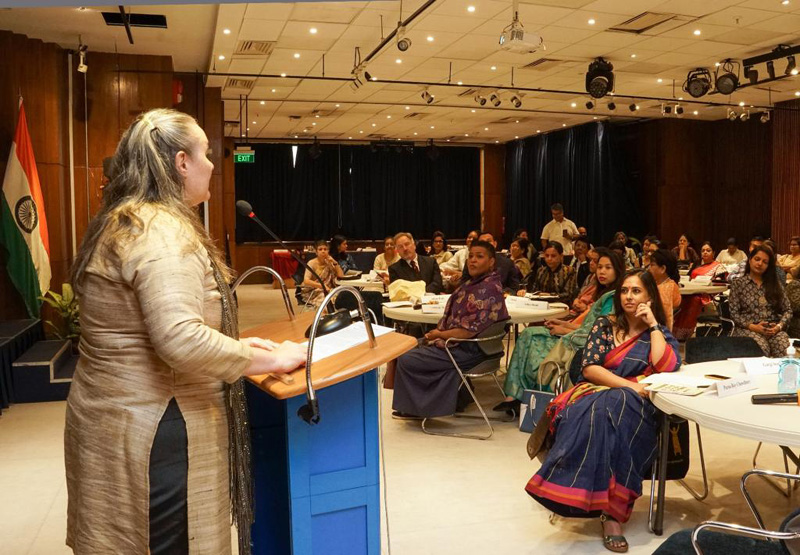 U.S.-based wellbeing experts Kimberly Moore and Ednesha Saulsbury, co-founders of Black Woman Be Whole, joined the event and said the symposium helped them in gaining knowledge by interacting with other fraternity members which would help them in expanding their business further.
"An interesting part of participating in the event was that I interacted with some fantastic people who were ready to share with us their thoughts and feelings about the industry," Kimberly Moore told IBNS.
Neeru Rayamajhi Khatri, President, Federation of Woman Entrepreneurs' Associations of Nepal, said: "We joined the event with the hope of learning and sharing information and the symposium helped us in doing it."
"We especially learned about networking and this is really important for entrepreneurs," she said.
Ananya Bhattacharya, Director and Vice President, Contact Base, said: "The goal of the workshop was to help women in developing networks and hence ensure that these entrepreneurs and professionals can reach leadership positions."
(Reporting by Supriyo Hazra)