Video grab
Protests erupt in US's Atlanta after cop shoots and kills a black man, police chief resigns
Washington/IBNS: The Police Chief of Atlanta in the United States has resigned after an officer shot and killed a black man outside a fast-food restaurant while trying to make an arrest.
The incident has triggered fresh anti-racism protest in Atlanta days after the country witnessed unrest following the killing of African American man, George Floyd, while in police custody on May 25.
On Saturday, protesters blocked roads and an interstate highway near the restaurant, a Wendy's, where the shooting took place and apparently set it on fire, said reports.
The incident gradually led to police firing tear gas and flash grenades in an attempt to disperse the crowd.
The deceased, identified as Rayshard Brooks, 27, had run from the police on Friday night after failing a sobriety test. He reportedly grabbed a Taser from an officer during a struggle with him.
According to reports, Brooks had fired the Taser at the officer who was chasing him before getting killed himself.
Mayor Keisha Lance Bottoms of Atlanta told media: "While there may be debate as to whether this was an appropriate use of deadly force, I firmly believe that there is a clear distinction between what you can do and what you should do. I do not believe that this was a justified use of deadly force."
Bottoms, who is a close aide to Democratic presidential candidate Joe Biden, also announced the resignation of Atlanta Police Chief Erika Shields.
Friday's killing comes after massive protests rocked several cities of the US against the death of African-American man George Floyd in Minneapolis of the United States in May last.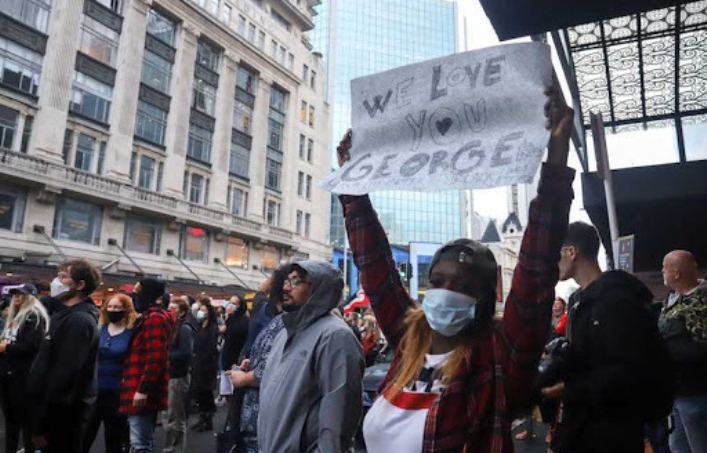 George Floyd, who was a Houston native in the US and had worked as a nightclub security guard, was arrested after being accused of trying to pass counterfeit money at a corner store last month.
Video footage of May 25 showed a Minneapolis cop named Derek Chauvin pressing his knee on Floyd's neck for nearly nine minutes before he uttered "I can't breathe" and died.
The incident sparked the Black Lives Matter movement across various parts of the world with several eminent persons raising voice against racism.