Xinhua/UNI
George Floyd death: Protests, arson, looting roil US cities, National Guard activated
Washington/IBNS: Massive protests rocked different cities across the United States throughout Sunday over the May 25 killing of black man George Floyd by a 44-year old white police officer in Minneapolis, Minnesota.
While protest with placards screaming "I can't breathe" (the words of the dead man when he was pinned down by the cop), continued, the agitators also went violent against what they called police brutality and resorted to arson and looting with cars and buildings set ablaze amid clashes with cops.
After a massive gathering of thousand people resorted to violence on Sunday night in Portland, Oregon, the Portland Police Department arrested 12 adults and two juveniles.
According to the police department, the crowd was initially marching peacefully until about 11:30 p.m. local time when some protesters started throwing projectiles at officers.
"After the crowd fractured into smaller groups, for about two hours, demonstrators set fires, smashed store front windows, vandalized buildings, and parked vehicles. Officers made arrests and continued to disperse the small groups," police said in a news release.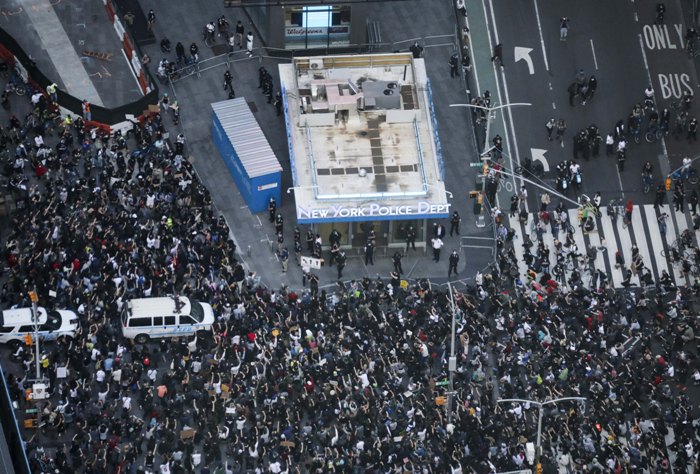 Demonstrators protest against police brutality on Times Square in Manhattan of New York
Earlier media reports stated that US President Donald Trump along with his family in the face of the massive protests on last Friday took refuge in an underground bunker at the White House, the residence of the American President.
Atlanta Mayor Keisha Lance Bottoms urged President Donald Trump to stop providing his "input" on the protests and instead give the states "support."
"He's not helping. Leaders lead and he is not leading. He is causing further disruption to our cities. Just give us the support that we ask for. If we don't ask for it, we don't need your input and your advice and your rhetoric because it's not helping us manage this crisis in our cities that we're experiencing across America," the mayor told CNN.
"If there is something that he has to say that can help heal this country, then he's the president of the United States and he certainly has the right to speak it," the mayor told the channel.
She added that if the President were to speak "further hatred and division over our cities" he should not say "anything at all."
According to NPR, vandalism and violence broke out after peaceful protests in Santa Monica and other parts of Southern California on Sunday.
Meanwhile, over 50 per cent of states across the country have activated their National Guard to respond to civil disturbances that have gripped much of the nation.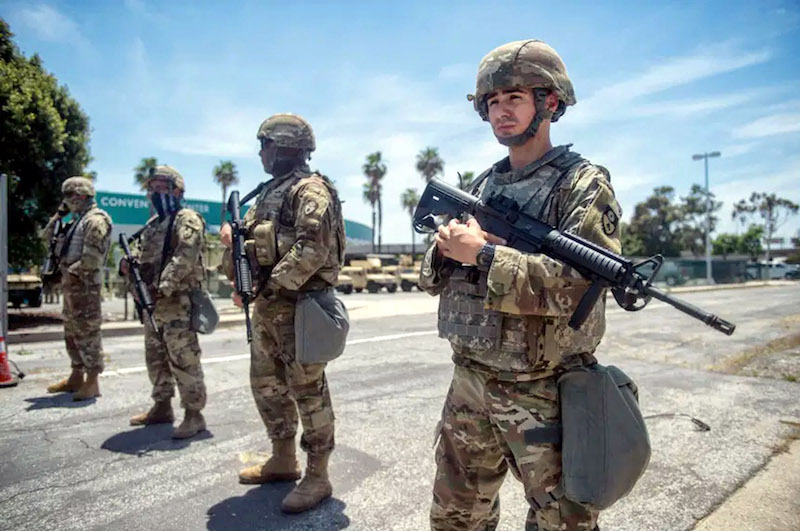 National Guard troops outside the Los Angeles Convention Center in Los Angeles
Many states were already under curfew but the protesters defied the same in most of the places to demonstrate
With protests rocking for the sixth day, at least 40 cities imposed curfews but since most were defied, the National Guard members have been activated in at least 26 states and Washington, DC.
About 150 demonstrators were arrested in Minneapolis, where Floyd was killed by Minneapolis police officer Derek Chauvin by pressing his knee into the black man's neck, for violating curfew on Sunday.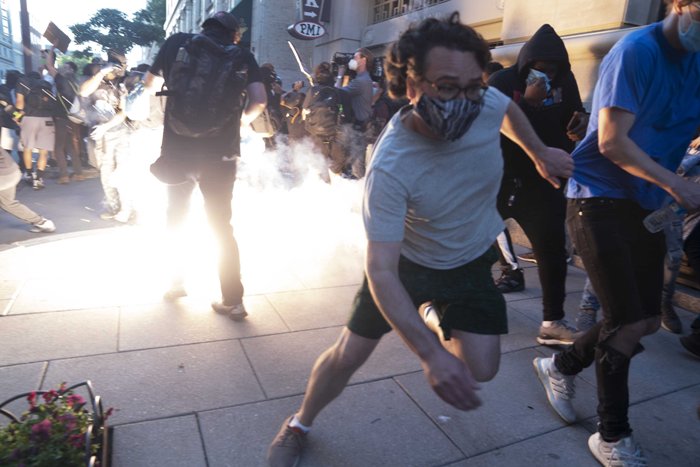 Protesters react during protest over George Floyd's death in Washington D.C.
Trump took to Twitter to accuse the protesters of "looting stores" in Philadelphia.
He tweeted, "Law & Order in Philadelphia, NOW! They are looting stores. Call in our great National Guard like they FINALLY did (thank you President Trump) last night in Minneapolis. Is this what voters want with Sleepy Joe? All Dems!"
Floyd, who was a Houston native who had worked as a nightclub security guard, was arrested after being accused of trying to pass counterfeit money at a corner store.
Chauvin, who has reportedly been charged with murdering Floyd, is due to appear in the court on Monday.
According to visuals, he was seen with his knee on Floyd's neck. Video footage shows the Minneapolis cop pressing his knee on Floyd's neck for nearly nine minutes before he uttered "I can't breathe" and died.
Chauvin was charged with third-degree murder and manslaughter but protesters say the same is not harsh enough and are also demanding charges for the other officers involved.
According to reports, the police officer charged with the murder of Floyd has over 18 previous complaints against him.
Meanwhile, Kentucky Governor Andy Beshear has authorized the state's police to independently investigate the death of a man who was shot in Louisville after cops and the Kentucky National Guard "returned fire" to disperse a large crowd early Monday.
"Last night around 12 a.m., it is our understanding that the Louisville Metro Police Department (LMPD) and the Kentucky National Guard were dispatched to 26th and Broadway. While working to disperse a crowd, LMPD and the Kentucky National Guard returned fire resulting in a death," a statement, released by the governor's office Monday morning, said.
"Given the seriousness of the situation, I have authorized the Kentucky State Police to independently investigate the event," Beshear said in the statement.

Images: Xinhua/UNI