Panorama India's National Day & Grand Parade gathering to exceed last year's number
Toronto, Aug 19 (IBNS): India's Independence Day Festival and Grand Parade hosted by Panorama India with support from Consulate General Of India, Toronto was held on Sunday at Nathan Phillips Square, Toronto.
The daylong event was held to celebrate India's culture and heritage, which included presented patriotic songs, multicultural dance performances, exhibitions showcasing fashion, jewellery, handicrafts and Indian cuisine.
There was a live concert by renowned Punjabi superstar Garry Sandhu and a parade of several floats with Bollywood actress and Miss Universe 2000 Lara Dutta, the grand marshall of the parade.
The event started with the greetings of Anu Srivastava, Chair/President of Panorama India. She told the audience that this year's gathering of Indian National Festival and Grand Parade, supported by the Consulate General of India, Toronto is expected to exceed last year's number.
This celebration marking the rich cultural heritage of India is accompanied by several floats and 400 local artists from various range to depict the diversity in unity of India's heritage.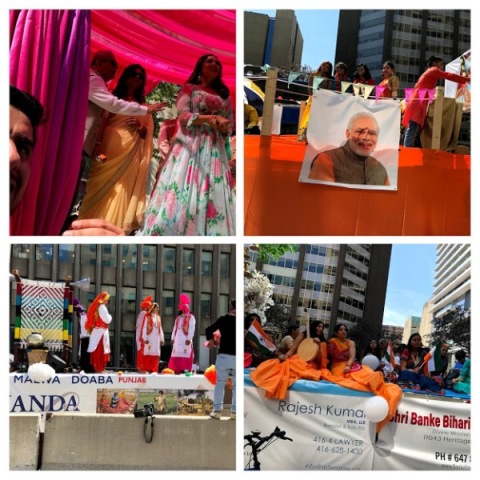 Anu acknowledged the hard work of all her staff, contributions of various community organizations, public relations personnel, and the dedicated volunteers and especially the hard work of Toronto Police volunteers for being responsible for maintenance of law and order for the present event.
The Indian population in Canada has grown to 1.9 million which is about 5.6 percent of the total population in Canada, with the largest number of Indians from Punjab followed by Gujarat and then the rest of the communities.
Panorama India connects to a rich cultural heritage, with multicultural dance performances, patriotic songs, classical music and with a wide variety of Indian cuisine.
Saifullah Khan, acting Counsel General of India, Toronto conveyed the message from President of India to the large gatherings, which stated that people of India are simple and that the Indian diaspora in Canada is the true representation of Indian simplicity.
Member of parliament, Nina Tangri greeted the audience on this auspicious event on behalf of Doug Ford, premier of Ontario.
She said Canada, with nearly 700,000 people with roots in India, is the best place to live and work. She also said that India is one of the fastest-growing economies of the world.
Member of Legislative Assembly of Calgary north-east, Rajan Sawhney greeted the audience on behalf of Jason Kenney, Premier of Alberta and said if she was not proud to be an Albertan, she would definitely think of settling down in Ontario.
She praised the work of all the participants of the culture program and congratulated the large gathering for their unwavering patriotism and added they should always keep alive the rich cultural heritage of India.
Lara Dutta greeted all the Torontonians and said she is full of gratitude for their love in inviting her for this ceremony from all the way from Mumbai.
She always feels at home whenever she comes to Toronto. Nineteen years back she was crowned as Miss Universe India 2000. Instead of announcing her name, the announcement said, the winner of 2000 Miss Universe is India.
This was an incredible moment for her and she was filled up with immense pride. At this announcement, all the Indians present there stood up and paid homage to India.
Before concluding her speech she thanked all the elders for their blessings and for the younger generation born and brought up in Canada but with roots in India, her message was,'' India is not a country that is poised to be great, it is well on its way to greatness."
After the conclusion of all the speeches, official magazine of Panorama India was launched followed by the parade with the several floats, with Lara Dutta being the grand marshall of the Parade.
The message of President of India conveyed by Saifullah Khan to the audience today on Panorama India Festival was that India represents simplicity and all the Indian community in Canada are the true representatives of Indian simplicity: @anusrivastava24 pic.twitter.com/PyIi8Uri81

— Asha Bajaj (@abajaj033) August 19, 2019
The message of President of India conveyed by Saifullah Khan to the audience today on Panorama India Festival was that India represents simplicity and all the Indian community in Canada are the true representatives of Indian simplicity: @anusrivastava24 pic.twitter.com/PyIi8Uri81

— Asha Bajaj (@abajaj033) August 19, 2019
(Reporting by Asha Bajaj)
Panorama India's National Day & Grand Parade gathering to exceed last year's number
India Blooms News Service
Post your comment: