Bengali Canadians revel in Durga Puja festivities
Toronto, Oct. 17 (IBNS): Bengalis around the world wait for this time of the year with bated breath as the autumn sky reverberates with the sound of "dhak and dhol", heralding the arrival of Goddess Durga.
From London to Toronto, Puja fever has gripped the Bengali diaspora this year too. And as the adage goes- the show must go on! It is like the umbilical cord that transports many to their childhood, and fond memories of Kolkata and "adda" crop up in conversations every now and then.
Pujas bring people from different faiths together despite being a Hindu festival as it symbolizes harmony and empathy. The prevalence of good over evil is the string that hits all the right cords and binds everyone together.
People of all ages across the Greater Toronto Area decked up in their best attire and participated in Pujas by Bengali not-for-profit organizations that included cultural events and fun-filled gatherings.
Nearly a dozen Pujas are being held in the GTA on weekends (13-14 and 20-21) and people are thronging them on their way back from work or by taking leaves altogether!
A snapshot of some of the top Pujas across GTA:
Bongo Poribar Durgotsav
The Puja in Oakville drew hundreds of people on October 13 and 14 as the organizers left no stone unturned to recreate Kolkata during Pujas.
According to one of the organizers, it all started with a few Bengali families missing Kolkata very badly during the Puja days. They decided to create a unique Durga Puja based on their nostalgia.
"We were in a dilemma. Should we get an idol online just like other NRI organizations or should we go for a very special idol just like Kolkata. We chose the latter. But again, we wanted a unique concept. We heard that famous idol maker Subhamita Dinda is very choosy about her projects, but she does wonders with her art. We contacted her. She was a little hesitant in the beginning because the project was in Canada and she wasn't too sure if we will be able to do full justice to her sculpture with proper lights and background. We said we will comply with her conditions. She suggested black Durga. We were stunned. How could black Durga be accepted but she said it will be one-of-a-kind. And how right she was! The idol is a sensation even today. People all over North America come to see our idol during Durga Puja," spokesperson Sanchita Chakraborty said.
President Amitabh Chakraborty quipped, "Any Puja is incomplete without scrumptious bhog and it was free for all the attendees. Khichuri, labra, papad, chutney and mishti catered to the gastronomical inclinations of the attendees."
This year, Sa Re Ga Ma Pa 2017 winner Jimut Roy regaled the audience with his melodious voice, while various dance, recitation, song items captivated the audience. Security personnel had a tough night controlling the enthusiastic and vocal crowd.
Lundy Parar Durga Puja
In its second year, this Puja has a more homely texture to it. Organized by Suman and Piyali Chakraborty and their son Upamanyu at their house in Brampton, the Durga idol, made from dhokra (mixed metal) using the lost-wax casting technique, is unique. The couple's devotion is truly reflected in the way the rituals are organized, from arranging 108 lotuses for floral tribute to pushpanjali and sandhi puja- reminding everyone of Bengal's household Pujas that are famous for their elaborate but minute attention to details.
An entrepreneur, Chakraborty leaves no stone unturned to make the occasion memorable for his guests. Devotees come from various parts of the GTA on all the four Puja days. Everyone chips in and contributes to the success of the Puja, which is sure to gain more prominence in the days to come. The takeaway is the hospitality with which the Chakrabortys receive everyone on such an auspicious occasion.
Amar Pujo Cultural Association of Toronto
With an objective to bring back childhood festive memories, APCAT Puja in Mississauga, in its eighth year, redefined Puja tradition in Canada.
Celebrated on October 13 and 14, the special attraction was the musical night and cultural programmes that were on display for the guests. The spirited ambience was noteworthy as young and old alike immersed themselves in welcoming goddess Durga.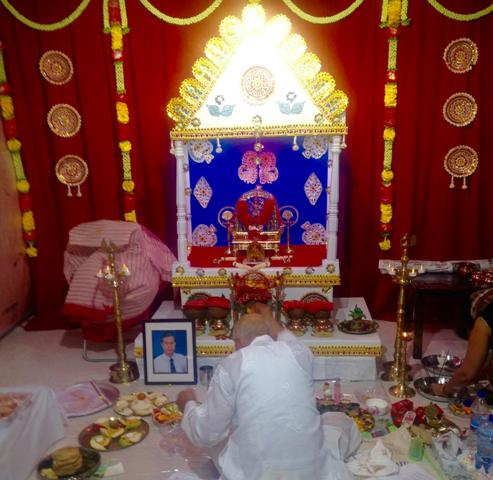 Notable mentions:
Like every year, Pujas at Toronto Kalibari and Bangladesh Canada Hindu Mandir drew thousands of visitors. With years of tradition behind them, these Pujas need no introduction.
However, some mismanagement crept in at the BCHM Puja as organizers had a tough time controlling the crowd, which could have resulted in unwanted situations. Not much security was noticed at the venue, which further added to the commotion. Organizers tried their best to mitigate the situation.
Other notable Pujas include those organized by the Prabasi Bengali Cultural Association, Bangio Parishad, Hindu Dharmashrom, Bharat Sevashram Sangha, Toronto Durgabari, Vedanta Society, Toronto Uthsob Cultural Association, Sagarpare (Hamilton) and Emmanuel United Church.
Bengalis in Canada, especially in Toronto, though far away from their native land, recreated and reveled in Puja mood and festivity with ardent devotion and zeal.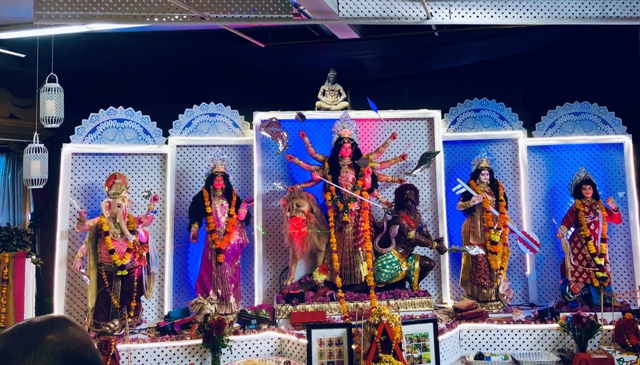 (Reporting by Sayantan Banerjee with Suman Das)