APTA recognizes TTC as best public transit agency in North America
Toronto, June 28 (IBNS): Toronto Transit Commission (TTC) was recognised as the best public transit agency in North America for 2017 by the American Public Transportation Association (APTA), according to media reports.
The announcement was recently made by TTC CEO Andy Byford at a function at the Union Station that TTC had been selected for the annual award.
APTA, a Washington, D.C.-based industry organization, gave this award to TTC for the first time since 1986.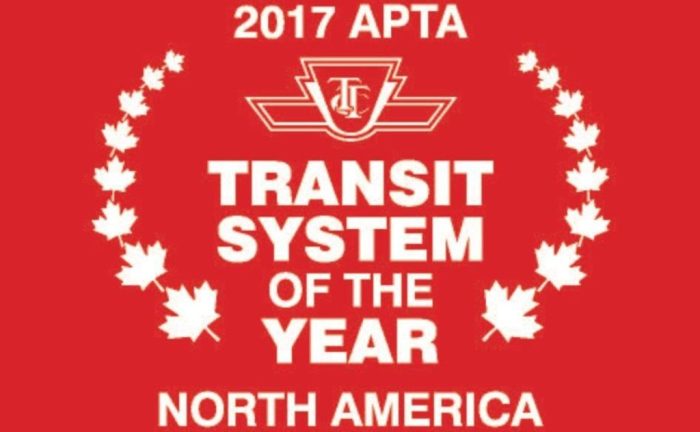 TTC will officially receive the award at APTA's annual conference in the fall.
"I am immensely proud of this award and accept it on behalf of the 14,000 people who work for the TTC," said Byford in a release. "Culture change and how we inspire, develop and manage people is at the heart of our renaissance. We set out to deliver a transit system that makes Toronto proud. This honour reflects the hard work we've done for our customers and the people of Toronto."
TTC was recognized for the five-year modernization plan that it entered on in 2013, an year after Byford joined as CEO.
"Since then a huge amount of effort has been expended and a huge amount has been achieved," he said, asserting that the TTC is now "cleaner, friendlier, more punctual, and more reliable" than it was five years ago.
Toronto Mayor John Tory said, "Getting around the city remains the number one priority for Toronto residents and that's why it remains my number one priority as Mayor. Year over year, for the last three years, we have been investing in the TTC to improve service."
A $90 million investment in the TTC to restore bus routes -- that had previously been cut in 2011 -- was announced in 2015 by TTC Chair Josh Colle and Tory.
TTC again received additional funds last year, added Tory, to start the subway early on Sundays and to improve reliability of the streetcars.
An additional funding of $80 million was given to TTC this year from the City Budget to support rotation of PRESTO across the system, open the York Spadina subway extension by the end of the year, installation of a new subway signaling, adoption of a new streetcar fleet, purchase of 783 new buses and to promote Transit Enforcement Officers to help keep traffic moving.
"I am proud of the TTC for all it has accomplished over the last few years," said Tory. "We will continue to make smart investments in transit in Toronto to make our transit system faster, stronger, safer and more accessible for every resident in every part of this great city."
Since its beginning almost 100 years ago, TTC had completed over 31 billion trips.
Transit agency had declared TTC as North America's third largest transit system, by passenger volume, after only New York and Mexico cities.
Byford said that the TTC can still do better.
"We know that there is still more to do to improve service reliability, to drive down costs, and to reduce crowding," he said.
"But for now we can reflect on a job well done."
(Reporting by Asha Bajaj)
Image: TTC Twitter