Rohingyas I Bhasan Char
Image: PID Bangladesh
UN delegation lauds Bangladesh's Rohingya rehab move to Bay of Bengal island Bhasan Char
Dhaka: A high-level UN delegation, which had recently visited Bangladesh, appreciated PM Sheikh Hasina-led government over the Bhasan Char rehabilitation project of the Rohingyas and sought the international community's support to ensure the refugees live there with dignity.
"The Bangladesh government has made an important investment in Bhasan Char by developing the housing facility. If you compare with Cox's Bazar refugee camps, the housing facilities are much better in Bhasan Char," UN Assistant High Commissioner for Refugees (protection) Rouf Mazou, who visited the island in Noakhali on May 31, was quoted as saying by Daily Star.
"What needs to be done now for us and the rest of the international community is to support the government and make sure those who are in Bhasan char and those who will be coming there can live in dignity," he said.
Mazou also met Foreign Minister AK Abdul Momen at the state guesthouse Padma here.
Gillian Triggs, assistant high commissioner for the refugees (operations), was with Mazou when he visited Bhasan Char where the Bangladesh Navy built a housing project for 100,000 Rohingyas, reports the Bangladeshi newspaper.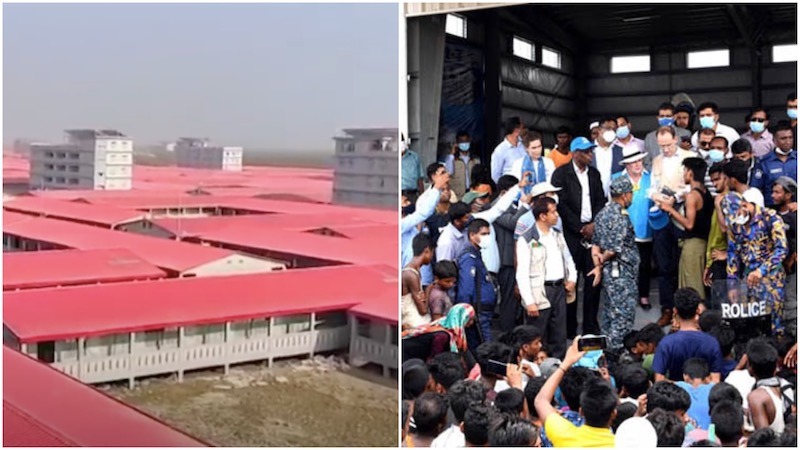 A large number of Rohingya people had escaped Myanmar during a military crackdown and started residing in Cox's Bazar in 2017.
These people, who fled from the Rakhine region of Myanmar, have been living in the refugee camps since then.
The Bangladesh government last year relocated 20,000 refugees to Bhasanchar.
Bangladesh has been seeking UN funding in Bhasan Char and the UN delegation and foreign ambassadors who visited the facility largely made positive observations. They, however, spoke of ensuring livelihood and education, reports Daily Star.
Speaking on Bhasan Char, a top Bangladesh government source told Economic Times: ""Following the exodus of almost millions of Rohingyas from Myanmar to Bangladesh our government took immediate measures to accommodate them in Cox's Bazar and Teknaf area. Having no alternative locations, all Rohingyas were placed in this location.
"Subsequently considering the pressure on locals in terms of livelihood, environmental threat, security threat etc Bangladesh Govt decided to decongest these camps by relocating some of the Rohingyas to other locations."
The official said: "Then Bangladesh Navy built state-of-the-art facilities and accommodations in Bhashan Char with a view to ensuring a dignified and sustainable temporary homestead to some of these Rohingyas who volunteer to relocate to Bhashan Char."
"Presently Govt has been trying its best to initiate the process of robust engagement of UN in Bhashan Char for enhancing the facilities in this island in terms of relief goods, creating sustainable livelihood options," the source told ET.