Pakistan-occupied Jammu and Kashmir (PoJK) witnesses demonstrations on Black Day
United Kashmir People's National Party and United Kashmir National Students Organisation workers demonstrated in Muzaffarabad city of Pakistan occupied Jammu and Kashmir (PoJK) on Thursday to mark Oct 22, the day of Kashmir invasion by Pakistan in 1947, as a 'Black Day'.
Similar demonstrations were held in Bagh Tehsil.
Meanwhile, Jammu and Kashmir in India witnessed yet another episode of history making as locals for the first time put up hoardings in different areas of summer capital Srinagar to commemorate the 'Black Day' (Oct 22, 1947) of the region, marked by the brutal invasion by Pakistan over seven decades ago and the mindless atrocities committed on the people.
Black Day is observed to mark the sacrifices made by lakhs of Hindus, Sikhs, Muslims to defeat the invasion of the erstwhile Princely State by the Pakistan Army in 1947, often touted as the tribal invasion.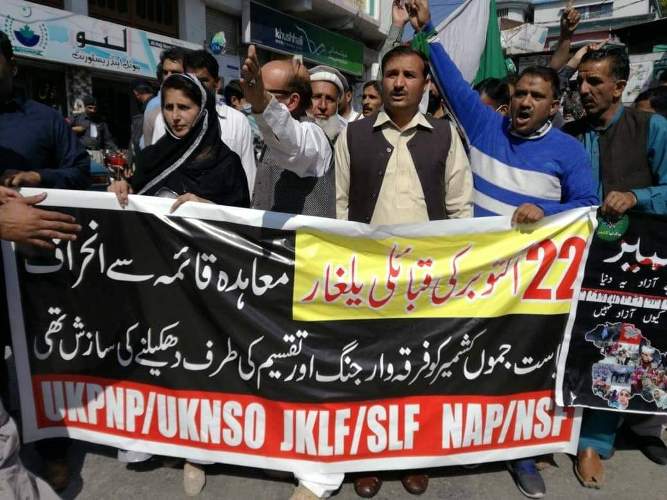 The day is being observed at a time when Jammu and Kashmir, now a union territory, is observing the first anniversary of the scrapping of Article 370 in Jammu and Kashmir.
The Article had given special status to the former state which was turned into a union territory by New Delhi following its bifurcation.