Pakistan
Pakistan Democratic Movement alliance gives strong message to Imran Khan govt with Karachi rally 
Karachi: The 11-party anti-government alliance Pakistan Democratic Movement (PDM) on Sunday displayed their massive show of strength by staging their rally in Karachi city in the presence of a large number of supporters.
Pakistan Muslim League Nawaz (PML-N) leader Maryam Nawaz and PPP chairman Bilawal Bhutto-Zardari addressed the rally as the opposition leaders are trying to throw a strong challenge to PM Imran Khan-led government.
PPP chairman Bilawal Bhutto-Zardari urged the prime minister to take heed from "past dictators" while Jamiat-Ulema-i-Islam-Fazl chief Maulana Fazlur Rehman in a snide remark targeted at the prime minister urged the army chief to maintain a distance from "foolish friends", reports Dawn News.
Amid jam-packed Bagh-i-Jinnah, the opposition leaders vowed they would continue their struggle till the fall of Imran Khan's government.
This was the PDM's second show of strength after their massive maiden rally in Gujranwala on Friday.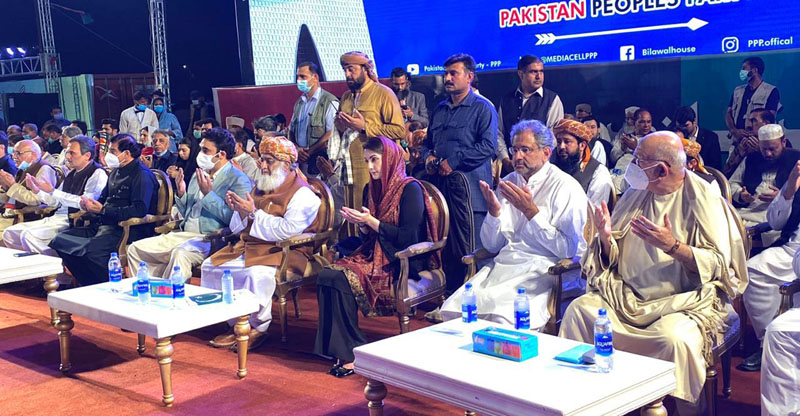 Targeting Imran Khan, Maryam was quoted as saying by Geo News: "In the fight between elders, there is no room for children."
Maryam was responding to PM Imran Khan's speech, where he had said: "I will not talk about the two children who made speeches; I do not want to talk about them," he said, referring to Maryam Nawaz and Bilawal Bhutto.
Talking further about PM Imran Khan's Saturday speech, she said that the premier is "troubled" after one jalsa.
Maryam was quoted as saying by Geo News that she knew that PM Imran Khan was under pressure, but he could have at least respected the prime minister's office.
"If there is no one to teach you [how to react under pressure] then you could have learned from Nawaz Sharif," she said.
Maryam reminded PM Imran Khan that despite his 126-day-long sit-in, Nawaz "hadn't mentioned him even once".
"In a fight among elders, there is no room for children," she said, adding that "no one had mentioned your name".