Bangladesh: Hindu organizations demonstrate against Nepal PM Oli over his comments on Lord Rama
Dhaka: Hindu organizations in Bangladesh recently demonstrated against Nepal PM KP Sharma Oli's remarks on Lord Rama's birthplace.
Various protest programmes were organized by different Hindu organisations in Dhaka criticizing the Prime Minister of Nepal for distorting history and mixing religion with politics.
Bangladesh National Hindu Grand Alliance organized a human-chain cum protest programme at 10:00 hours in front of the National Press Club, Dhaka.
Speaking on the occasion, members of the alliance said that such a statement by the Prime Minister of Nepal is not only a denial of the archeological evidence of Sri Ram Chandra's birthplace, but also a historical fact.
They said the Nepali leader's remark has hurt the faith of millions of people around the world.
Further, such a controversial statement by the Prime Minister of Nepal is not only motivated by geopolitical vested interests, but also by the nefarious conspiracy to destroy the culture, tradition, and faith of the entire Hindu community, the members said.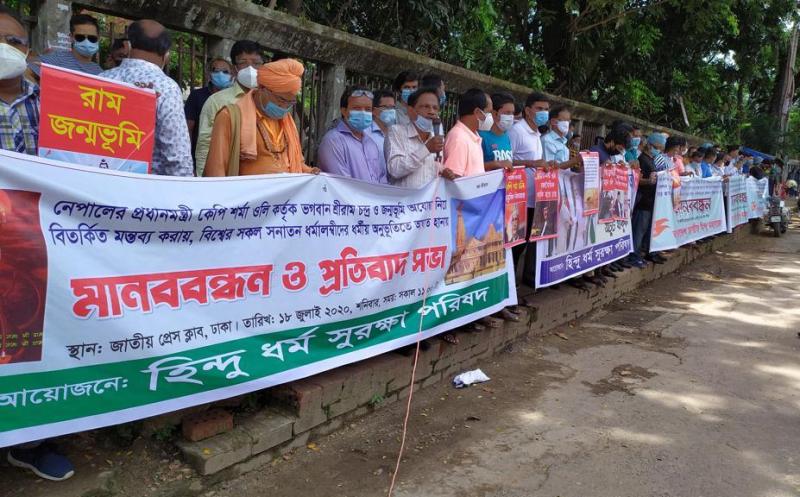 Bangladesh National Hindu Grand Alliance, while strongly protesting the statement of the PM of Nepal, called for his unconditional apology.
Later, Hindu Dharma Suraksha Parishad, a separate Hindu organisation, carried out protest demonstration and human-chain programme on the same issue at around 11:00 hours near the National Press Club, Dhaka.
The programme was presided over by Swami Sangitananda Maharaj (Pranab Math, Dhaka), convener of the organization.
Eminent singer and voice of Muktijoddha, Manoranjan Ghosal, coordinator of URI Bangladesh, Dr. Mohammad Abdul Hi, Prof. Dhirendranath Biswas (President , Bangladesh Hindu Samaj Sanskar Samity), Vice President of central executive committee of Bangladesh Minority Janata Party and other important persons from Hindu community were present in the programme.
Speaking on the occasion, eminent personalities said that Nepal is a Hindu nation and their culture and customs are influenced by the Hindu religion since long.
However, the Nepal's Prime Minister's sudden comments against India and later dragging the birth place of Lord Rama into controversy has sown seeds of distrust in the minds of Hindus against the PM of Nepal, the protesters said.
The speakers added that the Nepal PM did not have the courage to make such statements on his own and suspected that there must be instigation by some invisible major power behind his actions.
The protestors were seen holding banners and posters criticizing the Nepal Prime Minister for mixing religion with politics for his personal interests.
Notably, Oli triggered a controversy by saying that neighbour India is manipulating cultural and historical facts by creating a fake Ayodhya in the country, which in fact is a village located west of Birgunj.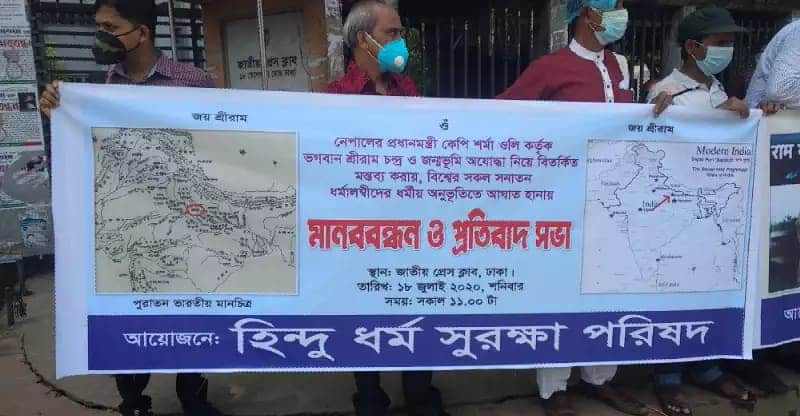 Ayodhya, a city in north Indian city of Uttar Pradesh, is believed to be the birthplace of Hindu god Lord Ram.
"We did not give Sita, who was born in Janakpur, to an Indian prince but Sita was married to Ram of Ayodhya, not of India," the PM was quoted as saying by The Himalayan Times, adding that Ayodhya was later created in India encroaching upon facts.
Oli 'reasoned' that a prince from a place that far away could not possibly come to Janakpur to marry Sita as there were no means of communication and easy transportation during those times.
"There is a huge controversy in 'their' Ayodhya while our Ayodhya, that lies in the Thori village, has no issues as such," he was quoted as saying by the newspaper.
He did not provide any archaeological evidence or cite references to back his statement.