IDF
Photo Courtesy: IDF X page
Israel-Hamas conflict: IDF shares video footage of hostages taken inside Al-Shifa hospital in Gaza
Israel Defense Forces on Sunday released a video which showed hostages being taken to Gaza's Al-Shifa hospital following the deadly attack conducted by Hamas on October 7.
A military spokesman told BBC one of them - a soldier - was murdered there.
Cpl Noa Marciano, 19, was killed after being taken into al-Shifa hospital with minor injuries, he said.
Sharing video footage, IDF wrote on its X page: "EXPOSED: This is documentation from Shifa Hospital from the day of the massacre, October 7, 2023, between the hours of 10:42 a.m and 11:01 a.m. in which hostages, a Nepalese civilian and a Thai civilian, were abducted from Israeli territory are seen surrounded by armed Hamas terrorists."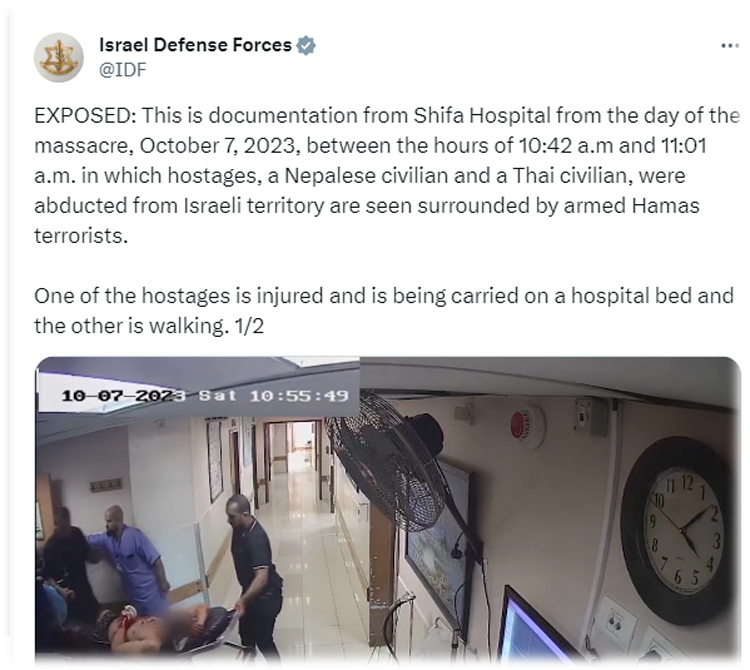 "One of the hostages is injured and is being carried on a hospital bed and the other is walking," read the post.
"These findings prove that the Hamas terrorist organization used the Shifa Hospital complex on the day of the October 7 Massacre as terrorist infrastructure," IDF said.
In another video shared by IDF, the defence force showed its personnel have discovered a tunnel believed to be dug by Hamas operatives underneath the Shifa Hospital complex in Gaza.
Sharing the video, IDF posted X: "OPERATIONAL UPDATE: IDF and ISA forces revealed a significant 55-meter-long terrorist tunnel, 10 meters underneath the Shifa Hospital complex during an intelligence-based operation."
"The tunnel entrance contains various defense mechanisms, such as a blast-proof door and a firing hole, in an attempt by Hamas to block Israeli forces from entering," the defence force said.
"For weeks we've been telling the world about Hamas' cynical use of the residents of the Gaza and patients of Shifa Hospital as human shields. Here is more proof," IDF said.
Meanwhile, spikes in casualties, attacks on schools and shelters, including the death of a UN worker, and crippling fuel shortages blocking aid deliveries rippled across Gaza over the weekend, as the World Health Organization (WHO) helped to evacuate 31 babies in critical condition at the besieged Al-Shifa Hospital and the UN chief called for a humanitarian ceasefire amid the ongoing Israel-Palestine crisis.
Top UN officials echoed that call to improve conditions for Gaza's 2.3 million people, 1.7 million of which have been displaced since the 7 October Hamas attack in Israel resulted in the killing of 1,200 Israelis and capture of 240 hostages. Since then, more than 11,000 people have been killed in besieged Gaza.
"This war is having a staggering and unacceptable number of civilian casualties, including women and children, every day," UN Secretary-General António Guterres said in a statement on Sunday. "This must stop. I reiterate my call for an immediate humanitarian ceasefire."
Volker Türk, UN High Commissioner for Human Rights (OHCHR), said in a statement on Sunday that: "The horrendous events of the past 48 hours in Gaza beggar belief."
"The killing of so many people at schools turned shelters, hundreds fleeing for their lives from Al-Shifa Hospital amid continuing displacement of hundreds of thousands in southern Gaza are actions which fly in the face of the basic protections civilians must be afforded under international law," Türk said, stressing that failing to adhere to these rules may constitute war crimes.
According to the UN agency for Palestine refugees (UNRWA), which issued its latest situation report on Sunday, nearly 884,000 internally displaced persons are sheltering in 154 UNRWA installations across all five governorates of the Gaza Strip.
"Just getting into one of the shelters makes you burst into tears," an UNRWA employee said. "Children looking for food and water and standing in queues for over six hours just to get a piece of bread or a bottle of water. People are literally sleeping on streets here in Khan Younis as thousands keep escaping from the north."
OPERATIONAL UPDATE: IDF and ISA forces revealed a significant 55-meter-long terrorist tunnel, 10 meters underneath the Shifa Hospital complex during an intelligence-based operation.

The tunnel entrance contains various defense mechanisms, such as a blast-proof door and a firing… pic.twitter.com/tU4J6BD4ZG

— Israel Defense Forces (@IDF) November 19, 2023