Rishi Sunak
Image Credit: Facebook/ Rishi Sunak
British PM Rishi Sunak sports Hindu thread as he enters 10 Downing Street
London/IBNS: Rishi Sunak, the Indian-origin British politician who has taken over as the next UK Prime Minister creating history after his predecessor Liz Truss stepped down, was seen wearing the sacred red Hindu 'Kalawa' thread during his first speech at 10 Downing Street.
Mouli or Kalawa is a cotton red thread roll, considered to be very sacred and used for Hindu religious purposes.
The thread is used as an offering of cloth to the deity. The Mouli thread is an integral part of any puja.
It is usually believed that by tying it on the hand, one can win over the enemy and it acts like a defence.
Sunak was seen wearing "Kalawa" when he waved to the public from outside No 10 Downing Street.
At 42 years of age, Sunak is the youngest and the first person of colour to hold the post.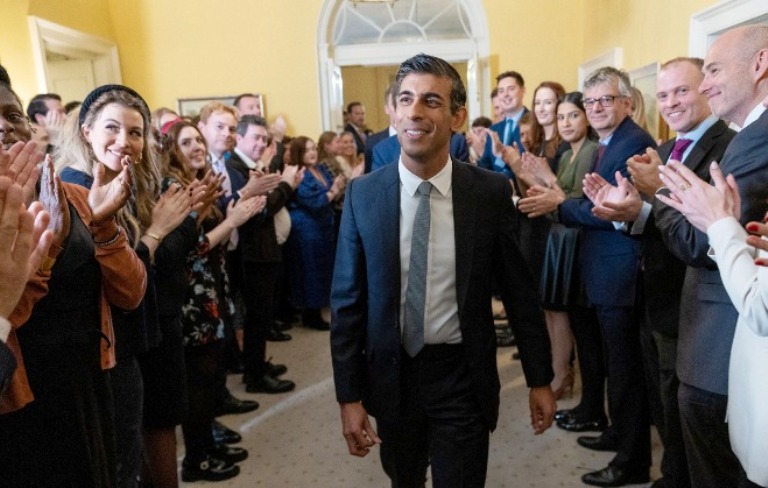 Sunak will take the oath of office on Oct 28.
Earlier in the day, he met King Charles III and accepted his invitation to form the government of the country
The King received The Rt Hon Rishi Sunak MP at Buckingham Palace today.

His Majesty asked him to form a new Administration. Mr. Sunak accepted His Majesty's offer and was appointed Prime Minister and First Lord of the Treasury. pic.twitter.com/UnT3jMS8so

— The Royal Family (@RoyalFamily) October 25, 2022
Meanwhile, Sunak addressed the nation and said Britain is currently facing a ' profound economic crisis'.
He was quoted as saying by BBC: "The aftermath of Covid still lingers."
Sunak said he is determined to "fix the mistakes" made by his predecessor.
He said he has been chosen as the PM to fix some of the mistakes made by his predecessor.
"That work begins immediately," he says.
"I will work day in and day out to deliver for you," the Indian-origin leader said.