Wikimediacommons
An enjoyable road trip from Dehradun to Mussoorie
It was last year around Christmas when few of my friends and their families had gathered after a long time, time at another friend's place in Dehradun. It was still a couple of days to go for the party and we were basking in the morning sun when our parents suggested that we drive up to Mussoorie for a big family brunch.
Finding our ride
Once decided, it was time to figure out the ride. Because none of us had a car big enough to fit all. So, I quickly searched online and managed to book a Savaari taxi from Dehradun to Mussoorie. Our ride was at our doorstep within an hour, which was a pleasant surprise, since most local drivers are rarely punctual, which is also understandable due to changing weather. With everyone wrapped up in warmers and ready with their coffee mugs, we headed out in the cold morning.
Dehradun's sister town, Mussoorie is literally at a stone-throw distance at 34.2 Km and it takes lesser time than most people take to travel to their work every day. It would have taken us about an hour and a half, at the most. But it was indeed a time for friends and family so the road trip had to be epic. Despite the mild sunshine, it was quite chilly, but wonderful indeed, for many of us don't get to experience the cold weather at its natural best.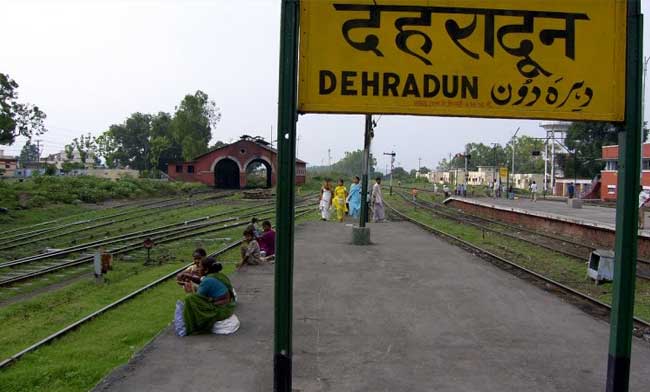 En route to Mussoorie
Dehradun and its surrounding areas still hold onto its colonial charm and exude that warm vibe, with its quaint landscape of alpine forests, dotted with small wooden homes. As we zigzagged along the Mussoorie Road, the cabbie suggested if we wanted to stop over for photos or sightseeing. Needless to say, we all agreed.
We were glad it was a bigger vehicle to fit all of us comfortable. Also, the mountain roads need a reliable vehicle which we, fortunately, got from Savaari. It is always good to hire an Innova cab in Dehradun if you are traveling with a large group or families. Our cabbie was also a cheerful local fellow, with his adorable accented Hindi and English, and immediately became our friend.
Not that Uttarakhand was an unknown territory, but the mountains have the best-kept secrets which you discover when you least expect them.
Stunning pit stops
Our first stop was at Robbers Cave. Locally called Gucchupani, it was just outside the town, near Dehradun Clocktower. This naturally formed cave has evolved into a popular picnic spot with the scenic surrounding.
A little deeper into the forests, you will land at Malsi Reserve Forest. It is famous as a deer park and is a favorite pit stop for many travelers en route to Mussoorie. There is also a park with children-friendly attractions. If the weather is right, you can actually spot quite a few deer here. We refilled our coffee mugs at the First Gear Café and continued on our trip.
One of the most interesting stopovers for us was at the Bhatta Falls. Although there more scenic waterfalls in and around Dehradun and Mussoorie, this one is far less crowded, especially in winter when the cascade is a thin streak of water. This makes it a great place to take a walk through the woods and take some Instagram-worthy photos. Since you cannot see it from the highway, most travelers tend to miss this beautiful spot. That is why you need to take a little detour once in a while and explore this less-traveled places.
We finally landed in Mussoorie, after a fun and enjoyable drive, only to end up with a hearty brunch at the LandourBakehouse in Landour. From one holiday destination to another, within a couple of hours, it was surely one memorable Sunday morning for all of us!