DTEA begins campaign to correct Indian image for foreign tourists
New Delhi, Oct 6 (IBNS) To promote foreign tourism in India, which has gone down by as much as 40 percent in the last two years, DTEA (Delhi Tour Escorts Association -Regd.) has started a social campaign in the heart of the country, Delhi.
The campaign aims to rebuild the image of India which has been hampered due to international coverage of recent cases related to women. Most of these cases include outraging the modesty of women and the alarming facts and figures that pop up while searching about India on internet lead to scare the tourists away.
The campaign marked its beginning in Delhi on Sept 25, 2014 at The Panchshilla Rendezvous, Malviya Nagar which was followed by DTEA representatives occupying the areas around World Heritage Sites like Qutab Minar, Humayun's Tomb and Red Fort in Delhi. The campaign was inaugurated by famous Criminal Psychologist Anuja Kapur.
The volunteers and representatives of DTEA was seen holding banners, placards and standees displaying messages directed towards spreading a positive word among foreign tourists - a very peaceful approach to tell the world that despite of some unfortunate incidents that happened in the country, India still holds the values embedded in their culture. Atithi Devo Bhava – is still a practice and a value deep rooted in our tradition.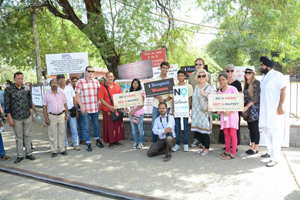 DTEA President Mr. Khandelwal and Secretary Mr. Chadha said: "We the members of DTEA are working hard to bring back the lost reputation of our country because of some unfortunate rape incidences that took place in the last two years. We will fight back to bring the lost reputation of our country by way of conducting such social campaigns to in still the confidence and weed out the fear from their minds.
The campaign is supported by some leading NGOs, volunteers and members. The campaign was carried out last year as well with a similar approach as a part of DTEA's efforts to rectify the image of India across the globe. The campaign was much appreciated by foreign tourists.
DTEA had also conducted the campaign in Non-ASI monuments as well such as Jama Masjid, Birla Mandir, Gurudwara Bangla Sahib and Dilli Haat, places which are visited by more tourists.

As per the World Economic Forum's T&T Competitiveness Report 2013, India ranks 74 amongst 140 global economies on safety and security parameters and there is a severe need of the improvement of country's ranking. This campaign provides a huge scope for the promotion of foreign tourism in India through filtering the outlook of the country. Small efforts at a large scale can bring up great change. A campaign like this not only fortifies the image of our country, but can also help change the statistics of our economy by encouraging tourism. Hence, the support of the government, media and local organizations becomes imperative for the success of this social campaign. Higher exposure will lead to higher benefits, for the nation and for its people.
Delhi Tour Escorts Association is working as Tour Escorts for more than 25 years and provides Tour Escort services to the foreign clients of different leading Travel Agencies and hotels of Delhi.