Ras Al Khaimah Tourism of UAE woos more Indians in 2017
New Delhi, Apr 13 (Not in Town/IBNS): Ras Al Khaimah Tourism Development Authority (RAKTDA) of UAE, which develops the emirate's tourism infrastructure and initiates its domestic and overseas promotions, has outlined its strategy for 2017 for the India market which witnessed a steady growth of visitors.
Ras Al Khaimah is one of the seven emirates that make up the United Arab Emirates (UAE).
Year-on-year, India continues to remain one of the most significant source markets in terms of visitor numbers, accounting for 8 per cent of total visitors to Ras Al Khaimah last year. Ras Al Khaimah recorded a rise of 11 per cent in overall visitor numbers in 2016 versus 2015, according to Haitham Mattar, CEO, Ras Al Khaimah Tourism Development Authority, at a press conference here on Wednesday.
Visitors from India to the emirate in Q1 2017 grew by 35 per cent, while the number of guest nights taken by Indian tourists grew 49.4 per cent in the same period when compared to Q1 2016. Furthermore, the average length of stay of Indian guests in Q1 2017 has grown by 10.6 per cent.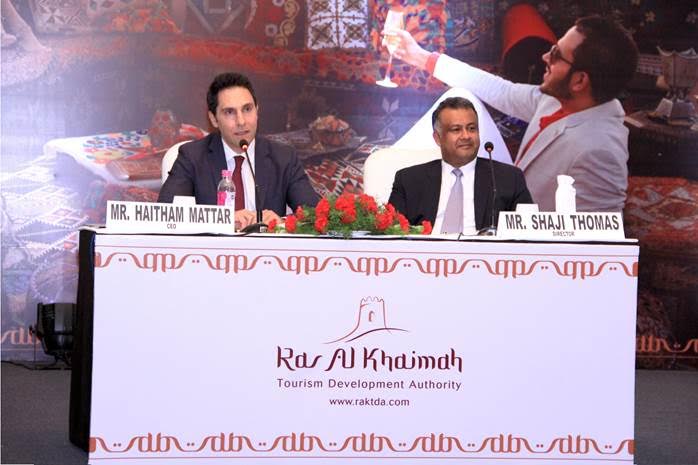 "Ras Al Khaimah has seen a growing trend from Indian inbound tourism for short leisure stays, MICE and in the wedding sector. Our aim is to promote the full breadth of unique activities and events that can be enjoyed in Ras Al Khaimah, with a view to encourage Indian travellers to lengthen their stay in the destination. India, being a significant source market, is expected to be an important contributor to the emirate's vision to attract one million visitors by the end of 2018. We are optimistic that through focused efforts and participation in various roadshows and trade events, tourism from India will continue to develop in the coming years," said Haitham Mattar.
"Some of our iconic properties like the Waldorf Astoria and the luxurious Banyan Tree (now Ritz Carlton) have been home to some high-profile Indian weddings in the emirate and Ras Al Khaimah is being positioned as a discerning wedding destination in India. The outbound wedding business from India was estimated at US$40 billion last year, and we are well positioned to tap into this segment," added Mattar.
Building on the successful launch of the region's first commercial via ferrata and the hosting of major international sporting events such as the Ras Al Khaimah 2016 Golf Challenge – the penultimate stop of the European Challenge Tour – RAKTDA has outlined plans to enhance its sporting events portfolio and tourism products to leverage the emirate's natural attributes. A key focus of this strategy includes rolling out policies and initiatives to support a recent partnership with UNWTO, which sees Ras Al Khaimah serve as a sponsor of the United Nation's Year of Sustainable Tourism for Development.
"Ras Al Khaimah boasts a diverse array of natural landscapes that appeal to visitors of every kind, whether it's beach-lovers, active adventurers or wellness seekers. Through a programme of careful development, we intend to enhance these attractions for the benefit of travellers and offer a sustainable tourism product portfolio which preserves the rich local culture and traditions that Ras Al Khaimah is known for," Mattar explained.
Other product developments in 2017 include the opening of the world's longest zip line, which was announced last year, an observation deck and luxury mountain camp, as well as the launch of official cycling and hiking routes across the emirate, with a focus on Jebel Jais, the UAE's highest mountain peak.