India was partner country at the Caravan, Motor, Touristik held in Stuttgart, Germany
New Delhi, Jan 30 (www.notintown.net / IBNS): India was the partner country at the Caravan, Motor, Touristik (CMT), one of the world's largest public trade fair for the tourism, leisure, caravan and motoring industry, held in Stuttgart, Germany, from Jan 16-24, represented by the Frankfurt-based office of India Tourism of the centre's Ministry of Tourism.
The India Pavilion, designed upon the Meena Bazar at Red Fort, Delhi, was inaugurated by Suman Billa, Joint Secretary, Ministry of Tourism, Mr. Sevala Naik, Consul General of India in Munich and Mr. Richard Bleinroth, CEO Messe Stuttgart.
During the colourful inauguration ceremony, India presented a 5-minute visual film called "Find what you seek" and a colourful performance by a cultural troupe from Rajasthan (sponsored by ICCR); Billa also delivered a speech.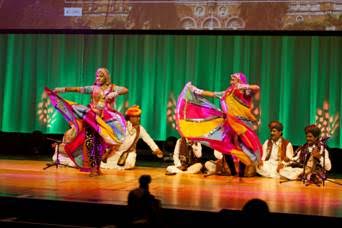 A Photo Booth was set up which enabled the visitors to get their pictures taken against the backdrop of various Indian scenes enabling them to make a virtual tour of India.
At the press conference, the Indian representatives stressed on the importance of Germany as a tourism source market for India.
India's presence was covered extensively in the German media, both print and electronic.
On the sidelines of the fair, there was a Seminar on Wellness and Ayurveda under 'Make in India' organised by the Consulate General of India in Munich.
The CMT fair every year organises an event themed on one partner country at the fair; the Commerzbank organised an 'India evening' themed on India for their clients, which attracted a large audience, who enjoyed the Rajasthani folk performances.