Ontario Beckons
Ontario packs the touristy Niagara Falls as well as Canada's prettiest city Niagara-on-the-Lake and the mystic water world of 1000 Islands. And then you can wrap up with an adventurous Edgewalk on the roof of Toronto's CN Tower. Sujoy Dhar explores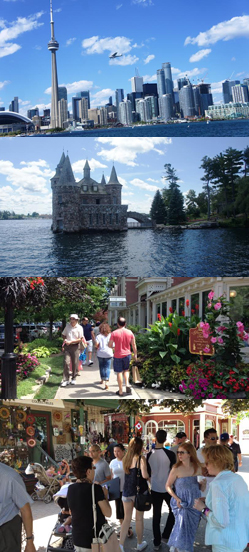 As you approach Niagara-on-the-Lake in Canada's Ontario through a scenic highway, any tourist guide would tell you that you are about to see the most beautiful town of the country, which once was the capital of Upper Canada. Now though the tour guide's peppy words of how Winston Churchill had found it as the most beautiful town of Canada during a trip by the lake from Niagara Falls to this well-laid settlement, would put you under pressure to kind of appreciate its beauty, if on a sunny summer afternoon you take a stroll here, you soon discover that perhaps this is not an overstatement.
So if you are approaching the town after a "been there done that tour" of Niagara Falls, it will come as a chilled out destination. Here you bask in the warmth of both a lovely Canadian town, stroll through the streets with the beautified sidewalks bursting in flowers of many hues, or can sneak into a place like Maple Leap Fudge for a sinful indulgence of different flavours of fudge made on site.
In Canada's Ontario, which is one of the most vibrant, multicultural and naturally gifted states, there is no dearth of beautiful places.
But for an Indian tourist who has relatives and friends living in either Toronto or Montreal or Vancouver, a tour beginning with the Niagara Falls can have a next stop in Niagara-on-the-Lake, and then in the water world of Ontario that is 1000 Islands on the St. Lawrence River and end in the Edgewalk of the CN Tower in Toronto after perhaps a Steak and Lobster trail meal at the revolving "360 The Restaurant" at the Tower while savouring the breathtaking view of the city and the Ontario Lake 351 metres below.
But before you take the scenic highway to Niagara-on-the-Lake which Churchill had called "the prettiest Sunday afternoon drive in the world", enjoy Niagara Falls to the core.
A Niagara Falls trip will not be complete without a boat cruise (Hornblower Niagara Cruises, the official operator of boat tours to Niagara Falls) to the misty lap of the falls or even better if you have some funds to spend on a helicopter tour (Niagara Helicopters) along with the cruise.
The "voyage to the falls boat tour" will take you for an up and close view of the falls- from the Great Gorge and American Falls to Bridal Veil Falls and to the mighty Horseshoe Falls as you experience the thundering roar and get wet by the spraying waters of the falls.
So after a wet Niagara Falls experience, take the scenic highway to Niagara-on-the-Lake in the heart of Canada's wine region.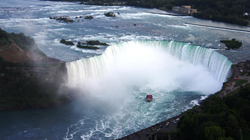 The town is known for world class theatre, fine dining, shopping, estate wineries or just for soaking in the cheery spirit of the beautifully landscaped streets lined with unique boutiques and outdoor cafes. You can also take a horse and buggy ride.
Settlements here began at the close of the American Revolution by Loyalists (1778) coming to Upper Canada. A town was laid in a grid pattern. In 1781 the British Government purchased land from the Mississaugas and by 1782, 16 families had become established and had cleared 236 acres.
Here the beautiful old homes lining the tree-shaded streets speak volumes about the prosperity of its citizens.
Over two hundred years after its founding, Niagara-on-the-Lake's many attractions include historic sites - Fort George and the Historical Society Museum, the Shaw Festival with its three theatres, the marina, heritage business district for shopping, golf courses, parks and beautiful farmland, agricultural markets and the world famous Niagara wineries.
In this quaint town on one popular corner, also do not forget to check out a vintage hotel called The Prince of Wales. While checking in here can be expensive, you can try a meal in the historic Victorian-style hotel with an ornate lobby boasting a stained glass mural, Victorian furniture, 110 individually decorated guestrooms, an award-winning restaurant, lounge and patio, a world-class spa and a lavish tea room serving afternoon tea daily.
A winery visit can be one of the must do things here. Reif Estate Winery is recommended among the several for a wine tasting tour. Founded in 1982 by Ewald Reif it owes its origin to the family tradition of wine making for 13 generations starting in Germany. The winery boasts of a sophisticated tasting room, blind tastings, food pairings and a sensory wine garden.
After Niagara and Niagara-on-the-Lake, your next stop can be the spectacular 1000 Islands.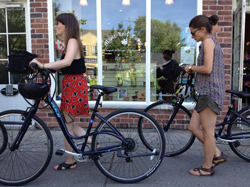 1000 Islands on USA-Canada border comprises 1864 closely spaced islands in the St. Lawrence River that flows out of Ontario Lake, and for tourists it offers breathtaking natural beauty combining with cruises, helicopter tours, live theatre, casino, castles, hiking, kayaking, freshwater fishing, cycling on the waterfront or simply walking.
This is a place of secluded island hideaways, beautiful summer residences on the those islands and a unique habitat with stories of mystery and romance.
If you are visiting 1000 Islands, your waterfront destination will be Gananoque near Kingston from where you can have the fascinating cruises and even helicopter tours. On way to Gananoque, do not miss to check out the Kingston town and its famous fort, Fort Henry.
Hailed as a boater's paradise and a fisherman's playground, a cruise through St. Lawrence River will unfold before your eyes the crystal blue waters, rocky islands, many of which boasts of opulent Victorian summer homes, and windswept pines of the Thousand Islands National Park.
During the cruises offered by the Gananoque Boat Line, you see the famous Boldt Castle, the Statue of St. Lawrence, the International Bridge and Zavicon Islands containing the smallest international bridge of the world as well (connecting Canada and America).
In the "Millionaire's Row" comprising the houses of the rich and famous on the islands, you see Boldt Castle, which has a tragic love story behind it. George Charles Boldt (1851-1916) was a self-made millionaire from USA who had made urban hotel as a civic social centre and luxurious destination. This castle on 1000 Islands was built for his beloved wife Louise as gift but before it was completed, the lady died, halting construction. It is now a major summer attraction here.
So after a quiet vacation of 1000 Islands, in Ontario the third destination can be Toronto itself. Capital of Ontario, it is home to the iconic 553 m CN Tower. So if we are talking about Toronto, we are talking about CN Tower too. And if it is this tallest attraction of Toronto, it is also about the Edgewalk. Those adventure lovers who are not too scared of heights take a walk outside – around the circumference of the roof!
You really can dare to test your limits and experience the thrill of a lifetime with an Edgewalk.
But Toronto has more to explore. So while a ferry to Toronto Island Park must be one of the usual touristy things to do to unwind in the open and enjoy the ferry against the backdrop of sky kissing Toronto high-rises, a visit to the Chinatown for its street art in the forms of wall graffiti and murals crafted by urban artists is a must.
Toronto's back alley here explodes with graffiti and artwork throwing a big challenge to Berlin, known for the Berlin Wall Eastside Gallery, as some people indeed hail the Ontario capital as one of the best street art cities on earth.
Ontario packs more than you can bargain for!!
FACT SHEET:
HOW TO GO:
Toronto and New Delhi (also other metros) is connected by many flights daily, including Jet Airways, Air Canada and Air India. If your tour is like Niagara-Toronto-1000 Islands-Toronto, then on arriving in Toronto, head for Niagara right then, may be by Niagara Airbus (which is a shuttle from Pearson Airport to Niagara) or you can take Go Train and Bus Service or Rental Car. Coach Canada, Greyhound & Megabus are cheaper options.
In the second leg of your trip from Toronto to 1000 Island, you can take a bus or train or car to Kingston, which is 28 km west of Gananoque. From Kingston, you would need to take taxi to Gananoque.
WHERE TO STAY
While there is no dearth of places to stay at Niagara Falls or Niagara-on-the-Lake or 1000 Islands and visitors can go for the best in keeping with budget from online sites like booking.com or hotels.com, we recommend these places for those with a little deep pocket.
At Niagara, you can check out this boutique hotel called Old Stone Inn Hotel.
At Gananoque in 1000 Islands, the best waterfront place to check in is Gananoque Inn and Spa.