Fifa WC 2022
Bangla Super League to send winners to witness FIFA WC 2022
Kolkata/IBNS: To recharge the passion for playing football, Apollo 24/7 is supporting Bangla Soccer League to send winners of certain titles at the end of the tournament to witness an A league Fifa World Cup match to be held in Qatar this year.
CMO at Apollo 24|7 Shamik Banerjee said, "The Bengali Bhadralok in us has stopped putting on his favorite team jersey, warming up, rushing to the field and playing football and instead has in essence become "a watcher" staring at his screen and rooting for his favorite EPL, La Liga and local teams."
BSL is holding matches between corporate houses & between RWAs and getting a greater section of Calcuttan's involved with actively playing the sport again, an official release said.
Currently, 2,560 players, 320 teams from Corporates and RWAs are fighting for the coveted title of Ke Hobey Footballer Champ.
The initiative is to bring former players back to the playing field, re-orient them with the smell of the grass and thereby the adrenaline rush.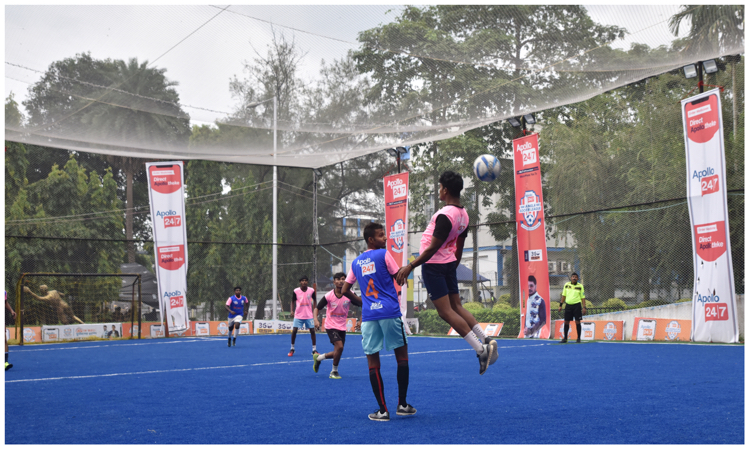 Major corporations such as CapGemini, Wipro, and PWC to RWA residents of Salt Lake, Ballygunge, Alipore, and Behala have become part of the football madness.
Torchbearer of Indian football Bhaichung Bhutia and Bengali film Megastar Prasenjit Chatterjee along with youth icon Lohoma Bhattacharya have been made band ambassadors for BSL.

From the participating 320 teams, 20 winning teams and 12 other teams (wild card entry through online voting) will play in knockout matches.
From these matches, 'The Man of the Tournament', 'Highest Goal Scorer', 'Winner of the Trivial Quiz', actor Prosenjit Chatterjee and one lucky individual will be flown to Qatar with an all-paid for stay at a luxurious five star hotel, and watch a Category A match in which Cristiano Ronaldo will represent Portugal, it said.
The winning team also will be trained by Abhra Mondal at the East Bengal ground premises.