India at Olympics
Image Credit: UNI
India end Day 15 in Tokyo Olympics on a lukewarm note
Tokyo/IBNS: India ended the day fifteenth of their campaign at the ongoing Olympics on a lukewarm note as Aditi Ashok retained at the second spot at the end of the third round in women's golf and wrestler Bajrang Punia lost his semi- final bout but still in contention for a medal while the women hockey team narrowly lost the bronze medal match against Great Britain 3-4.
Top Indian woman golfer Aditi Ashok, taking part in her second Olympics after Rio, played another fine round to return a card of 3 under 68 to hang on the second spot since the opening round with a three round total of 12 under 201. N Korda of USA is at the top with a total of 198 while New Zealander L Ko is at the third position with a total score of 203.
23-year-old Aditi from Bengaluru was tied the second place after the first and second round.
Grappler Bajrang Punia, second seed in his event, raised big hope after reaching the last four stage of men's 56 kg category beating E Akmta Lief from Kyrgyzstan in the pre-quarter final and then pinning down Morteza Ghiyasi Cheka of Iran in the last eight stage.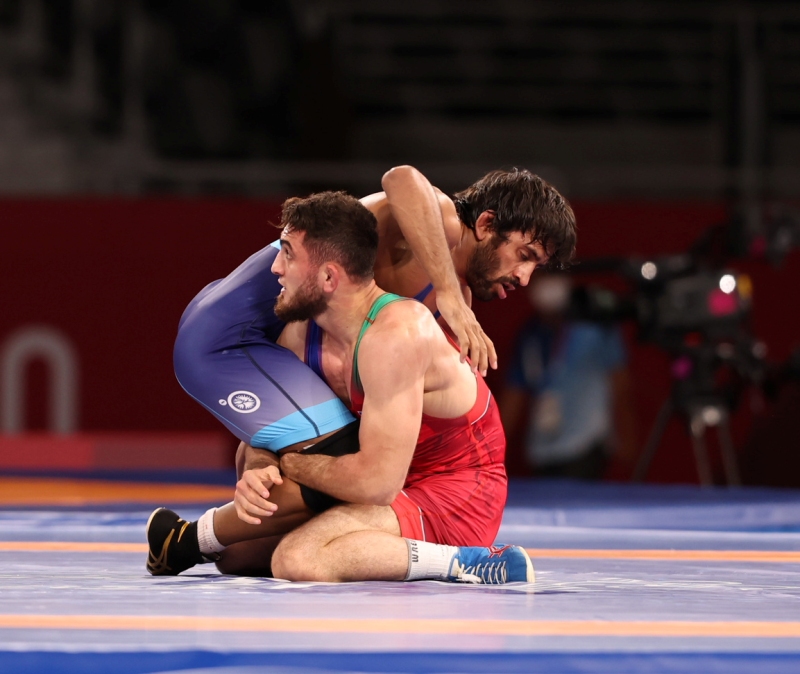 But in the semi final against Haji Aliyev of Azerbaijan, Bajrang after showing initial promise and winning the first point, faded out later as the bout progressed. Aliyev beat Bajrang 12-5 to move to the title clash.
Bajrang is still in contention for the bronze and will compete in the play off for third position Saturday.
The Indian eves dished out another spirited fight before losing their bronze medal play-off match against Great Britain 3-4. After being down by two goals scored by R Elena and Sarah Robertson, India dominated the second quarter not only to restore parity, they also took a 3- 2. For India drag flicker Gurjit Kaur converted two penalty corners before Vandana Kataria scored the third one.
Stung by the reverse Great Britain made relentless attacks on Indian citadel in the final quarter and managed to find the target twice more through their captain Hollie Pearne- Webb and Grace Balsdon (3- 4) to win the bronze.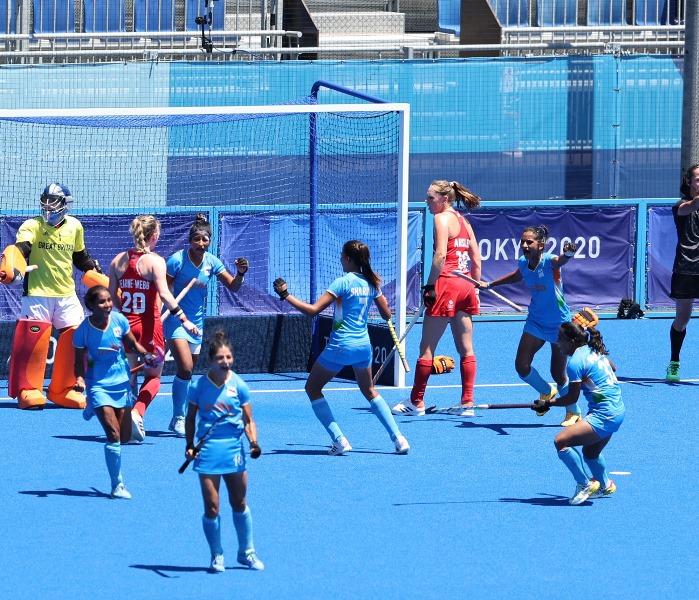 Even thoughIndian women could not make a podium finish in this Olympics, they have emerged as a force to reckon with in the international arena after their performance in this Olympics.
India's 4 x 400 men relay heat team consisting of Arokia Rajiv, Muhammed Anas, Noah Nirmal and Amoj Jacob came 4th in their heat setting a new Asian record clocking 3:0025 but narrowly missed a place in the final as they came overall 9th at the end of all the heats. In their heat India was trailing at sixth position but a fine run by Amoj Jacob enabled India to finish at the fourth position ahead of Japan, France, South Africa and Colombia.
Other Indian competitors today failed to create any impact, losing their contests cheaply or finishing poorly.
In women 50 kg freestyle wrestling Seema Bisla lost to Saara Hamdi of Tunisia in the pre- quarter final while Priyanka Goswami finished 17th in the 20 km walk for women. The 50 km race for men saw Gurpreet Sing pulling out of the event after the 35 km mark.
INDIA MEDAL TALLY: Won five medals so far ranking at 41