Tokyo Olympics | Manipur
Images by Hockey India Twitter handles
Manipur erupts in celebration after Hockey men's team with local boy Nilakanta Sharma wins bronze
Imphal/UNI: People of Manipur celebrated the Indian men's hockey team's bronze medal victory in the Tokyo Olympics, ending 41-year medal drought for India in the sport at the Olympics.
The men's hockey team won the bronze medal after a wonderful face-off with Germany to sign off with a 5-4 victory.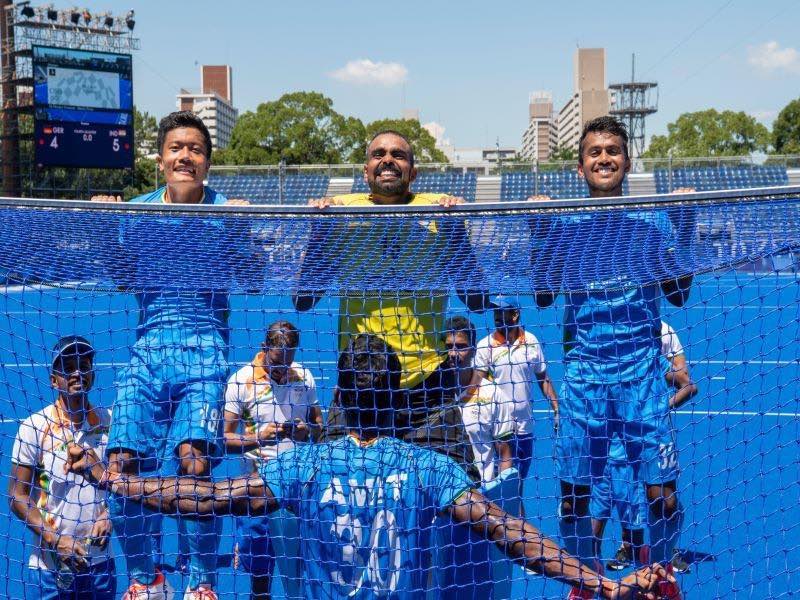 The victory also resulted in the winning of two medals in the Olympics by players from Manipur - Saikhom Mirabai Chanu, who won first silver medal for the Indian contingent, and member of men's hockey team Shanglakpam Nilakanta Sharma.
Celebrations at the residential area of Shanglakpam Nilakanta Sharma at Kontha Ahallup Makha Leikai, Imphal East District were spontaneous and people defying curfew danced on the streets.
Men and women came out and organized a Thabal Chongba ( Dance in the moonlit night ) which is normally organized during the Holi festival.
Ace midfielder Nilakanta represented India in men's hockey while P Sushila Chanu is representing India in the women's hockey team at the Tokyo Olympics.
Nilakanta, son of Sh Inaocha and Sh (O) Kunjarani, had been a regular face in the Indian squad since 2016.
Chief Minister N Biren said it was, "Such a resounding victory for India's Men Hockey team is in Tokyo today. Congratulations to our Men in Blue on winning the bronze medal and this historic win will go down in history. The country is really proud of you today."
Meanwhile, Nilakanta Sharma also shared photographs of the match and the celebrations and expressed happiness and appreciated the people of the state for all the support and prayers during all the matches of Tokyo 2020.
Gyanendra Ningombam, President Indian Hockey said, "India has done it. The men's Hockey team ended 41 years of medal drought. Congratulations. You have made India proud."
Five players from Manipur are participating in the Olympics.
Chief Minister N Biren today met Olympian Judoka Likmabam in New Delhi. He said although she couldn't win a medal, her journey to reach this place as the only Indian Judo athlete to represent India in the Olympics will inspire many youths in the country.