51st IFFI
Filmmaker Alex Piperno's Window Boy Would Also Like To Have a Submarine premieres at 51st IFFI
Goa/IBNS: Filmmaker Alex Piperno's debut feature film Window Boy Would Also Like to Have a Submarine was premiered at the 51st International Film Festival of India on Jan 17.
Pipersno was addressing a press conference at the festival venue in Goa, along with Co-producer Araquen Rodriguez, on Day 3 of the 51st edition of IFFI.
"I was travelling from Uruguay to Argentina in a ferry, when I discovered that we had two parallel lives and that this ship was a fantastical ship which could connect these two parallel lives. It made me realize that this could also connect any two possible lives. It is an idea which I have had since ten years," said Piperno from Uruguay during the press conference.
The film portrays the beauty and mystery of fantastical encounters among contrasting places and situations which are apparently unconnected with each other.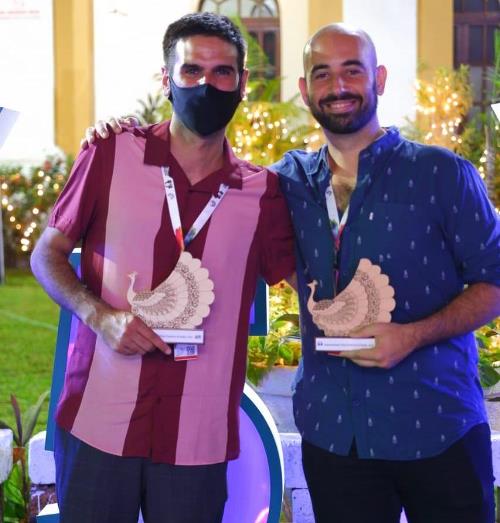 The director explained, "It is about encounters and the fantasy which one may have in staying in another place. If you find a door, you open it and go and sometimes you find it there is nothing else on the other side.
"So, it is about the frustrating yet liberating feeling of understanding that there is nothing else but what we are surrounded by. The poetical elements are like a resonance of what we already know and experience in everyday life."
On the nature of the film, which has been shot in four countries, the director said: "The whole world is part of the material of the film. It is Uruguayan in a strange way, it is Argentinian in a strange way. You can find the identity of culture in the way that a film names the world. At the same time, you cannot name it straight – I like to keep this ambiguity and the impossibility of naming the world in cinema."
Speaking about Uruguayan films, he said they are a mix of a variety of films. "I believe there should not be one national cinema, there should be many national cinemas."
The director of short films such as The inviolability of the domicile is based on the man who appears wielding an axe at the door of his house and Weep the Headless Madness of these Fields, when asked about long film titles, said that he finds no reason why they should not be long.
"The film title is an open door inviting us to the experience of the film. It also enables us to judge the characters of the film. It adds a layer of sense to the film, I am interested in different layers of the narrative of the film."
He was hopeful and looking forward to shooting a film in India in the near future.
Piperno said that being a foreigner in one's own film is a nice experience for him. "It is fun to make my own film a foreign country for myself."
When asked what drives him to make films, this is what he had to say, "I keep collecting different ideas and images and the moment I am able to put them together without understanding why, I really enjoy this moment of being a spectator of that process.
"I am really passionate about and enjoy this process of understanding the world. It is like one is pulled by a strange wave which one cannot name."
"The world to me is like a corridor, a place to feel like going through. In my film too, no character belongs to their spaces; they are foreigners in their spaces."
Araquen Rodriguez, co-producer of the film said that it was a real challenge to shoot the film, shot in two continents in four different countries over a period of two years.
"It was a big challenge production-wise. It was a difficult process to put together. And now that we are here at IFFI, it makes a lot of sense and feels like a really big success. The reception the film has got at the festival shows that the film is striking a chord," Rodriguez said.