Anjali Phougat
Fashion designer Anjali Phougat: I like to portray true beauty and true role models; do not discriminate between shapes and sizes
Mumbai: Top fashion designer Anjali Phougat, who recently showcased her collection at the New York Fashion Week, says that she has always believed in equality when it comes to fashion.
The designer says that all her shows have had different kinds of models, and that is how she likes it.
"The learnings from the fashion week would be giving a purpose to the collection. So, for me, the learning is speaking about sustainable fashion, using recycled fabric which I'm doing from multiple seasons. I always prefer to use recycled fabric wherever it's possible and also show the true representation of beauty. I do not use my models as hangers. I like to portray true beauty and true role models. I do not discriminate between different shapes and sizes because I've seen them when I go to fashion week. It's all about glamour, and beauty. People like to link all beautiful tall American, size 2, size 0 models, which I have never done. If you see my shows have had the most beautiful role models along with some beauty queens such as Miss India USA, Miss India Asia, who walked in my show, some of my gorgeous models were plus size models, size 16, dealing with a lot of rejections. And I like to create a platform for people and give a message for equality and that women should never be treated for their looks. Fashion week should not be about how beautiful someone is, beauty should not be defined by someone's look. Anybody deserves to and is capable of wearing good clothes and portraying a great message," she says.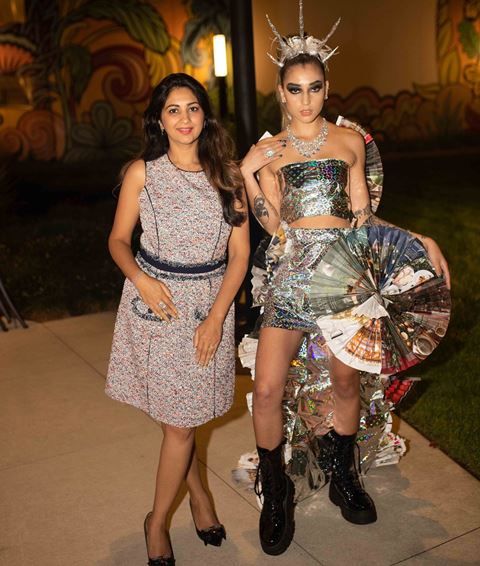 Talking about her most recent collection in New York Fashion Week, she says, "This time in New York Fashion Week, my theme was very exciting. The show and the collection name was Bedazzled The Day which was picked by my 10-year-old daughter and it was her collection, her design, and her theme. She came with the name because we all went through a very dark moment during the pandemic. Everybody lost loved ones and she tried to portray a ray of hope, sprinkle joy and happiness in everybody's life through a little bit of dazzle, shine, pearls, and glam. So that was the theme for the show. Also, we lost the Royal Queen recently and we tried to give a tribute to her lineage during the show. We dressed a lot of models as the Queen and we tried to portray how Indian and South Asian role models should be. It was all received very well."
Anjali has often showcased her collections at the biggest of platforms. "That was not the first time that we participated in a platform as prestigious as the New York Fashion Week. I have been showing it for years. I launched my first couture collection in 2019, and after that I did a lot of prestigious events such as Cannes, and Miss Universe. I'm all set to showcase my new collection in February 2023 which is going to be an even bigger theme, a bigger representation of the South Asian role Model women Community," she says.
Talking about the brands she associates with, she says, "I would like to believe that I am a brand in myself. Also, I have a brand named as Designer Dream collection and my recent collection was named as Anjali Phougat Couture. I'll be launching a season 2 Summer Spring Collection of Anjali Phougat Couture in February 2023. Then there are different brands such as for hair accessories and boots."