Read our ultimate guide to find the best Indian online casino 2020! We help Indian players choose top online casinos based on several criterial such as withdraw options, promotions and selection of casino games!
Ads
Bob Biswas struck a chord with the audience: Saswata Chatterjee
A powerhouse in Bengali cinema, Saswata Chatterjee took the nation by storm when he played the cold-blooded contract killer Bob Biswas in Kahaani. He has since landed roles in Bollywood like essaying one in Anurag Basu's Ranbir-Katrina starrer Jagga Jasoos. But the actor feels he hasn't quite lived up to the 'Bob mania' in a conversation with IBNS-TWF Correspondent Sudipto Maity
How would you define yourself I) as a person, II) as an actor?
As a person I think I am a very flexible man, others can say better if I'm otherwise. I am a very adjustable man…I am married to the same lady for 17 years, so I can definitely adjust (laughs). Having said that, credit must be given to the other person too (talking about his wife). The kind of profession I'm in, I think she adjusts really well.
I believe I'm a more flexible actor. I don't want to get tangled in a definite image, I look for varieties.
Why did you decide to become an actor?
I don't know (shrugs). I didn't have any specific plans. But I can tell you the reasons that drew me close to my profession. As you know, my father was an actor too (Subhendu Chatterjee), very early on I observed that one perk of becoming an actor was you could travel to various locations, discover new places. For us, it becomes a paid holiday. Say for example, I travel to a place for a movie, I stay there and enjoy and the entire expense is on the producer.

If not an actor then what?
Believe me, I really don't know and I didn't have a plan. I grew up like other kids, going through the motions. One fine day my father asked me "Tui ki korte chas bol to jibone"? (What do you want to do in life) and I automatically replied that I wanted to act. He asked me the reason and explained to him what I told you earlier. He eventually agreed.

You keep talking about your father and his role in shaping your life. Tell us a bit about him.
He would allow me to take my own decisions, he never said much. My mother was the one who kept me in check. My father never spoke to me in a raised voice. At home, he was this reserved kind of a man, but while in studio my father would talk a lot with his friends.

Do you like comparisons with other actors? What about with your father?
It's kind of foolish to compare two people. Two actors can never be the same. About comparisons with my father, I have stopped responding now. Earlier, I would get agitated, now I don't even think about such things. I have no will to defend what people are saying these days and say things in defence to things said about me. It doesn't interest me anymore.

You did Bob Biswas and became this overnight sensation in Bollywood. Post that you have done a few other roles but not with a similar impact. Why do you think this is the case?
I played a much bigger role in Jagga Jasoos, but Bob Biswas struck a chord with the audience because people didn't witness such an on-screen murderer before.

Do you think it was because Bob was this cold-blooded serial killer?
A serial killer should be cold-blooded and remain calm, otherwise you'll never be able to do your job well. If you can identify a murderer just by looking at that person, then he or she doesn't deserve to live outside the jail. The kind of portrayal of these roles all these years on-screen were done amateurishly. You need to lend credibility to a character and to do that, a murderer will have to look like an ordinary person, like you and I. This is what made Bob such a good criminal. Also, I sound like I am lending tips to criminals, but I'm not really doing that (laughs).

Are you selective about your roles?
A tad, yes. You are less likely to spot me in a typically commercial movie. I do get such offers but turn them down anyway as I feel it's equivalent to not doing them. I don't only work for the money, I also do films that excite me.

Do you watch your own movies? What genre of films do you like to watch?
I love to watch my own films. I'm an avid watcher of my own work. A lot of the times, people at home get irritated, they say things like 'oh he's watching his films again' (laughs). On a serious note, I watch my films as reference. While shooting for a film, you give your best shot and no one goes to work thinking they are doing it wrong. But, while watching your performances later, you can scrutinise a lot of things and learn from the mistakes.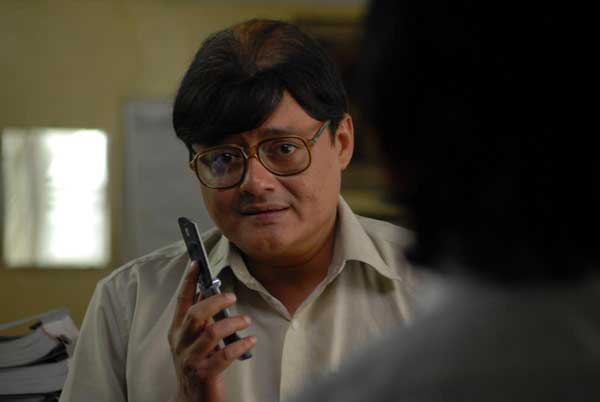 What genre of films I watch depends really on the film. I love to watch war movies. I love comedies. I used to love romantic flicks, not much of a fan now. Now, I love to both view and work in travel related movies. Two of the most memorable experiences I have had during my film career is while working in Goutam Ghose's 'Abar Aranye' and Anjan Dutt's 'Chalo Let's Go'. A film that I watch very often is 'Aranyer Din Ratri', a true masterpiece by Satyajit Ray.

You have been in Feluda, Bomkesh and now you are Shabor (Dasgupta). Rank in order of your preference.
First will always be Feluda. It is what comes first and I think every Bengali kid grows up embracing Feluda. The other two follows.

It's well documented that you didn't use a cellphone for a good part of this modern century. Have you broken that trend yet?
I still don't use one. Cellphones don't excite me. And as for people calling me, I am an actor, not a doctor, so, it's not like people need me immediately to save their lives. I'm not a panic-stricken man. I love to live my life normally. Emergencies can occur and I don't see how having a cellphone will alter the inevitable. If I'm to receive bad news, I will anyway.

When you see today, a lot of actors pay particular attention to their physique. Correct me if I'm wrong, but when you broke out into the scene, actors weren't into this a lot. Has acting became a lot more demanding/challenging today?
I still don't work out. And pertaining to the acting question, have you spotted any such talent recently? Has there been any character in recent times that has made us sit and say wow? When I think about it, not too many. I'm not complaining about anyone paying attention to their physique. I think it's a good thing and it's ones prerogative. Just because I don't do it, doesn't mean it's bad. But, a toned physique has got nothing to do with acting. It should come from within. Discipline is good, but I don't think too much of it will help you become a good actor.
An actor needs to have a certain level of madness. Without the madness, I don't think you'll be a good actor. Also, I think that a very good man will not be able to become a very good actor. You need to know both the good and the bad, otherwise you'll never be able to act. No one can teach you acting. If you could be taught, everyone graduating from an institute would have become successful, instead of the one or two out of them.

Do you like the present state of Bengali Film Industry?
I'm not too satisfied with the present state. Having said that, I'm a very positive man and I always hope of a better future. Change is a constant and one day it will change. But it takes time, you cannot see it overnight.

A lot of actors have said this that they get a vibe while shooting whether a film is going to do well or bomb. Do you get that too?
Look, these days, whether a film will work or not is not entirely dependent on filming alone. There are a lot of external factors you need to consider. Not every good work is appreciated now.

Are you suggesting foul-play?
That is happening. All you need to do is keep your ears and eyes open. There are certain movies that are not allowed to run in the theatres. It is for the audience to decide if a film is worthwhile or bad, but they are not given an opportunity to see the films, let alone judge it. Films are being taken off after a single week. What if I tell you that Bhooter Bhobishyot didn't pull audience in the first month but picked up pace later…all I'm saying is you need to give a film the opportunity it deserves. That is somehow not happening. I will also tell you this, because the films are not working, so many cinema halls have had to down shutters in the recent past. (pointing at my cellphone) I think this will be the preferred medium in the future.

You have played so many memorable characters over the years. If you are to choose one, which one would it be?
For me, it has to be Meghe Dhaka Tara. I know, very few people have watched the film, but the kind of responses I have garnered for the film…surpasses everything. The most difficult part of the role was, I had to portray someone who was real, but I hadn't met him once. The only reference I had of Ghatak were his films.

A role that you think you would have certainly done better.
I think I failed to justify the character of Topshe in Baksho Rohoshyo (TV movie). Looking back, I think I could have done a lot with the character. (laughs)