With new directors, films on transgenders toast of the season in Tollywood
Kolkata, Mar 11 (IBNS) Marking an important phase in Tollywood, two debutante film makers chose to turn the spotlight on transgenders in their films having back to back releases this month.
While "Conditions Apply'" by debutante filmmaker Amitabha Bhattacharya, dwells on the angst of a successful heroine whose sexual orientations push her into the eye of a storm of rejection, "Jenana" shows how a director faces hurdle while filming the day's struggle of male transgenders masquerading as female 'hizras' and both directors claim getting positive vibes from the discerning Bengali film audiences.
"I am confident our film will be accepted well by the audiences here, whose tastes have evolved over the years and since lots of art works are now taking place on the third gender people or those with alternative sexuality. Their issues are having more takers in the society, though there is still a lot of distance to cover," Mumtaj Sorcar, essaying the role of Chitrangada, a succesful heroine, in Conditions Apply, told IBNS.
She was supported by co-actor Ushashie Chakraborty who said the success of Conditions Apply was to make the audience connect with the anguish of Chitrangada, "How she is isolated and slotted once she is not considered a normal woman. Her talent gets overlooked."
Agreed Jenana director Barshali Chattoadhyay, who had previously worked in some telly soaps as assistant directors.
"I have faith in the audience to understand in what circumstances a male masquerades as a female. There has been more consciousness about the condition of these people, which is somehow influencing the thought process of new age directors like us.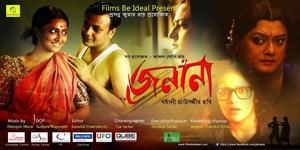 "In fact I had met all four types of third genders - Akua (males having feminine characteristics), Jenana (male masquerading as females), Chhinni (men having become women through surgery) and Chhibr (women having male characteristics).But since I first stumbled on the life story of a 'Jenana' I decided to work on his life weaving a fiction around it," Barshali said.
Mumtaj agreed that the topic is now more realistically handled by Bengali directors having shown lots of courage and also being backed by producers but pointed out how Rituparno Ghosh had handled the subject couple of years back in his films with his swansong Bengali flick Chitrangada also dealing with the same issue in a different way.
"Incidentally my character in Coinditions Apply also shares the name of the title character in Rituda's film. You can call Chitrangada is a metaphor inspired by the epochal dance drama of Tagore and the original epic," she said.
Music Director Debojyoti Mishra, the music director of Jenana, recalls how the issue had been handled previously in films, his association with long-time friend late Rituparno Ghosh "who wanted to say lot of things in his Chitrangadam which becomes more prophetic as days pass."
"Ritu had never shied away from discussing the issue and his Chitrangada will remain one of the few milestones of Bengali cinema. There was a certain soundscape integral to the theme of that film I remember. Happy that present day young directors are again showing courage. I am with them," Debojyoti signed off.
In 2015 another new director Hrishikesh Mondal had directed Achena Bondhutto which had starred a real life transsexual Teesta, who had become a woman after operation, and told her story. The film, however, did not have much box office success.