Read our ultimate guide to find the best Indian online casino 2020! We help Indian players choose top online casinos based on several criterial such as withdraw options, promotions and selection of casino games!
Ads
Suman Ghosh's Peace Haven mocks death : Paran Bandyopadhyay
Kolkata, Dec 30 (IBNS) Veteran actor Paran Bandyopadhyay, enacting an important role in Suman Ghosh's 'Peace Haven', says he was intrigued by the vision of the young director who has captured the story of three septuagenarian friends who embark on a journey to build their very own mortuary.
They begin their voyage after witnessing the cremation of another friend in his son's absence.

"One comment by his elderly father one day made Suman sit up and take note. A word, an observation may effect big changes in an individual's life. This is the history behind making Peace Haven. You will get to know why once you see the film," Paran Bandyopadhyay, who had turned up in several Sandip Ray films, tells IBNS.

"This film, applauded internationally in film fests, is Suman's reaction to his father's certain observations and all the three leads in this film are elderly persons," he says.

He says, the script of the film encapsulates the Poddokkhep director's dreams, thoughts.

"And we only embodied his vision."

To a question, Paran says Peace Haven mocks at death and is not morbid.

"It is a comedy in a subtler way where we all celebrate living not death. The rest you have to know after seeing the film."

About sharing screen space with thespian Soumitra Chatteerjee, Paran Bandyopadhyay says, "all phrases like blessed, proud, privileged become too mundane after a point."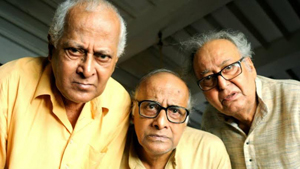 "Since film is a collective art, let's say I am happy to undertake my journey as his actor-companion and getting enriched."

Soumitra Chatterjee, a man of few words, says "I had done over 300 films in my life. Yet Suman's films are different, have been different always for me as an actor."

Suman Ghosh says, "He had agreed to do my first film Podokhep (which also starred Nandita Das).. He had been in Nobel Chor. I am proud that an actor of Soumitra Chatterjee's caliber has that trust in me as his director."