Onyo Opalaa gets standing ovation at IFFI, travels to Kerala: Satarupa
Kolkata, Nov 28 (IBNS) Bengali filmmaker Satarupa Sanyal's Onyo Opalaa (Opalaa- The Journey of a Woman), starring Roopa Ganguly, got a standing ovation at the Indian Panorama section of ongoing IFFI 2015 in Goa in a packed auditorium, said the director.
"While there was initially 25-26 persons inside the auditorium on a
Sunday
morning (Nov 22), it started swelling as the film progressed and not a seat was left as people seemingly connected with the life story of two generations of women and how very little changed in terms of taking their own decisions since 19th century," Satarupa, one of the few women filmmakers of Tollywood industry now, tells IBNS at the premier show of the film in Kolkata.
The film is about the journey of Opalaa, a middle aged widow married in an aristocratic family, at a very tender age.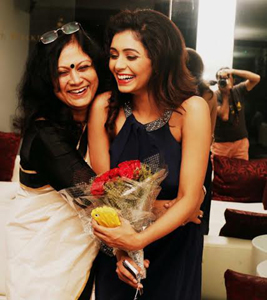 Adds daughter-actor Ritabhari Chakroborty, "Among the dignitaries present at IFFI screening was distinguished Malayalam film maker Biju Kumar Damodaran and the director of an acclaimed Marathi film."

The film, which was one of the seven Bengali films in this year's Indian Panorama section, has also been nominated for the 20th International Film Festival of Kerala.

"It is another honour. To make the cut for such a prestigious film festival. I got the mail already. We will be leaving in early December. But showing my film to the audience in Kolkata is most important," Satarupa says.

On casting national award winning actor turned politician Roopa Ganguly, Satarupa says, "Roopa's eyes are very expressive and reflect hidden pain within her. There are certain expressions which come naturally to an actor of her calibre."

Roopa Ganguly, present at the premiere, chips in, "I was hooked to the film because of the story line. And it's amazing how despite serious fund constraints shooting went on and the film finally took shape. It is amazing how the end product looks so intricately down with lots of care and how it gets to win audiences across places."

The film also stars Ritabhari, as younger Opala, and convict-turned-actor and reformer Nigel of Muktodhara fame.