Ekannoborti | New song
Mainak Bhaumik directed Ekannoborti's first song 'Behaya' releases at a musical event in Kolkata
Kolkata/IBNS: SVF has showcased the first song "Behaya" from Mainak Bhaumik's directorial "Ekannoborti" at a musical event in Kolkata.
Prasen'er Dol Bol, the powerhouse behind the creation of 'Behaya', performed the acoustic version of the song at the event in the presence of the star cast of Ekannoborti which includes Aparajita Adhya, Sauraseni Maitra, Kaushik Sen and Ananya Sen, with the director, Mainak Bhaumik. The theatrical release of the film is scheduled on November 19.
Being one of the most important songs of the movie, Behaya's lyrics focus on the present situation of the main characters and in the visuals, Ananya Sen is seen singing the song and playing guitar in a small family gathering.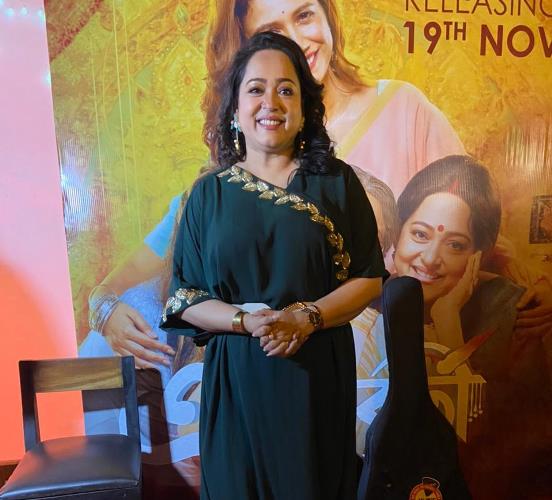 Some other exclusive scenes from the movie are seen in flashes which focuses on the different scenarios and emotions of the individual characters from their lives.
The teaser of Mainak Bhaumik's "Ekannoborti" is streaming on the social media platforms of SVF and has garnered huge positive responses from the viewers. The story showcases a unique tale of four strong women of three different generations, shattered by one tragic incident which continues to cause them agony. Also, suffering from their own different individual problems these women define solidity in their own way.
The song has been sung by Lagnajita Chakraborty.
Talking about the song, Prasen stated: "We wanted to create a song which will stay with the audience, and which can perfectly portray the circumstances of the main characters of the movie. After days and nights of hard work creating the song, we are happy that we have delivered what we desired to, and this song couldn't have been this much beautiful without the voice of Lagnajita Chakraborty. If said in another way, she gave life to Behaya."
Speaking about his collaboration with Prasen for the second time, the director, Mainak Bhaumik said "I was very much impressed by Prasen's work in Cheeni and hence, for Ekannoborti's music also, I wanted him. To my surprise, this time he came with his whole team whom he calls his 'Dol Bol'. I must say they have done incredible work altogether. Behaya is my favourite from all the tracks in the album and I hope the audience will shower immense love to both the song and the movie."
"Behaya" is now out streaming on all the social media platforms of SVF.

Watch the Behaya song here: