RIP Buddhadeb Dasgupta
Image Credit: Screenshot grab from YouTube
National Award-winning Bengali filmmaker Buddhadeb Dasgupta passes away
Kolkata/IBNS: National Award-winning iconic Bengali filmmaker Buddhadeb Dasgupta, known for delving into magic realism through his works, passed away on Thursday. He was 77.
Dasgupta died due to age-related complications.
He was suffering from kidney disease and was undergoing dialysis.
Dasgupta, who was known for his parallel cinema, directed films like Bagh Bahadur, Tahader Katha (earned actor Mithun Chakraborty a national award), Charachar and Uttara.
Five of his films which had won the National Film Award for Best Feature Film are Bagh Bahadur, Charachar, Lal Darja, Mondo Meyer Upakhyan and Kaalpurush.
His two films, Dooratwa and Tahader Katha, had won the National Film Award for Best Feature in Bengali.
Uttara and Swapner Din were the two films which had earned him the National Film Award for Best Direction. Several of his films had featured popular commercial film actors like Mithun Chakraborty and Prosenjit Chatterjee in offbeat roles. Ami, Yasin Ar Amar Madhubala (English: The Voyeurs) made in 2007 starred Prosenjit Chatterjee who also acted in Swapner Din.
Nawazuddin Siddiqui acted in his 2013 dark comedy Anwar Ka Ajab Kissa (Sniffer).
Besides being a filmmaker, Dasgupta, a poet, had published poems like Govir Araley, Coffin Kimba Suitcase, Roboter Gaan, Sreshtha Kabita
IBNS Editor Sujoy Dhar in this tribute recalls his decades-long association with Dasgupta and his films:

One of the most internationally celebrated Indian filmmakers post the era of Satyajit Ray and Mrinal Sen, Buddhadeb Dasgupta with his trademark magic realism probed the effects of blind consumerism, crumbling family bonds and receding innocence in modern lives.
Dasgupta's films can be placed in the same genre as that of the late Soviet filmmaker Andrei Tarkovsky's, marked as they are by a non-narrative poetic style.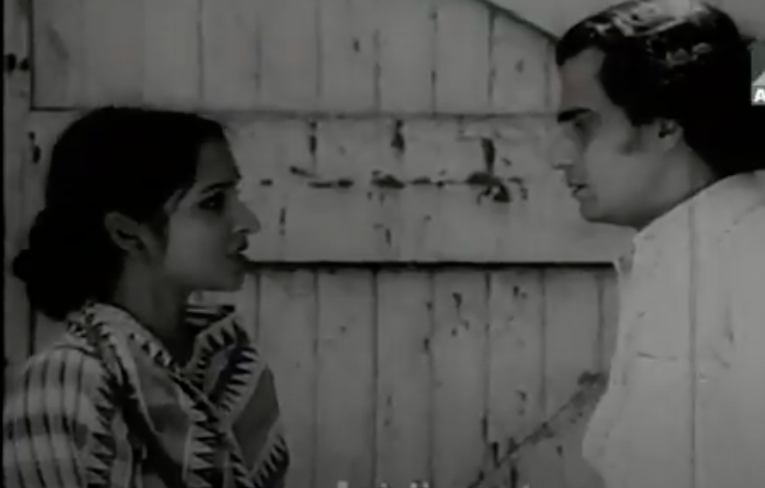 Dasgupta's own celluloid journey began in 1979 with 'Durotto' ( The Distance). He was a lecturer of economics before he dabbled in films, for which he had no formal training. He was originally from Purulia district of West Bengal, a location where he went back with his cast and crew again and again for shooting.
After doing a couple of documentaries, he started working on a full-length feature film in the late seventies, but had no financer. He took out loans from the bank and close friends and pawned his wife's jewellery to make 'Durotto'.


His earlier films, such as Grihayuddha and Andhi Gali of the 1980s, were political in nature, but his works later were attempts to characterise man in a new version of reality. A testimony to that was his film Lai Darja (Red Door, 1997).
Based on his own poem, "For Hasan", Lal Darja is a response to the sadness the director feels at the inevitable loss of innocence and freshness in modern life.
Dasgupta's protagonist is a successful Calcutta dentist whose dull life of middle-class respectability is suddenly shaken up by an impending collapse of his marriage as his wife decides to break out in search of a new life. As he struggles in his bewilderment, he notices the contrast he stands in with his driver, a happy-go-lucky polygamist.
Ultimately he finds escape from bourgeois boredom through a journey of fantasy into the lost world of his innocent childhood. Delving deep into the problems of urban life dominated by relentless consumerism, Dasgupta tries to rescue a place for spiritualism in our lives.
'Mondo Meyer Upakhyan' (A Tale of a Naughty Girl), another Bengali film on the quest for freedom by a sex worker's daughter was the rage in festivals worldwide nearly two decades ago, boosting the credentials of this avante-garde director as an important filmmaker from India.
The film tells the story of a poor girl's quest for a new life away from the quagmire of prostitution, a quest that is likened to and juxtaposed with that giant leap of mankind in 1969 – the landing on the moon.
Dasgupta in the film zeroed in on the girl Lati's struggle in 1969, when American astronauts also landed on the moon. He juxtaposed footage of the moon landing with the young woman's story.
"When Neil Armstrong and Edwin Aldrin stepped on the moon it was termed a small step for man but a giant leap for mankind. It was a journey of hope and unparalleled human achievement in the quest for new knowledge.
"I have caught the no less extraordinary journey of another young woman, caught in the vortex of prostitution," he added. "It is a journey sometimes real, sometimes magical. A journey which is actually a giant step for a woman."
'Mondo Meyer Upakhyan' also subtly explores lesbianism among prostitutes. "Yes, there is an element of lesbianism in the film. You can call it female bonding. And this is quite normal among the prostitutes as their physical relationship with the male is not of pleasure," he told me.
'Mondo Meyer Upakhyan' was also bought by a Toronto-based company, Cinema Vault Inc, for two million U.S. dollars, a record price for any Indian film back then.
Dasgputa was a toast of the prestigious Toronto Film Festival more than once.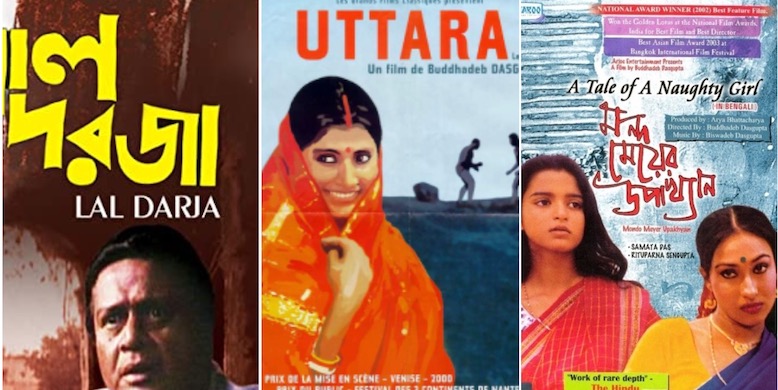 Another film of Dasgupta that was a commentary on religious fundamentalism was Uttara. Remaining strictly within the genre of the non-narrative poetic style that he had mastered, he made a film that condemned both religious fundamentalism and the callous human response to the sheer beauty of life.
To drive home his point, Dasgupta drew from a real-life very-recent incident that rocked India's claims to tolerance back then: the burning of Australian missionary Graham Staines and his two sons in Orissa. But the film itself is based on a short story of the same name by the late Bengali novelist Samaresh Basu. With producers reluctant to finance a film that had all the ingredients of controversy, the director himself produced the project with some Swiss assistance.
In Uttara, cracks appear in the serene world of the village when Balaram (actor Shankar Chakraborty) brings home the beautiful bride Uttara (actress Jaya Sil). Balaram's easy relationship with Nemai (Tapas Paul) evaporates, and soon the two friends' healthy passion for wrestling (the film has tones of homo-eroticism in the wrestling scenes) is transformed into a real fight over a woman.
Elsewhere in the village, a group of Hindu extremists are setting out to exterminate the pastor (played by Asad from Bangladesh). He is burnt alive in the church, a dwarf train guard is killed, while Uttara is raped and murdered by the zealots.
"More than a story of intolerance and brutality, the film is about innocence and simplicity that gets fractured and destroyed by a combination of factors. And this is in no way a political film. If viewers interpret it so, it would be a misinterpretation," Dasgupta told me.
Uttara was very much in the genre of Dasgupta's later national award winning films like Bag Bahadur(1989), Charachar (1994) and Lal Darja (1997).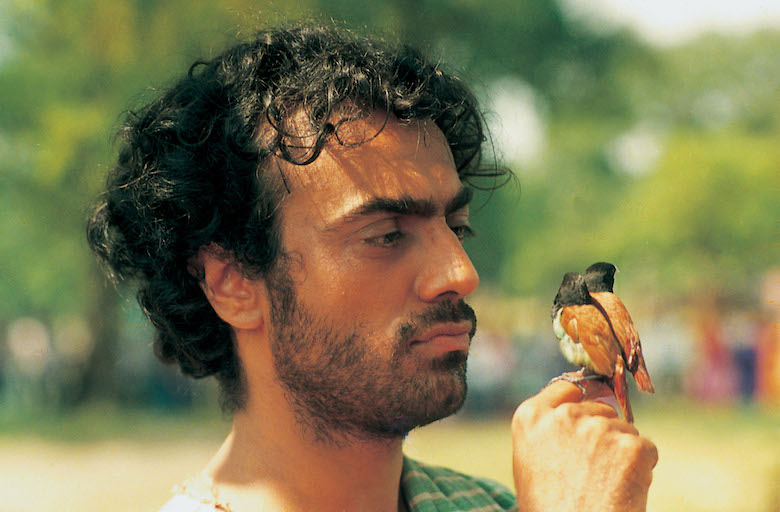 His last film was Urojahaj (The Flight), which tells the story of the crazy dream of a villager to fly a rusted wreck of a downed World War II Japanese fighter plane that he had discovered in the forest. But as he repairs it he was considered a national threat with the film layered by the political reality of individuals haplessly pitted against the power of state.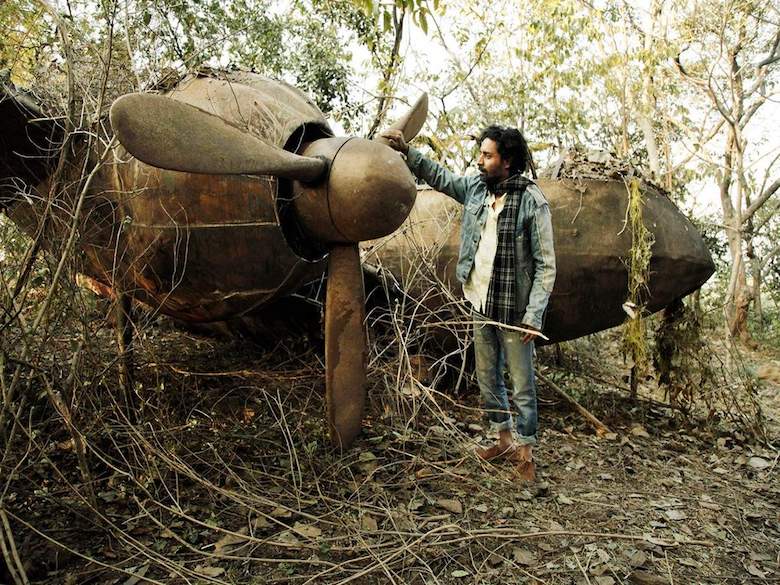 Of all his works, I would always remember Buddadeb Dasgupta for Charachar, my personal favourite for the poetic story of a bird catcher, Lakhinder (Rajat Kapur), who started secretly setting free the birds he would catch otherwise for his livelihood.
Reactions:
Prime Minister Narendra Modi tweeted, "Anguished by the demise of Shri Buddhadeb Dasgupta. His diverse works struck a chord with all sections of society. He was also an eminent thinker and poet. My thoughts are with his family and several admirers in this time of grief. Om Shanti."
Mourning his death, West Bengal Chief Minister Mamata Banerjee tweeted, "Saddened at the passing away of eminent filmmaker Buddhadeb Dasgupta. Through his works, he infused lyricism into the language of cinema. His death comes as a great loss for the film fraternity. Condolences to his family, colleagues and admirers."
Tollywood superstar Prosenjit Chatterjee said, "... Buddhadeb Dasgupta was a prominent name in the international film world. I was lucky to have worked with him in two films. Going to various film festivals with him, I came to know how much his parallel cinemas were valuable at the international level. I feel proud to be a Bengali..."
Actor Sudiptaa Chakraborty tweeted, "It's indeed an irreparable loss fr Indian and Bengali film industry.We knew he's been suffering frm ill health but we hoped that he would fight back n wil come bck to the shooting floor again. Alas ! May your soul rest in peace Buddha da My heartfelt condolences to his family."