Bhalo Theko: Tollywood actors pay final tributes to Soumitra Chatterjee on social media
Kolkata: A pall of gloom has descended on the Bengali film industry as iconic actor Soumitra Chatterjee passed away on Sunday, leaving behind his memorable works that will be cherished by generations to come.
Tollywood actors posted their condolences on social media as they remembered the icon who has worked in movies even during the last few months of his life.
Tollywood superstar Prosenjit Chatterjee told UNI: "He was a father figure to me personally..and his contribution to Bangla rather Indian Cinema and theatre will be written in Gold letters."
Satyajit Ray's son and ace director Sandip Ray said, "I lost my family member. He had an awesome rapport and camaraderie with my dad. He gave a ton of insights on to the characters created by Baba."
"His most loved role was that of Gangacharan in Ashani Sanket. He was so associated with the project that he even pushed the trolley when there was a shortage of crew," he said.
Leading lady of the Bengali film industry, Rituparna Senagupta, who has worked in several films with the legend, tweeted: "A star with whom I was quite fortunate to work with has fallen from the sky today.It is quite unbelievable and heartbreaking to believe this harsh reality that Soumitra Jethu is no more with us.Can't explain in words what we lost today."
Actor Dev, who is also a TMC Lok Sabha MP, tweeted: "You will be missed Chana Grand Pa. Be happy wherever you are now."
His Lok Sabha colleague Nusrat Jahan tweeted: "Bhalo Theko". End of an era. Deeply saddened. #SoumitraChatterjee."
Mimi Chakraborty, Lok Sabha MP and Tollywood actress, wrote: "Bhalo theko #SoumitraChatterjee."
Tollywood actor Parambrata Chatterjee said: "request friends in the media to not call and ask for a 'reaction'. This pain, is too personal. This loss doesn't belong to words, belongs to me alone. #SoumitraChatterjee."
Actor Rahul Bose posted: "I grew up watching his films day after day. So working with him in #15ParkAvenue was surreal. He answered all my questions on how it was to work with #SatyajitRay with generosity and warmth. It's been a privilege, Soumitrada. Rest in peace."
Actor Abir Chatterjee said: "The legend says goodbye...We will miss you..Cinema will miss you..ভালো থেকো."
Filmmaker Shiboprosad Mukherjee said the Bengali cinema world lost its guardian today.
"It is indeed true that the Bengali film industry lost its guardian today," he told a news channel.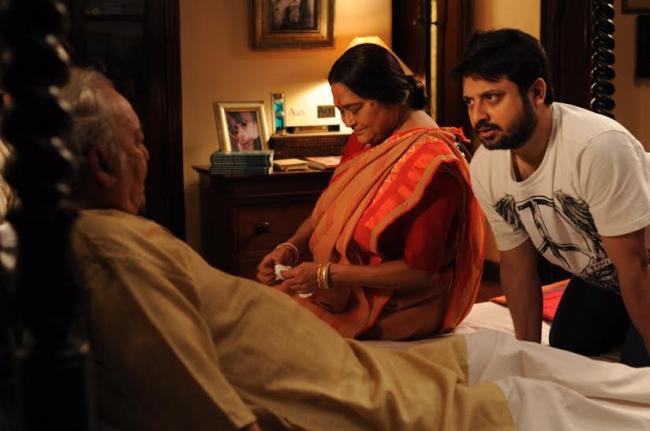 Ending an era in Indian films, veteran actor and Dadasaheb Phalke Award recipient Soumitra Chatterjee passed away on Sunday at around 12-15 pm at the Belle Vue Clinic here, according to hospital sources. He was 85.
He battled the deadly coronavirus for days at a private hospital here and turned negative, but finally succumbed to his ailments after almost 40 days' fight.
He was on ventilation for the past few days.Chatterjee (or Chattopadhayay in Bengali), who had tested Covid-19, was shifted to an intensive care unit after his Covid-19 symptoms worsened. However, he was declared Covid negative later.
But finally the end came on Sunday shortly after noon.
The actor, who was a favourite of maestro Satyajit Ray having starred in his iconic Apu trilogy, and had later earned huge popularity playing Feluda, a private detective character also created by the late Oscar winning filmmaker, is survived by his wife Deepa Chatterjee, a son and a daughter.Chatterjee, who had started his career in the All India Radio (AIR) as an announcer, made his film debut with Ray's Apur Sansar, which was the third part of Apu trilogy.
Following Apur Sansar, he went on to act in Ray masterpieces like Abhijan, Charulata, Aranyer Din Ratri, Sonar Kella, Joi Baba Felunath, Ghare Baire and Jhinder Bandi. Chatterjee, who had created his own fan following along with critical acclaim and international recognition, was a hero in many films during a golden period of Bengali cinema in the 1960s and 70s, when his contempoary was late matinee idol Uttam Kumar.
Decades since making his debut, Chatterjee till his last days was relevant as the only surviving Bengali screen icon, with his prolific portrayals in countless commercial and arthouse films.
Some of his recent films which have been widely appreciated are Bela Seshe, Posto, Mayurakshi, Sanjhbati, Basu Poribar, et al.After months of anti-Covid-19 lockdown, the legendary actor had in July resumed shooting for actor-filmmaker Parambrata Chattopadhyay's Abhijaan.Chatterjee was conferred the Dadasaheb Phalke Award, the highest award in cinema given by the Indian government, in 2012.
He had won two national awards and was in 2004 conferred Padma Bhushan, the third highest civilian award in India.
Chatterjee was one of the major Indian film actors on whom France had conferred the Legion of Honour, the highest French civilian award, in 2018, for his contribution to cinema.