Shaunak Sen
Cannes award for All That Breathes is something, but I am cautiously optimistic: Shaunak Sen
After winning at the Sundance film festival, Shaunak Sen's documentary 'All That Breathes' won the top documentary honour at the Cannes film festival this year. With the film slated for release on HBO this fall, Sujoy Dhar catches up with the Delhi-based filmmaker to know what inspired him to make a film on two Muslim brothers on a mission to rescue the kites that fall out of the grey, monotone skies of the severely polluted national capital region
It was a proud moment for India when Delhi-based filmmaker Shaunak Sen's documentary 'All That Breathes' won the 2022 L'Oeil d'Or (Golden Eye), the top prize for documentaries at the prestigious Cannes Film Festival.
The film, which earlier became the first Indian film to win the Grand Jury award at the Sundance film festival, follows the lives of two Muslim brothers in Delhi who run a bird hospital in their dingy basement dedicated to rescuing injured black kites that dot the notoriously polluted skies of New Delhi.
HBO, which will make the film available on its platform this fall, pitches 'All That Breathes' as a film about the environmental toxicity and the escalating civil unrest in Delhi when the relationship between this family (the brothers) and the neglected kites forms a poetic chronicle of the city's collapsing ecology and deepening social fault lines.
But what does Shaunak, who is fascinated by the human-non-human relationship and refuses to be politically boxed because of the socio-political backdrop of the film (the pre-pandemic anti-CAA protests) or its protagonists' faith or his JNU engagement, himself have to say about his film that puts nature and mankind on a level playing field.
Excerpts of the interview:
Q: I heard you repeat in interviews that All That Breathes is not just a film about air pollution in Delhi. So what inspired you to choose this subject and how do you categorise your film?
A: When I began I knew I was not making any straight-nosed pollution film. To make a film on pollution would have been very prohibitively restricted. I never slotted it like that. But anyone vaguely interested in non-human life in North India has to take into account the air quality of the region. In Delhi our lives are constantly laminated and coated by the grey sky where the sun is a kind of diffused blot. But that (air pollution) was not the clarion call for me.
In the vaguest sense, the film began glowing at the back of my head. The overpowering sense for anybody who lives in Delhi is a pervasive greyness- an all encompassing spell of a hazy, montone grey. The kind of feeling that you are constantly breathing in something noxious, was there. It (the film) dealt with the sense of air as a kind of tactile, visceral, heavy physical object.
Secondly I was interested philosophically in the human non-human relationship and this brief visiting fellowship in Cambridge University provoked it further through a close friend of mine teaching there- Dr. Maan Barua, who is a lecturer in environmental and human geography at Cambridge.
I was interested in the broader philosophical domain of non-human life. So I wanted to do something that captures this. It has to do with air and these kites gliding in the Delhi sky. I was reading a lot of stuff, a lot of literature around trans speciciestic obsession with birds. That's how I got interested and then I met the protagonists- the brothers.
Once you visit their damp dingy basement, you find the metal cutting machines on one side and on the other these staggeringly beautiful birds, it was so cinematic. In essence the ethnographic fieldwork was just one day.
Q: I found you on YouTube speaking at a TED Talk event in 2016 where I learnt about your previous film Cities of Sleep (2015). I was quite fascinated by the idea of that film on the informal sleep shelters of Delhi under a railway bridge. The film was critically acclaimed but it did not win a Cannes award like All That Breathes. But it seems you persevered for years and made your second film. What was the journey like from your previous film to All That Breathes?
A: For a documentary filmmaker it's not easy. You sign up for that arduousness if you are making documentaries. Nobody gets into a documentary for the greed of a plush life. After I made my first film I was travelling with it. Then I did a Ph.D (at JNU). I began All That Breathes at the end of 2019. Three years is not an unusually long time for the making of a documentary. You need a long time for that dramaturgical arch. The form of documentary is interested in stuff of every day. The rhythms and humdrum quality of everyday life, those kinds of cadences are essential.
Q: Can you share your effort behind the film's making- in terms of funding, involving a DP from abroad and so on.
A: I do not believe in any categorisation (so far involvement of a foreign- read German- DP is concerned or others from abroad involved in the film). My first film (Cities of Sleep, a documentary on the sleep shelters of Delhi) was on a shoestring budget, shot with a hand held camera. This film had more ambition, expanses, and it was about everything, so that was the kind of scale. This film required a kind of excellence in terms of execution. I required that kind of craftsmanship.
I love the films of Russian filmmaker Victor Kossakovsky, and I wanted to work with his DP (Director of Photography) Ben Bernhard, who is a German. Two other cinematographers are Riju Das and Saumyananda Sahi. I did a base edit of All That Breathes in India. After that I went for mastering in Denmark by Charlotte Munch Bengtsen, who has done (editing) big films like The Act of Killing, The Truffle Hunters, etc. For making a documentary, the beginning is never easy. But thankfully for me I got grants from cinema bodies like Tribeca, Sundance, and so on. I met with a British co-producer and that was great, an American studio was also interested.
Q: How did you come across the subject of your film? Some media story on the brothers? And what was your experience with the brothers during the shoot for years amid a pandemic?
A: I was very much interested in figures of birds that fall from the sky. So getting to them (the brothers of Delhi who rescue the falling birds) was not difficult. During the pandemic we had to wait a long span of time. I shot a very long 200 hours of footage. It is a long thing. Pandemic was a hurdle but if the span of your film is three years, then you are able to weather storms better.
Q: Besides the media spotlight after the win, the award at Cannes perhaps makes it easier for you to execute future plans. What do you think?
A: Well, documentaries are confined to a marginal, fairly opaque space. So to get this kind of a platform is something. Well, I can say that I am cautiously optimistic, guardedly buoyant.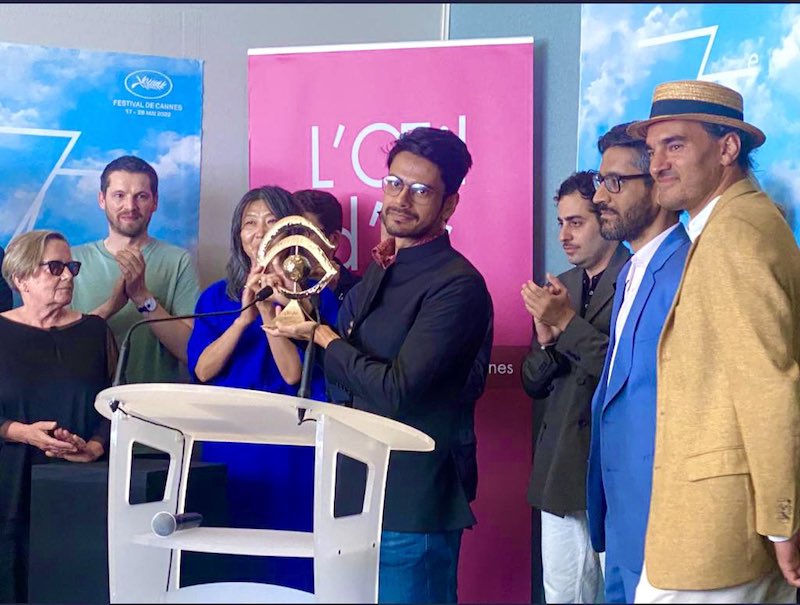 Q: I saw in interviews that you were asked several times about the political debates and polarisations in our country because of the backdrop of the film and the turbulence in Delhi (The Citizenship Amendment Act or CAA protest, ensuing violence) around the time it was being shot. Dots are being connected, especially because your protagonists are two Muslim brothers. What is your own version on this?
A: At no point when we began shooting for the film was it meant to be a political snapshot. The outside world leaks in. Some unrest, some degree of churning, some tumult in the streets leak in. At times the city [Delhi] is tense, it's a kind of wallpaper or background, which is unavoidable. Nor are the brothers [protagonists of the film] in any way directly political. Dots are connected because of my JNU background, but I definitely do not want to be boxed.