Read our ultimate guide to find the best Indian online casino 2020! We help Indian players choose top online casinos based on several criterial such as withdraw options, promotions and selection of casino games!
Ads
Zindagi presents a compelling story - 'Aadhe Adhoore'
New Delhi, Jan 22 (IBNS) : Since its launch Zindagi has carved a niche for itself with its heart wrenching drama series.
The channel's second home-grown fiction series 'Aadhe Adhoore' that airs every Monday toSaturday at 9.50 pm on Zindagi is a compelling concept of relationships, betrayal and unrequited emotion.

A gripping story line that turns the spotlight on Jassi, Aadhe Adhoore is the story of a new age woman who is in touch with her deeper self, knows who she is and is not apologetic about it.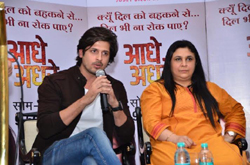 The story also focuses on Viren stuck between the emotions of his bhahbi (Jassi) and his commitments towards his wife (Channi). Rohit Bharadwaj who essays the role of Viren was in Delhi along with veteran Director, Ajai Sinha and Priyanka Datta – Business Head, Zindagi to talk about this unconventional love story.

Commenting on the launch of the show, Priyanka Datta – Business Head, Zindagi, said, "Aadhe Adhoore is the modern Indian woman's take on her life with an underlying mantra – Follow your heart! Strong narratives, realism in storylines, unconventional concepts and power packed performances have now become synonymous with Zindagi. We take a step ahead in our distinctive brand of storytelling with our second original fiction show, Aadhe Adhoore. It showcases real relationships that will appeal to audiences both mentally and emotionally and we have television's most daring producer, Ajai Sinha, making it. It's all about presenting the story with sensitivity and realism for our audiences."

Producer and Director of Aadhe Adhoore, Ajai Sinha said, "Aadhe Adhoore is a thought-provoking show that explores layering of different relationships. A powerful story that demonstrates how in life sometimes you are unable to choose your situations but your situations choose you. This show explores the core emotions of people in a complex relationship."

Rohit Bharadwaj, who plays the role of Viren in the show added further, "Playing a multi-layered character like Viren is a challenging experience. 'Aadhe Adhoore' is a rare show that explores unconventional relationships. I hope that viewers can understand my character's emotional dilemma due to the many upheavals and the tumultuous turns in his life."

Produced and conceptualized by Ajai Sinha's, Ananda Films, 'Aadhe Adhoore' is set in Kapurthala. The story revolves around the life of Jassi, a simple Punjabi housewife, who tries to strike a perfect balance between the emotions she feels and the circumstance she finds herself trapped in, even while she is the perfect wife, bahu, and bhabhi. The show has an ensemble cast of popular actors like Geeta Udeshi, Rohit Bhardwaj, Priyanka Khera, Mohak Khurana, amongst others. The show is a finite show with 104 episodes.