First look of Pijus Saha's upcoming film 'Beparoyaa' unveiled
Kolkata, Dec 7 (IBNS) The man who gave Subhoshree, Soham and Ankush to the Tollywood industry , Pijus Saha, is making a comeback after a hiatus of 4 years with the biggest entertainer of 2016 "Beparoyaa".
Once again he is all set to give a stunning break to newcomers Surya and Papri

Beparoyaa is a political satire with a youth love story catering to the masses and connects with the youth with its mind blowing special effects and photography and stunning locales with fabulous music by Indra.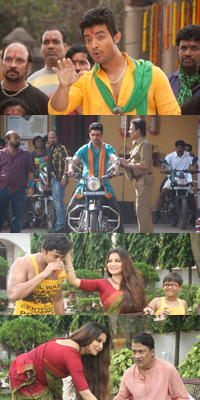 The punchline of movie as "Kori Na Kawoke Parwaa tai Ami Beparoyaa"is sure to capture the imagination of the masses

The film also stars Ranojay, Rajathava Dutta, Supriyo Dutta, Arun Banerjee, Santilal, Koushik Banerjee, Nimu Bhoumik, Soumili Biswas, Dolon Roy and Master Prayus Raj.

Story, screen play and direction of the film is given by Pijush Saha

The film is presented by -Prince Entertainment P4 and produced by –Pijus Saha Productions Pvt. Ltd.

The movie is slated for its release on 3rd week of January.

Ramlal Bhakat , who is also known as "Rambabu", is the topmost don of Haldia. The entire locality runs at his command. Extortion, smuggling , promoting is his monopoly. He wields immense clout in the political scene of the area . With his help " Prakash Saha " won the election to became an MLA . Though Mr. Prakash Saha is now a minister but he is just a puppet under Rambabu .

"Raja" the only son of Rambabu is the worthy successor of his father. Women, alcohol , muscle power in students politics are his forte.

Even SP "Barun Debnath" has been murdered by Rambabu for the same. The assassination of Barun Debnath issue gets flashed in the media. Minister Prakash Saha advised Rambabu to leave the country and hush up of the issue. Rambabu's closest rival "Sajid Vai" gets arrested. Newly appointed SP "Bharat" who is very close to Prakash Saha tries to cover up the case.

Young brave boy "Surya" who is under Police training got entangled in various cases which dragged him to the court. To avoid the situation Suryas's father sent him to Haldia at his maternal uncle's place.

He meets "Bristi" and falls in love with her. He proposes to Bristi but Bristi is not ready to accept. Raja who was also inclined to Bristi tries to get her forcefully. When Surya comes to know the incident and stood beside Bristi. Which lead into a fight between Surya and Raja.

Raja was severely injured and goes into a coma. Getting the news Rambabu came to Haldia and gets into a direct tussle with Surya. At the end Surya wins the battle against Rambabu and also gets Bristi.
First look of Pijus Saha's upcoming film 'Beparoyaa' unveiled
India Blooms News Service
Post your comment: