Read our ultimate guide to find the best Indian online casino 2020! We help Indian players choose top online casinos based on several criterial such as withdraw options, promotions and selection of casino games!
Ads
Shah Rukh-Kajol: Yesterday once more
Rohit Shetty's Dilwale is scheduled for an all-India release on Dec 18. The biggest attraction of the new film is that it brings back the electrically charged combine of Shah Rukh Khan-Kajol five years after My Name is Khan and 20 years after they set the screen on fire with their love chemistry in Dilwale Dulhaniya Le Jaayenge. The big question is will this film set the screen on fire again. Shoma A. Chatterji raises the curtain a little….
Remember that both Kajol and Shah Rukh are twenty years older than what they were in DDLJ. Also note that they now have growing children of their own and the bloom and blush of fresh youth needs to be heavily disguised with intelligent make-up and a well-fashioned beard for Shah Rukh. And what does King Khan himself has to say?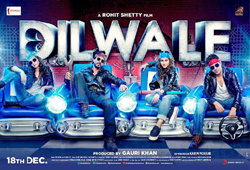 "Dilwale was a wonderful filmmaking experience and the results will show on screen. Never enjoyed myself more while shooting for a film, right from reuniting with Kajol after a long gap to shooting the heavy duty action sequences, it was all a delight. I'm glad to be sharing the trailer with you guys as it will give you a perfect taste of the fun family film that Rohit Shetty has made!"
But wait. Is it only a 'family' entertainer? Not really because the character Shah Rukh plays is of a "car modifier" and perhaps has his first, full-blown action-oriented role filled with director Rohit Shetty's signature of a line of cars jumping into the air or Khan himself on a shooting spree from a car window or just straight.
What does a car modifier do? He is specially trained and skilled in tuning or modifying the performance or appearance of a vehicle. Modifying or tuning a car after it comes out of the assembly line is a way to personalize the characteristics of a given car to the owner's preference. These modifications may cover better fuel economy, produce more power and provide better handling.
Rohit Shetty who has an open admiration for vehicles and speed and action, comes together again with Shah Rukh after they did Chennai Express. Rohit says, "The great response that we got from our association after Chennai Express, Mr. Khan and me wanted to gift our audience something special. Dilwale is not just another film for me and my team but a soulful journey that's being helmed by courageous hearts to create magic on screen."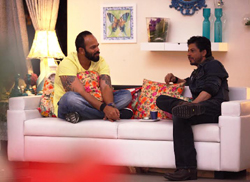 Remember that in DDLJ, the two of them were enough to carry the entire film on their young shoulders in a script filled with exciting twists and turns of suspense with a heavy dose of family syrup thrown in for good measure. Not one to depend on two major stars growing on in years, the very intelligent Shahrukh Khan has ensured the eyeballs of Generation Y by roping in two youngsters, Varun Dhawan who doubles up as Shah Rukh's younger brother in the film and Kriti Sanon as his love interest.
So what does Varun Dhawan has to say about his first brush with both the Khan and the Shetty? "I have always been a big Rohit Shetty fan. But never did I expect to do a Rohit Shetty film with Shahrukh Sir and Kajol ma'am. They are amazing actors and to work with them is something no one has done in my generation. I am really lucky to be a part of it."
His character is torn between his love for his beautiful beau and his love for his brother who has practically brought him up. He has lot of action scenes packed into family scenes of sacrifice and melodrama, typical of most Shah Rukh Khan films.
Adds Kajol: "Dilwale is an extremely special film. Not only for what it offers but also because of the people I have worked with here. I had a great time working on the film most specially with Shahrukh and of course Rohit as well and I think everybody will be bowled over as much as we were while we shot for the film."
The music for this seven-song film has been composed by Pritam Chakraborty. The official title of the song is Gerua! It goes - Rang De Tu Mohe Gerua and has been shot across Iceland. It is a track that brings back the crackling chemistry of the deadly SRK-Kajol combo.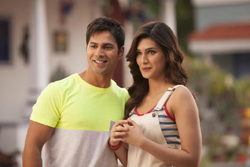 Dilip Chhabria, a renowned expert in the field of modifying cars who has designed the most fancy vanity vans in the industry including almost every van that Shah Rukh has had in films and in real life, has provided the cars for the action scenes in the film. Stylish cars play an important role in the film and offer an additional USP to Dilwale apart from the chemistry of the lead pair.
So it is not all about mushy love shot in beautiful locations in Iceland and also at the Ramoji Rao Film City in Hyderabad. The trailer launch included the display a host of modified designer cars, a concept integral to the film.
Why this sudden fascination for designer cars? According to a source, "Shah Rukh's character draws inspiration from two films."
"The fascination for cars comes from Ashok Kumar's character in Chalti Ka Naam Gaadi. The father-like elder brother aspect of the character has been sketched on the lines of Amitabh Bachchan's part in Hum," says a source close to the project. This explains lucidly that Dilwale is by no means a sequel of the bumper hit DDLJ and the only common feature is the romantic lead in the two films! So, one could call this film a celluloid tribute to Dilwale Dulhaniya Le Jayenge.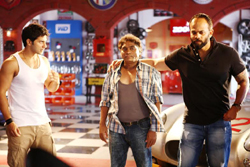 Others in the cast are - Varun Sharma, Johnny Lever, Boman Irani and Sanjay Mishra. Dilip Chhabria's designer cars used in the film for the action scenes and air stunts were brought in during the trailer launch. The cast displayed a host of modified designer cars, a concept integral to the film. Dilwale is produced jointly by Gauri Khan and Shetty under the banner of Red Chillies Entertainment and Rohit Shetty Productions respectively.
Between the two giant films releasing in December, Bajirao Mastaani and Dilwale, one has to wait and watch to find out which one wins the race.