Read our ultimate guide to find the best Indian online casino 2020! We help Indian players choose top online casinos based on several criterial such as withdraw options, promotions and selection of casino games!
Ads
I don't want scripts written for me only: Nawazuddin
Today, a film rides on the shoulders of Nawazuddin Siddiqui. The success of Kahaani in 2012 has certainly changed Nawazuddin's life in the last three years. As the actor gears up for the release of his next release, Manjhi The Mountain Man, he opens up to TWF correspondent Gaurav Sharma on life, films, acting and more.
Hi, how are you?
(Smiles) Great. I am doing my work, acting, promoting films, travelling and whatever is required to be done in this industry. I am actually enjoying my time in Bollywood. The last couple of years have been really very good and I am happy with the way things are going.
You really look excited. Are you getting used to all this attention that is being showered on you?
It's not that it doesn't feel good when people give you attention but I don't want to get carried away. I am not used to all these attention, interviews, PR exercises and all. These things are still very new to me and I am still very uncomfortable with all these things. But it's not that I am against all these. I am trying to understand all these things and go with the flow. I only understand one thing, that at the end of the day it's the work of an actor that speaks and I want to work in good films.
You are getting good offers.
(Smiles) Yes, at least compared to what I used to get till a few years ago. It's good that I have been able to impress the audience with my work but I don't want to get complacent. One or two good films are not what I want to do. I need to keep proving myself and for the time being I feel I am lucky because I am getting some good offers.
So, you just want to keep working.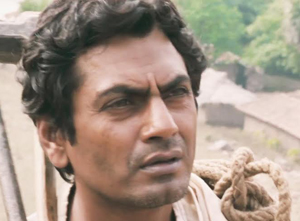 Yes, what else am I here for. I am a very shy person and I know that I am here to work. I don't know anything else. So, the best way to survive is by doing good work. Today directors are coming to me with offers but it's not that I am accepting everything because there was a time I was without work. I am balancing things and doing films where I think I can do something and impress the audience.
Had you ever thought that a day would come when filmmakers would write scripts keeping you in mind?
No, never, but I also don't want that to happen. If scripts are written keeping me in mind, it will make me conscious that the film is riding on my shoulders. Definitely, if I am working in a film, I have to shoulder a lot of responsibility but I don't want filmmakers to write scripts keeping me in mind. Instead, I would prefer them to give me challenging roles, so that I can do something new. It doesn't matter how big my role is but it should be an important one, where I will have the scope to perform and do something different. I don't want to get typecast and that's the reason I am selecting films carefully.
But your upcoming film, Manjhi- The Mountain Man, focuses completely on you.
I would instead put it differently. The film's on Dashrath Manjhi, a person, who not too many people know about. The film doesn't focus on Dashrath Manji's life. Instead, it focuses on the hurdles he overcame. It's one of the most inspiring stories people have heard and that's the reason I decided to do this film. It' was the challenge of performing. Imagine a man, who takes up this unimaginable task of carving a path through the mountain with just a hammer. It took him 22 years but he didn't give up. Dashrath Manjhi is a true hero and I felt there can't be a better role where I can do something new and different.
So, it's a love story?
It definitely is a love story. Dashrath Manjhi did all this because he couldn't reach his wife to the nearest hospital from his village because he had to cross a mountain that made him cover a distance of 55 kilometres. After he carved the path through the mountain it came down to 25 kilometres. It is a big feat. He is truly an unsung hero and it's his struggle which is the focus of this film.
You too struggled for years before Kahaani happened.
Yes (sighs), I too could to some extent relate my story to Dashrath Manjhi's. But it's not that I am trying to compare my life with his. His struggles and challenges were much more than mine and his heroics were definitely a lot greater. His contribution to the society is noteworthy.
You are doing both hardcore commercial films and films like Manjhi and Gangs of Wasseupur. Is it a conscious decision?
See, as I said, it's the role that needs to attract me. In Bollywood, you have to constantly keep reinventing yourself. You can sit and wait for role to come to us. You will first get typecast and then offers will start drying up. It doesn't matter to me if it is a commercial film or an art house film so long I have a scope to perform.
So, what's more important to you right now --- hits or critical acclaim?
It's both because both the things are related. In India, if a film becomes a hit offers start pouring in and if a films flops, the hero too is considered a flop actor immediately. So, you have to constantly prove yourself, so both critical acclaim and hits are required.