Not marrying anyone from this profession: Kangana
Kangana Ranaut's debut film, Gangster, released in 2006. It has been almost a decade since then and the actress has come a long way. Today she has two National Awards to her credit and is one of the most sought after actresses in Bollywood. Ahead of the release of her upcoming film, Tanu Weds Manu Returns, she speaks to TWF correspondent Gaurav Sharma on films, marriage, co-stars and more
Hi, first of all congrats for winning the National award for Queen.
Thank you. I am really overwhelmed by the response that I am getting. There couldn't have been anything better. I am so happy that I won this award for Queen. It is a really nice film and that is what matters more. Winning the National Award for a good film always doubles the excitement.
The feeling is yet to sink in.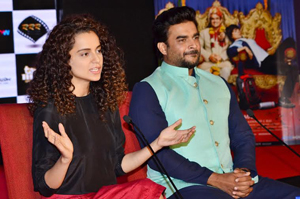 Oh yes! (Smiles). The response this time has been really great… a lot more than what I experienced after winning my first National Award for Fashion. It was in 2008 and I was still new and I was still to make too many friends in the industry. I now have so many well-wishers and friends, who are actually more excited that I am with this win. I am really happy that I have been able to make them happy. The flower bouquets still haven't stopped coming and I am enjoying it.
So, you have made quite a few friends.
Yes, I have. There are some people who are really close to me and I love them because I can see them happy with my success. I couldn't have asked anything more. I am getting good offers and people are loving my performances. At least I have been able to make all my well-wishers and loved ones happy.
How important was Queen in your career?
I think that was probably the biggest turning point of my career. As I said, it is a very simple film but not too many films like Queen were being made earlier. So, Queen was actually a turning point in the career of everyone who was involved with the film. In fact, it was a turning point for Bollywood because people noticed the film and now a lot are being thought on those lines…the scriptwriting process, dialogues, screenplay, the way casting is being done today…everything has changed after Queen. It was a very small budget film with a woman as the protagonist and with no male lead. In fact, there wasn't a single scene in the film, which didn't have me. That was probably the boldest decision. Not too many people would have risked it but we all went with the vision of our director Vikas Bahl.
So, you owe a lot to Vikash Behl?
Definitely and to everyone who was part of this film.
How much does a National Award mean to you?
(Smiles) I think it means a lot to every actor. I don't want to sound proud but this is an award everyone wants to win. I am happy that I have won it twice. More than anything else I am confident about myself a lot now than what I was a few years ago.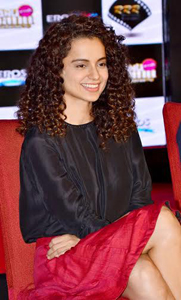 How has your Bollywood journey been so far?
It has really been an eventful one. I don't have a background in films, so it wasn't easy for me. I too had to struggle. I was lucky that I got spotted and my debut film Gangster was a blockbuster. However, it wasn't a smooth ride. I also did a few bad films. There were some good offers coming my way…films like Fashion, Life In a Metro and a few others but things started changing with Krrish. Tanu Weds Manu was a film that gave me an identity of my own. I got a chance to really perform with that film.
And now the sequel, Tanu Weds Manu Returns is up for release.
The first part was again a game-changer in my career. It was an important film for me and this film too is equally important. The story starts from exactly where it ended in the first part, and that is what makes it even more interesting. Tanu Weds Manu was made in 2011 and the sequel comes in 2015. So the story takes off from exactly four years into Tanua and Manu's marriage.
And you have a double role in the film?
This is the most important angle to the story. I play a Haryanvi athlete and it wasn't an easy task for me to get into the skin of the character, particularly the dialect part. Wearing a wig and changing the look was rather easy but playing two completely opposite characters in the same film is a different ballgame altogether.
What about marriage? You have always shown your apprehensions in this area?
Hhmmmm…I really don't know. I am not against marriage but there are a certain things I believe in. I have seen a lot in these few years. I believe it is very difficult or rather impossible to have a concrete relationship in this industry. Our profession is such that a lot of insecurity grows in one person if his or her partner becomes more successful. Ego plays a big role. So things don't work out at times. I am a bit apprehensive on this part. I don't think I will marry anytime soon because I am enjoying my work and at least I am sure I am not going to marry anyone from this profession. (Smiles)