The Sky is Pink brings out the humanness of characters and the normalcy of life: Priyanka Chopra Jonas
Priyanka Chopra Jonas-Farhan Akhtar starrer The Sky is Pink was premiered at the Toronto International Film Festival (TIFF) 2019 this September. The Shonali Bose directed film is billed as an incredible love story of a couple spanning 25 years, told through the lens of their spunky teenage daughter who is dead. IBNS Toronto correspondent Asha Bajaj brings together the two Bollywood actors to speak on the much-awaited film in an exclusive interview
The Sky is Pink. What is the significance of the title of the movie. It is mentioned twice in the movie- once at the beginning and again during the end.
Priyanka: The significance of the title The Sky is Pink is based on your own interpretation. Whatever colour you chose in your life can be the colour of the sky. Basically it is a philosophy signifying that you can choose any colour to paint the sky with. I chose to colour the sky pink because it is Aisha's (Priyanka's onscreen daughter Aisha played by Zaira Wasim) colour. You can use turquoise or any other colour. It means that you are free to make your own choices in life and not let others decide what the colour of your sky should be.
Remember the scene at the beginning of the movie when I receive a phone call from my son in Delhi with a complaint that he was punished by his teacher for painting the colour of the sky pink. I pacified him by telling that you can choose any colour to paint the sky with. Do not let anyone else tell you what the colour of your sky should be.
Explain the significance of Aisha's message to her parents and to the world at large after her death when she mentions The Sky is Pink and she would live happily with her sister who had died earlier.
Priyanka: The pink colour of the sky in this context implies joy and happiness symbolised by Aisha's new journey to lead a happy life with her sister, who had died in her infancy. Aisha wants her parents and her brother Ishan also to enjoy life, be happy and let go of the past. There is also a message of hope to her parents and the world at large that life should be full of hope. The sky is limitless with all possibilities- good and bad and one should be open to different challenges in life and face these with hope.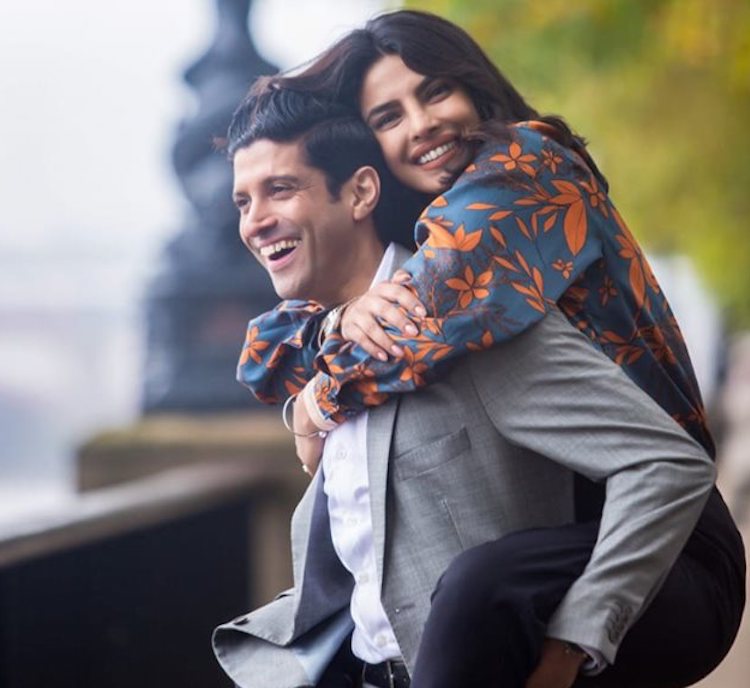 Animal symbolism has been used in this film with Aisha calling her dad Panda, her mom Moose, and her brother giraffe. Please comment on this.
Priyanka & Farhan Akhtar: Aisha's character in this movie is based on the real-life Aisha Chaudhury who died in 2015 at the age of 16. In her real life, she used to call her dad Panda, her mom Moose and her bother Giraffe. These traits have been adapted in this movie also.
Some scenes in this film convey the message of the male dominating the female. For instance, when Aditi becomes pregnant and accuses her husband of not complying with her request of using proper birth control devices, he at once tells, 'It is not my fault.' During another incident in London, Niren tells his wife that they had moved to London because of Aditi, whereas in reality, they had moved there because of Aisha's medical treatment and for his family. Can you comment on this?
Farhan: It was for a short time and what it conveyed was that such small arguments were insignificant in life compared to major events and decisions. Some times in such tense moments people tend to overpower the other in their arguments and try to force their points across others.
Priyanka: There is no right or wrong to this. Shonali Bose, the director of the movie does not intend to rationalise everything but to leave them as they are. Her aim is to portray human traits as they are. We all live in grace. Everybody makes mistakes. No one is perfect. The humanness of these characters and the normalcy of life is what Shonali believes in. Nobody can be righteous all the time.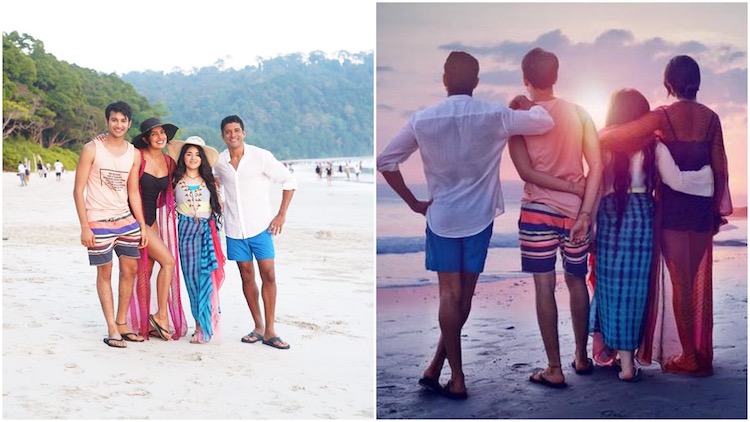 Aisha's tribute to her mom Aditi states, "Moose is a wonderful mental- health therapist." But the irony of the statement is that Moose, herself had been in a mental hospital for a week to seek mental health therapy. Please discuss.
Priyanka: The above statement is full of sarcasm. But sarcasm is based on facts and truth. After leaving the mental hospital, Aditi emerges brave and determined and was able to play the role of a wonderful mental-health therapist for her daughter Aisha by providing her with everything that she desires. She realizes Aisha's life is short and wanted her to have all happiness in her short life. In this way, she was truly "a wonderful mental-health therapist."