Karnataka Hijab Row
Hijab row in Karnataka: Handiwork of people using religion for political mobilisation
The ongoing protest in Karnataka around 'hijab' is quite contrary to the general peaceful environment in the schools, colleges and universities in India.
It seems the protests in Karnataka are the handiwork of a few people in limited pockets who might be aiming to use religious 'identity' for political mobilisation.
They have also resorted to rumour mongering regarding "maltreatment" and "heckling" of a girl from minority community for wearing hijab. This is contrary to the fact.
In reality the school authorities and many good Samaritans from nearby places came forward to take the girl in the classroom with dignity, respect and absolute security.
India is a country where law and order and social control prevail; therefore, anti-social people do not have a free will. It is expected that the Karnataka protests would soon fizzle out.
The order about the dress code was not against "hijab" in personal and public space. It was about fostering uniformity, cosmopolitan living and assimilation among peers in educational institutions without any barrier due to the religious and social affiliation.
This rule is practiced by almost all the private educational institutions and in almost all the parts of the country.
Parents and students comply without any grudge or getting sentimental.
The controversy was uncalled for as Government Girls PU College Karnataka issued the order for common dress code based on already existing Section 133 (2) of the Karnataka Education Act, 1983, but the politically motivated groups tried to utilise this as an opportunity to divide the students aiming at destabilising the social fabric of the state and the country. India prides itself in its principle and practice of democracy and "unity in diversity".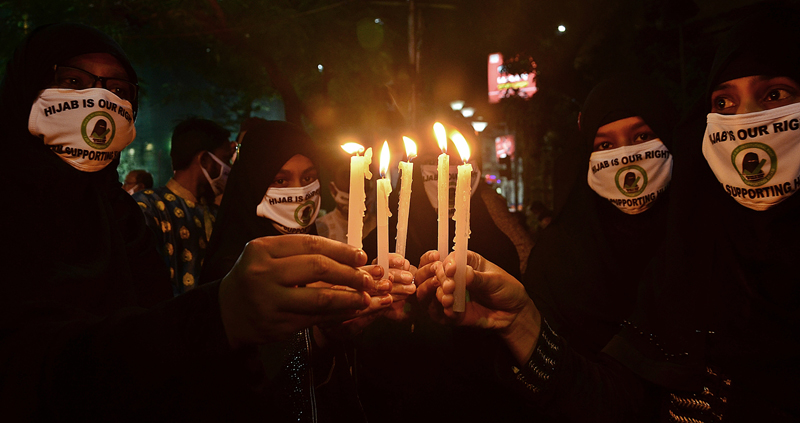 It would not allow the divisive forces to have their day.
The police and the government acted timely, swiftly and cautiously. Meanwhile, the government has declared a three-day holiday for colleges and schools and is holding meetings with students and other stakeholders to resolve the controversy.
The Karnataka High Court, which has received petitions against the order, has assured that the judgment would be based on "the constitution" and not on emotions."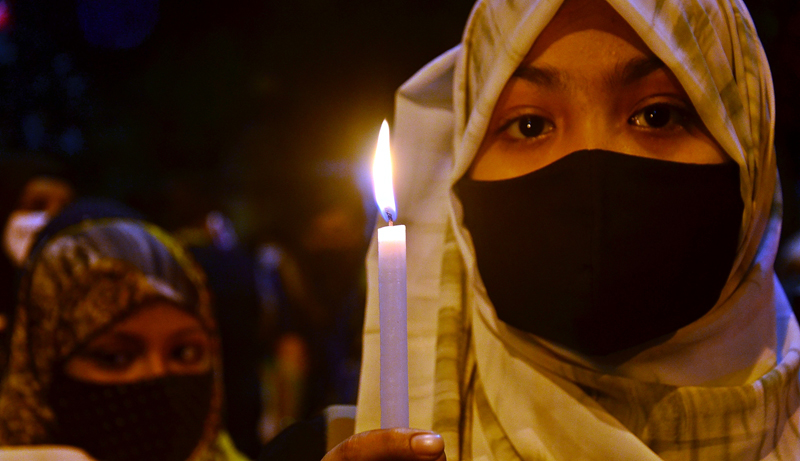 Indian educational institutions represent a rainbow culture in which, not only the constitutional spirit of "secularism" is maintained in "words and spirit", but also no discrimination is done on the basis of gender, religion, caste, creed and region.
In most of the parts of the country and in almost all the private schools, the students have a dress code, which they comply without any objection including Muslim students.This time around some inimical forces tried to play it up against India.
The Indian educational system had great stalwarts from all the communities including Muslim community. Great scientists and intellectuals like APJ Abdul Kalam, Prof Munis Raja, Prof Irfan Habib and many others were produced by the Indian education system.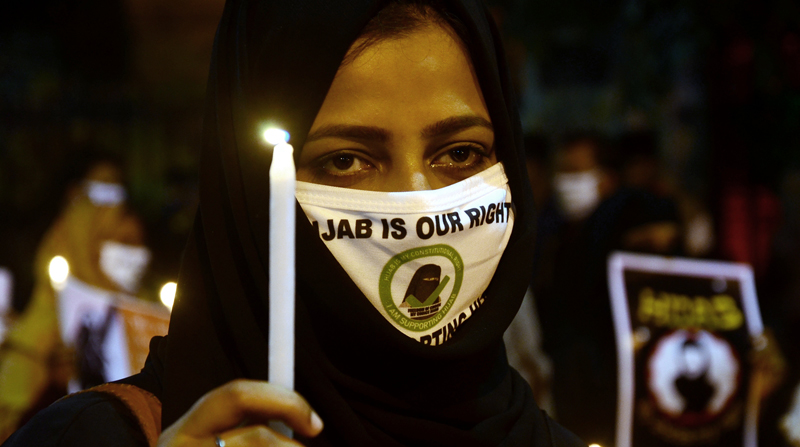 Even the highest constitutional positions in the government institutions in India have been adorned by Presidents like Hidaytulla Khan and Fakhruddin Ali Ahmed,which is a standing proof of the non-discriminatory nature of the Indian institutions.
India has had justices and Chief Justices from the Muslim community educated in its public and private institutions.
Najma Heptulla, former Vice Chancellor of Jamia Milia Central University and sixtime member and the Deputy Chairperson of Rajya Sabha, the Upper House of Indian Parliament, inspires young women for her seminal contributions in education and politics.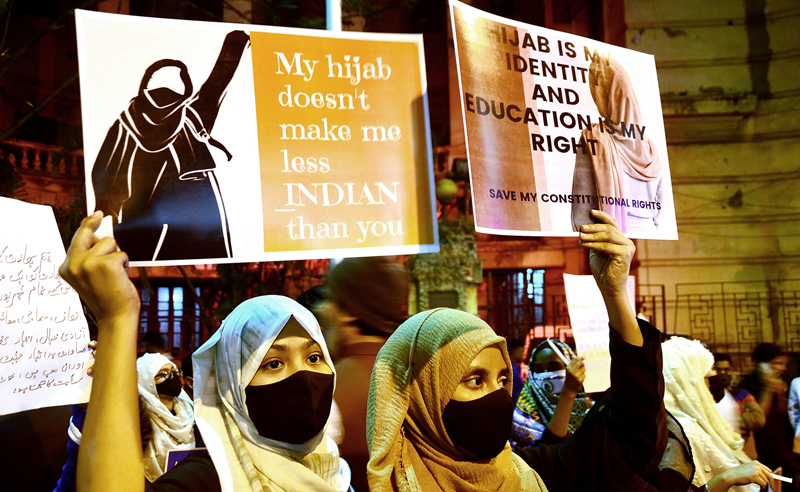 Fathima Beevi, the former judge of Supreme Court of India and Governor of Tamil Nadu is a role model for young women in India.
From government to defense, sports to films and local democratic institutions, Indian democracy is non-discriminatory.
The top matinee idols of India include Salman Khan, Shahrukh Khan and Aamir Khan, while people express their joys and sadness with the great melodies of Mohammad Rafi from generation to generation.
India has a long list of Muslim women who are loved and adored for their great contributions to social and economic life of India including Ismat Chughtai and QurratulainHyder (literature), both awarded one of the highest civilian awards, the Padma Shree.
Beautician Shahnaz Husain, who is an internationally acclaimed pioneer of the herbal beauty care movement inspired and supported a large number of women entrepreneurs in the beauty industry.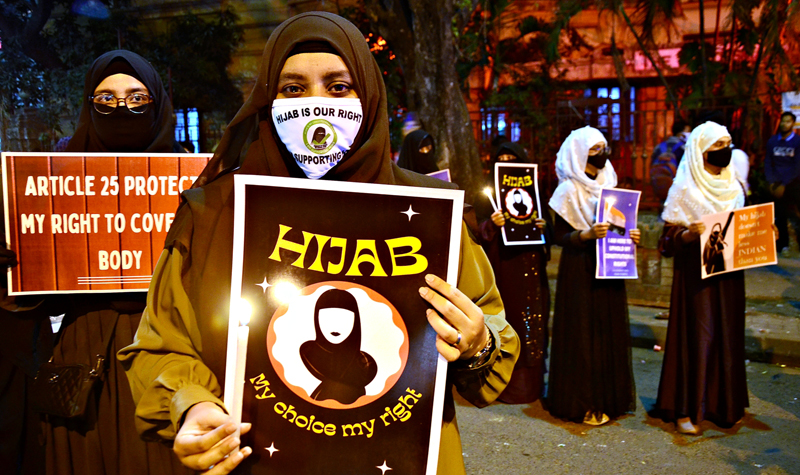 From Melody queens like Noor Jahan to Begum Akhtar and further to the matinee idol Waheeda Rehman, there is long list of Muslim women who not only enthralled generations, but had set the standards of music and acting in India.
Given the pluralist and assimilative nature of Indian culture (Ganga Jamuni Tehzeeb), society and polity such divisive tendencies would not be tolerated either by the people or the government.The public life in India is very secular and it is not hard to find temples and mosques standing together in the same vicinity or Muslim habitats in Central Business Districts as well as posh locations.
Muslim women wearing hijabs and burkas (the full Islamic veil) in private and public space is very common in India. Apart from economic interdependence, the different communities celebrate their festivals together and take pride in India's achievements in science and sports.
The directives about dress code by a Karnataka college needs to seen in proper perspective, that is, they aim to instill and foster cosmopolitan and national identity as "common identity" for all the students rather than camouflaging personal, religious, regional or any other local identity without interfering with personal faith and choices.
A pluralist country like India has allowed its multiple identities to survive and flourish together through ages and that continues even while making India a "modern state." This needs no evidence.

Other countries and societies where primordial values act as a barrier to change and transformation, need to learn from India, especially one neighbour in the north west, who has the habit of meddling in our affairs, concealing frequently the dismal state of affairs inside her own society and polity in the neighbourhood and West Asia.