Facebook marriage
Swedish woman flies to India to marry Facebook friend in UP's Etah
Etah/IBNS: The people of Uttar Pradesh's Etah witnessed the wonderful culmination of a love story as a Swedish woman flew to the city to marry local boy Pawan Kumar in a traditional Hindu ceremony.
Christen Liebert met Pawan Kumar some 10 years ago on Facebook.
They gradually grew fond of each other and fell in love.

A year ago, Pawan had also met Christen at Agra. After visiting the Taj Mahal together, they decided to get married, according to media reports.
उत्तर प्रदेश: स्वीडन की युवती को फेसबुक पर भारतीय युवक से प्यार हुआ, भारत पहुंचकर युवती ने युवक से विवाह किया।

क्रिस्टन लिबर्ट ने कहा, "मैं भारत इससे पहले भी आई हूं, मुझे भारत बेहद पसंद है और मैं इस शादी से बेहद खुश हूं।" (28.01) pic.twitter.com/eaw8UWnO1s

— ANI_HindiNews (@AHindinews) January 28, 2023
Pawan Kumar is a B. Tech. graduate from a Dehradun college and works at a firm as an engineer.
A video of the marriage shared by ANI shows Christen Liebert, wearing an Indian traditional wedding outfit, garlanding the groom during the 'jaymala' ceremony.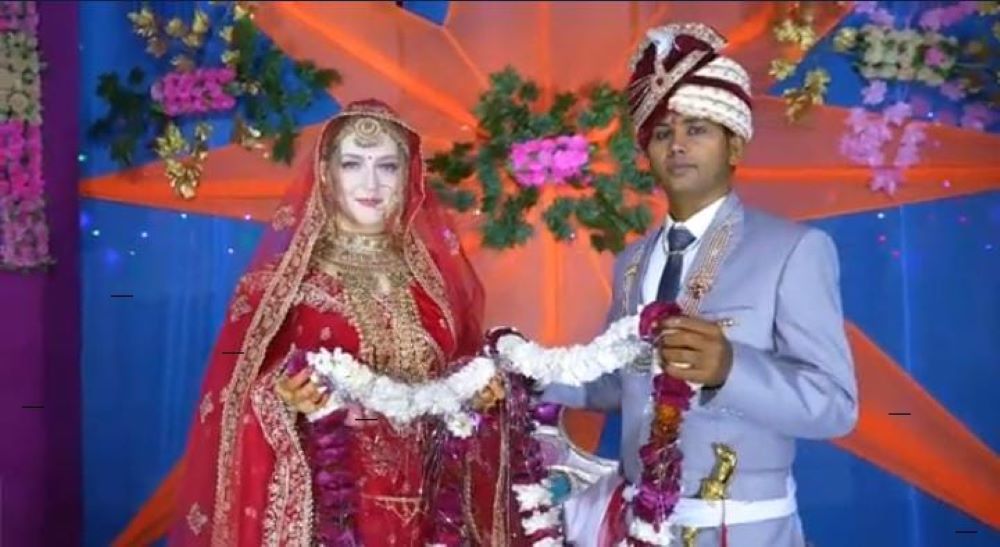 According to media reports, his family did not have any objection to their matrimony.
Groom's father said the family's happiness lies in the happiness of the children.
The entire family agreed with Pawan Kumar's decision to marry Christen.