MCD Polls
Image Credit: UNI
Arvind Kejriwal's AAP wins MCD polls, ends BJP's 15-year rule
New Delhi: Delhi Chief Minister Arvind Kejriwal thanked people of the national capital as his Aam Aadmi Party is winning the Delhi civic poll (MCD), defeating the Bharatiya Janata Party which has been ruling it for the past several years.
According to the State Election Commission (SEC), the Arvind Kejriwal-led AAP has won 134 seats out of the 250 Wards.
इस शानदार जीत के लिए दिल्ली की जनता का शुक्रिया और सबको बहुत-बहुत बधाई। अब हम सबको मिलकर दिल्ली को साफ़-स्वच्छ और सुंदर बनाना है। https://t.co/SFkqmrAI6i

— Arvind Kejriwal (@ArvindKejriwal) December 7, 2022
The BJP, which left no stone unturned and was eyeing to retain power, won 104 seats, the data showed.
As per the poll panel, Congress bagged nine seats, followed by Independent three.
Elated over his party's performance, Delhi Chief Minister and AAP convenor Arvind Kejriwal while addressing the party workers, expressed his gratitude to the people of Delhi for reposing faith in AAP.
"I congratulate the people of Delhi for this big change. Today the people of Delhi gave me a big responsibility to make Delhi better and cleaner. I will fulfill their aspirations" he said.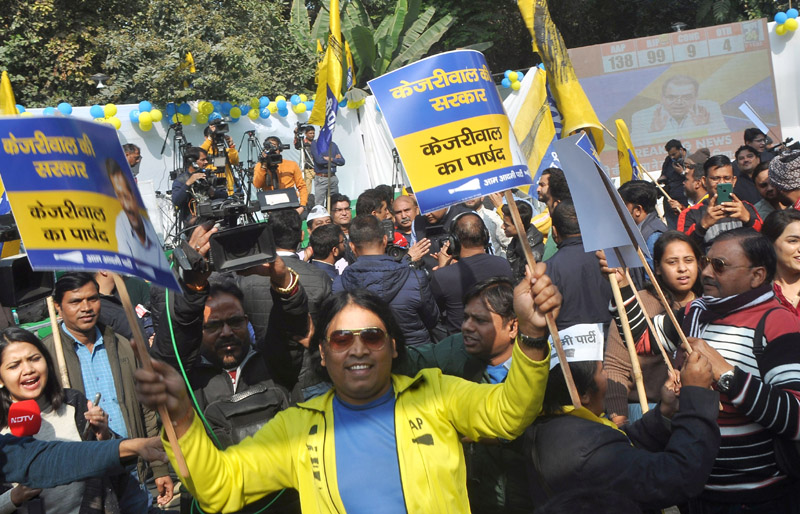 Deputy Chief Minister Manish Sisodia also expressed his gratitude to the people of Delhi and said, "Thanked them for trusting Aam Aadmi Party in Delhi MCD".
"For us, this is not just a victory, it is a big responsibility," he added. The polls for 250 wards in the national capital were held on December 4.
There were a total of 1,349 candidates in the fray and the voter turnout was around 50 per cent.
In 2017, BJP had won 181 of the (then) 270 municipal wards while AAP could secure only 48, and Congress finished third with 30.