Bypolls
Image Credit: UNI
BJP wins 3 out of 7 seats in assembly bypolls across 6 states
BJP has won three seats and is leading in one out of the seven assembly seats in the by-polls across six states where counting started Sunday morning.
The saffron party won Uttar Pradesh's Gola Gokrannath, Haryana's Adampur, and Bihar's Gopalgunj. It is leading in Odisha's Dhamnagar.
The wins in Gopalgunj and Adampur gather significance as the former falls in the home district of RJD supremo Lalu Yadav, the father of Deputy Chief Minister Tejashwi Yadav, while the latter is former Haryana chief minister Bhajan Lal's family seat.
In Adampur, weight was on Bhajan Lal's grandson Bhavya Bishnoi to carry the family's 68-year legacy.
The RJD (Rashtriya Janata Dal), meanwhile, has won the Mokama assembly seat by over 16,000 votes. The seat was captured by Neelam Devi, whose husband Anant Singh was disqualified for keeping arms illegally. She was pitched against BJP's Sonam Devi, wife of muscleman Lallan Singh.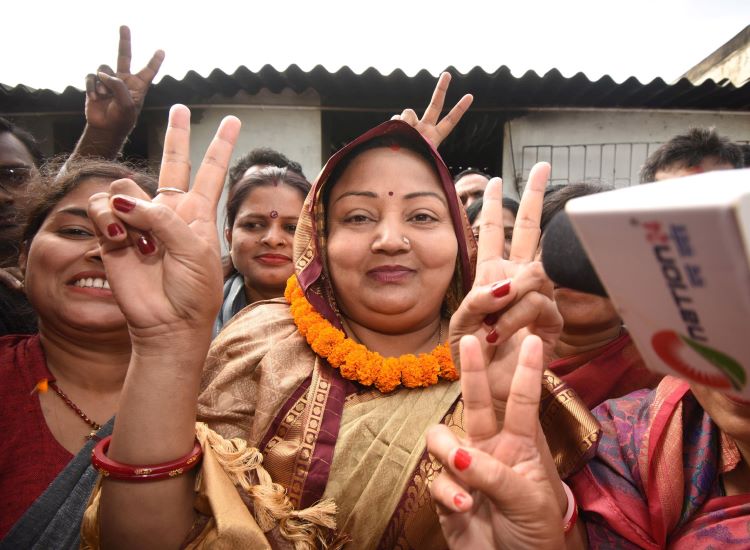 RJD candidate Neelam Devi after win from Mokama Assembly seat (Image Credit: UNI)
In Telangana, K Chandrashekar's Rao's Telangana Rashtriya Samithi is leading by a narrow margin in Munugode.
In Mumbai's Andheri East, Rutuja Latke of Uddhav Thackeray-led faction won the seat.
अंधेरी पूर्व विधानसभा पोटनिवडणुकीत शिवसेना उमेदवार ऋतुजा रमेश लटके यांचा प्रचंड मताधिक्याने विजय झाल्याबद्दल मनःपूर्वक शुभेच्छा व अभिनंदन! https://t.co/bye1USjuiO

— ShivSena - शिवसेना (@ShivSena) November 6, 2022
It had many firsts. It is the maiden poll fight after Shiv Sena was split into two as Eknath Shinde unseated Uddhav Thackeray in a BJP-sponsored coup to become Chief Minister.
Rutuja Latke is the wife of the sitting Sena MLA, who died of a heart attack in May this year in Dubai.
As part of "political tradition" in polls necessitated by a leader's death, the BJP had withdrawn its candidate.
While the results won't upset the math of the existing governments in these states, they are viewed as a battle for family legacy in Haryana and prestige battles in Telangana, Bihar, and Maharashtra.
In each of the states, Bharatiya Janata Party is engaged in a fierce contest against regional powers.
With regional parties putting up a common front against the BJP in the 2024 general elections, just a year-and-a-half away, the outcomes could either serve as confidence boosters or force them to build up fresh strategies.