Amit Shah
Image Credit: Twitter/Amit Shah
'No talks with Pakistan, elections in J&K soon': Amit Shah in Baramulla
Srinagar/IBNS: Union Home Minister Amit Shah Wednesday ruled out talks with neighbouring Pakistan amid a strained relationship between the two countries and assured that the elections in Jammu and Kashmir will be held soon.
Speaking to a huge crowd in Kashmir's Baramulla, Shah said, "I assure you that once a revision of revision of electoral rolls is completed, free and fair elections will be held in J&K."
The revision of electoral rolls, which started in August, is due to be over by Nov 25. There was speculation that the election, the first since 2014, will be held next year after the winter spell of snow.
This was Shah's first public rally in the Kashmir valley after the revocation of its special status granted under the constitution and the division of the state into two Union Territories.
Speaking to thousands at the Baramulla rally, he said: "I was told who will come to listen to you in Baramulla. I'm asking camera persons please turn your cameras and see thousands of people from this beautiful valley have come here."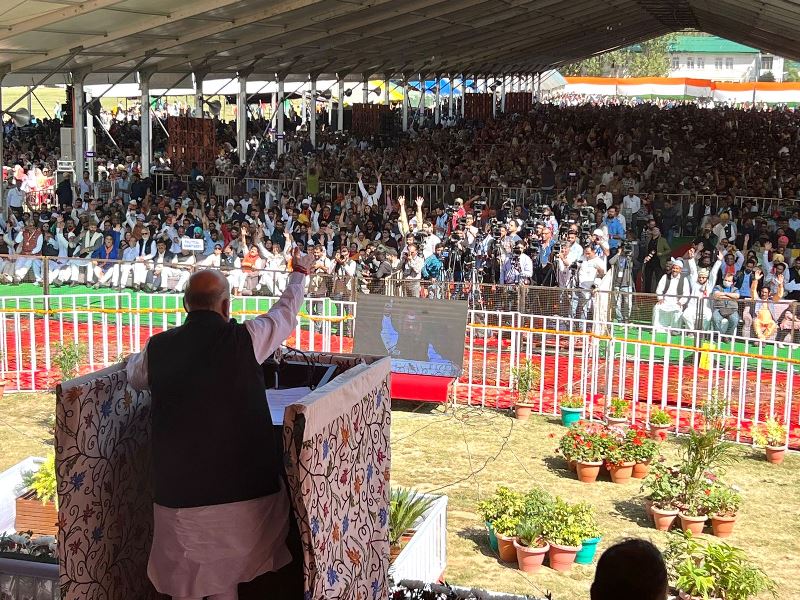 Midway through his speech on hearing Azaan from a nearby mosque, the home minister halted his speech in a gesture of respect.
"Some people say we should talk to Pakistan. Why should we talk to Pakistan? We will not talk. We would rather talk to Gujjars, Paharis and the youth of Kashmir," Shah said.
Questioning how many villages in Pakistan-occupied Kashmir have electricity connections, he said, "We have ensured, in the last three years, that all villages in Kashmir have electricity connection."
Shah also held a review meeting on the security situation in Kashmir.
The Union Home Minister asked security forces and the police to pro-actively conduct coordinated counter-terrorism operations, to fulfil Prime Minister Narendra Modi's vision of a prosperous and peaceful Jammu and Kashmir, an official spokesman said.
He appreciated the efforts of the security agencies and administration of the Union Territory of Jammu & Kashmir for keeping the streets free from violence and significantly restoring the rule of law.
Shah directed that the security grid should be further strengthened to ensure zero fear of terrorists and separatists.
He reviewed the working of the security grid and progress made on various items of the security agenda in previous meetings to reduce the incidents of terrorism and the stranglehold of the separatist networks over the system.
The Union Home Minister exhorted the security forces and the police to continue with the coordinated efforts through meticulous and well-planned counter-terrorism operations to wipe out terrorism.
The cases registered under the UAPA were also reviewed and it was stressed that the investigation should be timely and effective. The agencies concerned should work on improving capacities for ensuring quality investigation.
"The terror ecosystem comprising elements that aid, abet and sustain the terrorist-separatist campaign to the detriment of the well-being of the common man requires to be completely dismantled," said the Union Home Minister.
[With UNI inputs]