Rains
A house collapses hit by heavy rain and flash floods in Uttarakhand's Pitthoragarh
IMD predicts heavy rainfall for Odisha, Bengal, Andhra, Gujarat; yellow alert issued for Uttarakhand
The Indian Meteorological Department (IMD) has issued a yellow alert for the next four days for five districts of Uttarakhand where incessant rains continue to wreak havoc as the Monsson in the area has intensified once again.
Houses have been damaged, roads are closed, and the day-to-day lives of the people have been affected.
Many houses were destroyed in Khari Gali and Malla Bazar in Eldhara of Dharchula. Uttarkashi's Gangotri and Yamunotri and Uttarakhand's capital Dehradun along with its surrounding areas as well as the Pithoragarh district continue to receive incessant rainfall.
After a cloudburst in Dharchula in Pithoragarh, Kali river has been in spate and the area has been devastated. A woman died in the incident in the nearby Chapli area of Nepal.
#Pithoragarh: Normal life has been affected due to the heavy rains that occurred late last night. Water level of Kali river has reached the danger mark of 890.00 meters. The district administration has appealed to the people not to go to the places prone to danger.#Uttarakhand

— All India Radio News (@airnewsalerts) September 10, 2022
Amid heavy rainfall, Yamunotri National Highway has been closed near Dabarkot and Gangotri Highway has been closed near Helgu Gad.
IMD has also predicted heavy rainfall in Odisha and West Bengal.
It said a low-pressure area over the west-central and adjoining north-west Bay of Bengal off north Andhra Pradesh-south Odisha coast has become well marked and is set to turn into a depression by Sunday morning.
The low pressure will turn into a depression over the northwest and adjoining the west-central Bay of Bengal off the south Odisha - north Andhra Pradesh coasts, the weatherman had said in its bulletin on Saturday.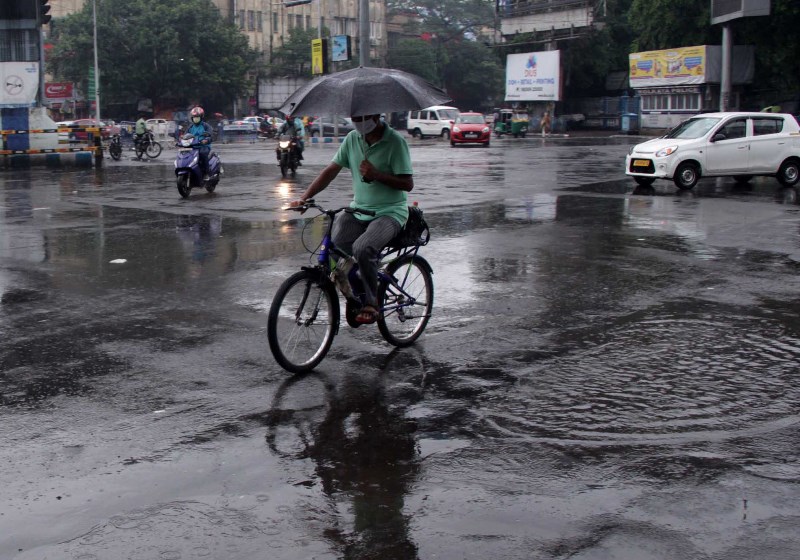 Image Credit: UNI
This is expected to cause heavy rainfall till September 14 in Odisha and West Bengal.
Rains are expected to lash isolated places of coastal Andhra Pradesh, Telangana, Yanam, and Odisha on September 11, the IMD has said.
Kerala and Karnataka are likely to experience heavy downpours on September 12, it said.
Gujarat and Maharashtra are likely to receive heavy to very heavy rainfall during the next five days.