LOC
Image: UNI
Pakistani Infiltration: Ceasefire or not, Indian soldiers aggressively guard LoC
Keran (LoC)/UNI: Tucked away in a quaint corner of a ridge, a small forward post is the first line of defence against cross border infiltration from Pakistan.
Situated at an altitude of 12,000 feet, the post is home to a small but highly equipped group of soldiers who keep close watch on the movement of intruders 24x7.
With winters approaching, the Army says there is "desperation" on the other side as more attempts to sneak in may take place.
"We will see an upswing in the number of attempts being made as we approach through the autumn towards the winters," an Army officer in Kupwara told UNI, "We are maintaining a tight vigil across the Line of Control as there has been no change in Pakistani intent or actions with respect to effecting terrorism in Jammu and Kashmir."
Keran and its adjoining Machil sector till yester years were traditionally famous for infiltration of militants. From here all infiltration routes converge at the mighty Shamasabari range and then onwards to Baramulla, Sopore and Bandipora in north Kashmir.
The Army seems to have been able to bring down the infiltration, knowing well that it was impossible to ensure zero infiltration given the nature of the 743-km long Line of Control in J&K that passes through mighty peaks, rugged mountains, thick forests and even freshwater streams.
For the soldiers posted along the LoC there is no rest despite India and Pakistan agreeing on a ceasefire.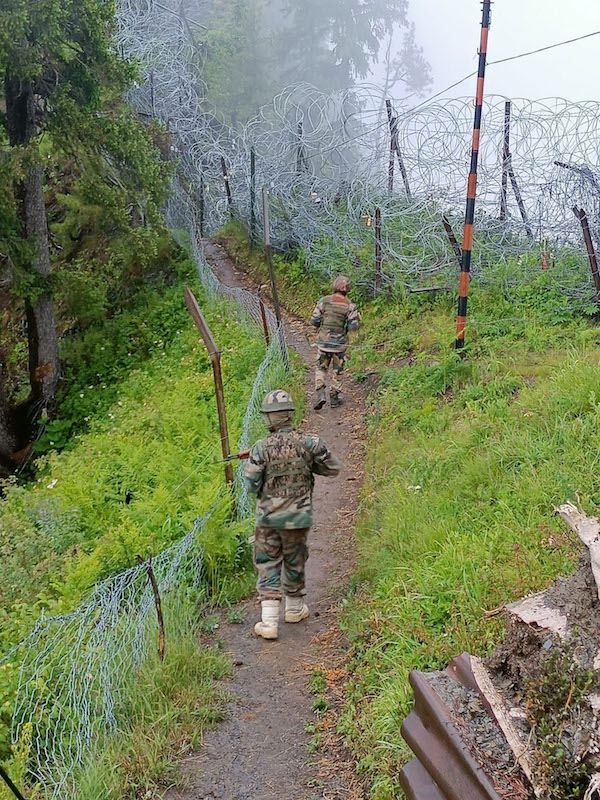 "We have to maintain 24x7 surveillance and ensure no one crosses this LoC," said a soldier at the forward post in Keran. "Even though there is ceasefire, we don't let our guards down round the clock as terrorists have never stopped attempting to sneak into Kashmir."
Army said they are maintaining a tight vigil across over 350 km of LoC in Kashmir to ensure peace in the Valley. With the state of art technology, the LoC fence -- also known as the Anti Insurgency Obstacle System (AIOS), besides night vision devices, integrated surveillance systems and a very robust deployment, the rate of infiltration across LoC has actually dwindled in Jammu and Kashmir over the year.
There has been a decline in the attempts from across the line over the last few years.
According to officials, in 2017, the infiltration attempts made were 419. The number was 328 followed by 216, 99 and 77 in 2018, 2019, 2020 and 2021, respectively. This year the number of infiltration attempts is also not high.
Defence officials said this year six infiltration bids have been foiled in Kashmir division.
J&K police chief Dilbag Singh recently said the infiltration by militants has almost been zero this year.
"The infiltration is almost zero (this year). There have been some attempts, but they were mostly foiled. A couple of infiltrations were, however, successful," Singh said on September 2.
According to intelligence inputs, nearly 250 militants are waiting across the LoC in Kashmir at various launch pads to infiltrate.
"Therefore alert-mode has to be 24x7x365," the soldier at the forward post of Keran said.