Bengaluru Rains
Image Credit: UNI
Rains batter Bengaluru: Govt declares holiday, citizens asked to avoid flooded Bengaluru-Mysuru highway
Bengaluru: Incessant rainfall over the last few days in several parts of Karnataka, including the country's IT hub Bengaluru, has brought life in these areas to a standstill with waterlogged streets, and communication woes, schools and colleges remaining shut.
On Tuesday, the Karnataka government declared a holiday as rains continued to batter Bengaluru.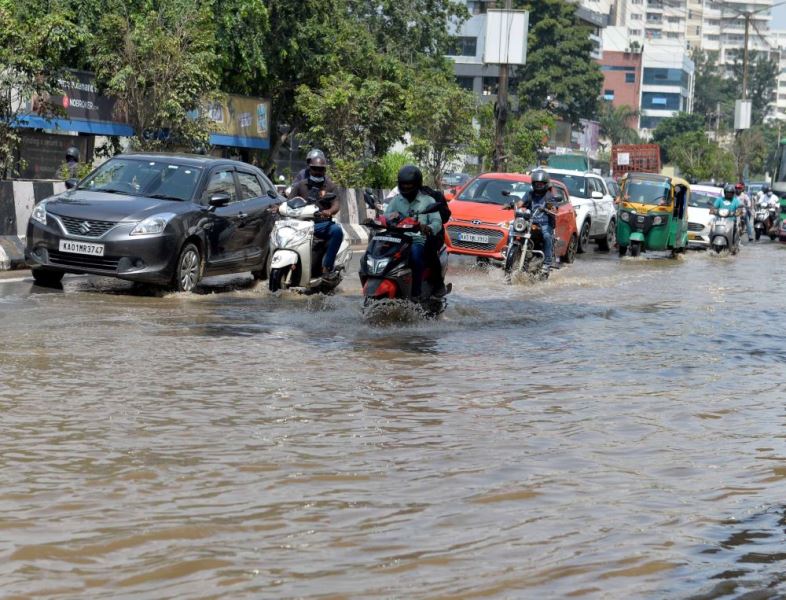 "Heavy rainfall caused waterlogging in several parts of Bengaluru and several trees were uprooted on Monday. A holiday has been declared for schools and colleges in Bengaluru on Tuesday due to heavy rains," stated Bengaluru DC Srinivas to news agency ANI.
Several netizens took to social media to narrate their plight.
Several visuals showed vehicles almost being washed away in the strong currents of the floodwater on the Bengaluru-Mysuru highway on the stretch along Ramanagara district in Bengaluru.
Many cars and buses were seen half-submerged while another clip showed passengers being brought out from a stranded bus inundated by flood water.Meanwhile, the Indian Meteorological Department has sounded a yellow alert for Bengaluru, Belagavi and other districts.
Ramanagara police has issued an advisory to the public to avoid Bengaluru-Mysuru highway and take the route via Kanakapura or Kunigal to reach Mysuru from Bengaluru.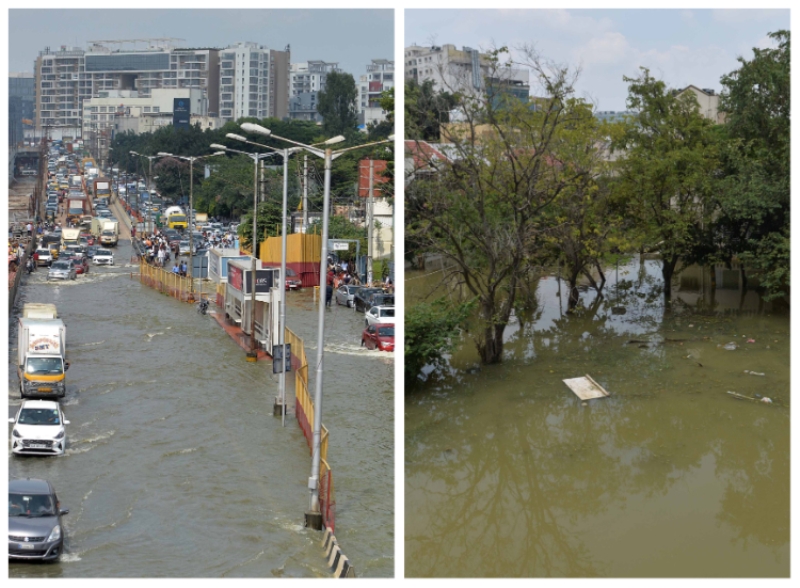 .Heavy rains have caused water in several lakes in the area to overflow, break the lake walls and inundate the highway.Police have advised the citizens to stay away from the highway till the lake walls are repaired.
Monday, heavy rains exposed poor infrastructure in Ramanagara, which prompted Karnataka Chief Minister Basavaraj Bommai to visit the region some 40-odd km from Bengaluru city. He gave assurance that the revenue department would survey the flood-hit areas and documents of crop loss would be uploaded.
After inspecting the flooded areas, Bommai assured to fix the "unscientific work in the Bengaluru-Mysuru highway".
Bommai also sought help from the National Highways Authority of India (NHAI) to fix the unscientific work. The Bengaluru-Mysuru expressway is a part of Bengaluru-Malappuram economic corridor.
Taking complete responsibility for the expressway, Mysuru MP Pratap Simha blamed the constructor for the unscientific work. "The constructor is also responsible for its maintenance for the next 15 years. When we build a new road, problems erupt, issues take place," he said in a live interaction on Facebook.
Damages
Meanwhile, Revenue Minister R Ashok said heavy rainfall through the months of July and August has caused damages equivalent to an estimated Rs 7,647.13 crore.
"Crop and house losses caused by damages is estimated at Rs 3,973.83 crore, while infrastructure loss caused by is estimated at Rs 3,673.3 crore," he told reporters here Tuesday.
To take up the relief activities in the state, the government has asked the central government to release Rs 332 crore in advance under the second installment of State Disaster Response Fund (SDRF), Ashok said.
The central government has already released the first installment of Rs 332 crore, out of the total Rs 885 crore sanctioned under SDRF, he said.
As many as 9,776 houses have been damaged completely or severely in the state due to flooding, Ashok said, adding that a total of 23,794 houses have suffered damage, Ashok said.
Damages to an estimated 22,734 km of roads, 1,471 bridges and canals, 499 minor irrigation tanks, 6,998 classrooms, 236 primary healthcare centres, and 3,879 anganwadis among others, have been recorded by the revenue department, the minister said.
As many as 24,052 electric poles, 2,221 transformers and power lines, spanning 497 km have been damaged, Ashok said.
(With UNI Inputs)