Money laundering
Money laundering: BJP holds rally in Kolkata demanding Mamata Banerjee's resignation
Kolkata/UNI/IBNS: Calling for a "corruption-free" and "Trinamool Congress-free" West Bengal, the Bharatiya Janata Party (BJP) on Thursday held a huge protest rally in Kolkata, demanding chief minister Mamata Banerjee's resignation and punishment of all those involved in the alleged School Service Commission (SSC) scam.
"Put the thieves in jail. Mamata must quit," the BJP activists shouted, as the procession proceeded from College Square to Dharamtala in central Kolkata.
Hundreds of BJP workers and supporters walked hand in hand through the over three-kilometer route, led by the party's state chief Sukanta Majumdar and former national secretary Rahul Sinha.
Sinha referred to the huge amounts of cash worth close to Rs 50 crore unearthed by the Enforcement Directorate from two flats owned by model-actress Arpita Mukherjee, whom the central agency has described as a "close associate" of arrested former Bengal minister Partha Chatterjee.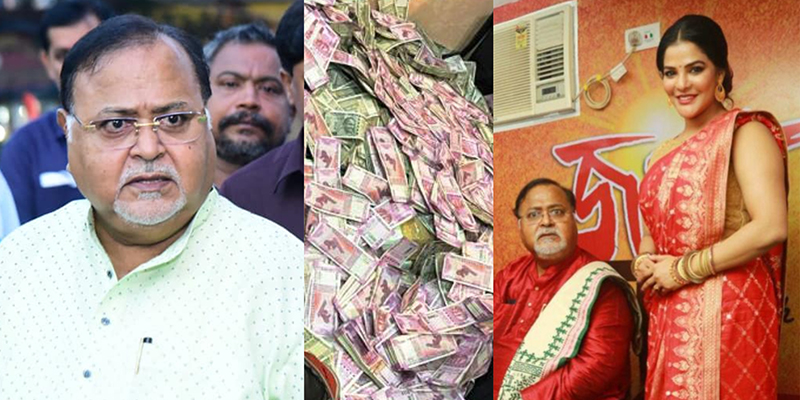 "Till now, I saw people staying up the whole night to watch the results of elections. Yesterday, I found people waiting the whole night to know the results of the money count. Begnal never passed through such a situation. How can Mamata Banerjee still talk big? I would like to state clearly that the money trail will lead to the Trinamool Congress. Partha Chatterjee and Arpita Mukherjee are just fronts," said Sinha.
Sinha felt only a small portion of the stashed funds has been recovered and apprehended that the total amount involved in the grat could surpass Rs 1000 crore.
The Enforcement Directorate (ED) is reportedly raiding another apartment of sacked-Trinamool leader Partha Chatterjee's aide, Arpita Mukherjee, Thursday after the central probe agency recovered a fresh lot of cash and valuables from her Belgharia flat in a raid that lasted 18 hours, said media reports.
The ED on Wednesday recovered another Rs 28.90 crore in cash, over 5 kg of gold, and several documents from the second apartment of Partha Chatterjee's aide.
The agency had earlier found Rs 21.90 crore in cash, Rs 56 lakh in foreign currency, and gold worth Rs 76 lakh from his aide's house.