Image Credit: Avishek Mitra/IBNS
'No jolt', says Kolkata's Naktala Udayan Durga Puja committee after ruling TMC patron Partha Chatterjee lands in jail
Kolkata/IBNS: Living up to its theme "Arambha" or "The Beginning" in the 2022 Durga Puja, Kolkata's Naktala Udayan Sangha is set to organise the four-day festival this year with a fresh start after its "honourary" member and West Bengal Minister Partha Chatterjee landed up in jail in the teacher recruitment scam that has triggered a political firestorm in the Trinamool Congress-ruled state.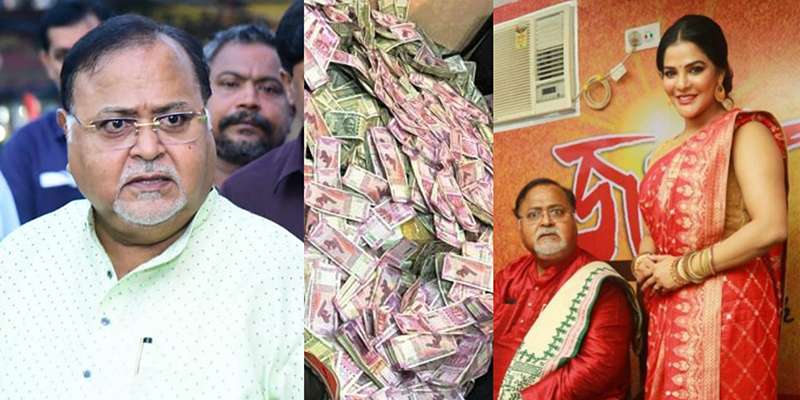 As the images and memes of its political patron with small time actress and friend Arpita Mukherjee go viral after nearly INR 21 crore was recovered by the Enforcement Directorate (ED) from the latter's apartment in a high-rise, questions are raised over the roadmap in organising this famous Durga Puja in the 36th year sans Chatterjee, whose name was tagged with this extreme south Kolkata puja club over the last few years.
When IBNS headed to the ground where the puja is organised, the skeleton of the pandal (marquee in English) was found erected with some handful of men busy with their works on a quiet afternoon.
Naktala Udayan Sangha's puja committee member Anjan Samaddar, in between catching glimpses of a local news channel running on television, refused to admit Chatterjee's arrest as a jolt to the organisers.
Rather he implied the puja has always remained bigger than the charisma of the TMC strongman, on a day West Bengal Chief Minister and party supremo Mamata Banerjee has uncharacteristically distanced herself from Chatterjee.
"This puja started in 1987. Sometimes some people are given honourary posts but that doesn't mean they are solely responsible for the pujas," Samaddar said and added, "In fact, Partha-babu was not involved with the puja in the last two years."
"The sponsors are expected to come as planned. Now let's see," adds Samaddar's co-member Anjan Das, who appeared confident about successfully organising the puja, which has earned the Heritage tag from UNESCO last year.
Naktala puja, which was inaugurated by Chief Minister Mamata Banerjee even in 2021, won two big awards in 2005 and had witnessed participation from even Left leader Kshiti Goswami and Bharatiya Janata Party (BJP) man Tathagata Roy.
As the IBNS team was heading out, a man, who is actively involved with the puja this year, hurriedly said, "No Partha-da this year... No Partha-da."
(Images by Avishek Mitra/IBNS)