Droupadi Murmu
President of India Youtube page video grab
Droupadi Murmu takes oath as President of India
New Delhi: Creating history, Droupadi Murmu took oath as the 15th President of India on Monday.
The ceremony took place in Parliament's central hall at 10.15am.
She is the first tribal community woman to assume the nation's highest constitutional post.
Murmu said: "I have been elected to the post at a time when the nation is gearing up to celebrate its 75th Independence Day."
"Reaching the highest post of the country is an achievement of every Dalit person of this country," she said.
She said it is the beauty of the democracy of the country that a girl fo the poor family can also become a President of the country.
Ahead of her scheduled swearing in ceremony as the 15th President of India, President-elect Droupadi Murmu paid homage to Father of the Nation Mahatma Gandhi at Rajghat here on Monday.
Murmu offered floral tribute to Mahatma Gandhi.
Rajya Sabha Chairman M. Venkaiah Naidu, Prime Minister Narendra Modi, Lok Sabha Speaker Om Birla, Members of the Council of Ministers, Governors, Chief Ministers, Heads of Diplomatic Missions, Members of Parliament and principal Civil and Military Officers of the government were present for the ceremony.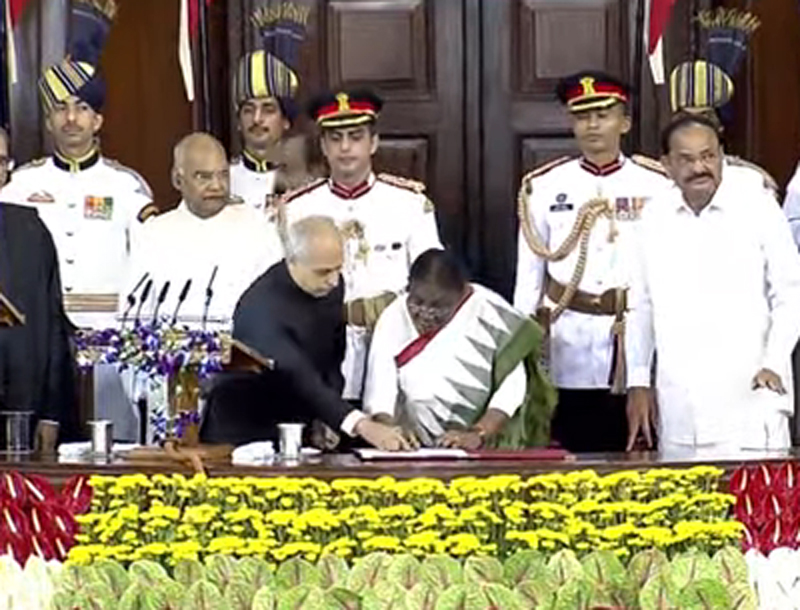 Murmu, the NDA's presidential choice, was on July 21 declared the next President securing 64 per cent votes against 36 per cent by Opposition candidate Yashwant Sinha.