Rajnath Singh
Image Credit: Avishek Mitra/IBNS
Rajnath Singh roasts Pakistan in veiled attack, says has 'lot to learn from Bangladesh'
Kolkata: In a veiled attack on Pakistan, Defence Minister Rajnath Singh Friday called it a country beleaguered with "religious extremism and intolerance" as he praised Bangladesh for embracing "modernisation, moderation and secularism".
Lauding Bangladesh, which broke away from Pakistan after a bloody war of independence in 1971, Singh said Bangladesh established its identity in the region by choosing development over religious extremism, and in the coming times the country would attain new heights of success.
The Defence Minister was speaking at the launch of INS Dunagiri, the second of Garden Reach Shipbuilders and Engineers Ltd (GRSE) three Advanced Frigate. The first ship of the series, "INS Himgiri" was launched on 14 Dec 2020, and is presently undergoing the 'outfitting' phase.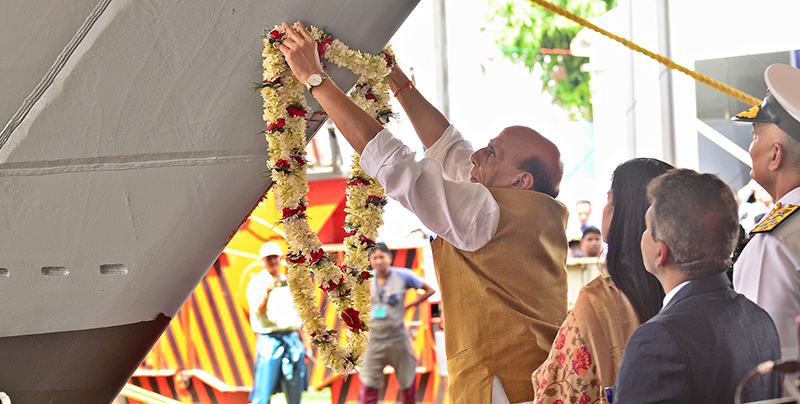 With a length of 149 metres, a displacement of over 6670 T, and a cutting-edge CODOG Propulsion system that allows for speeds of over 28 knots, P17A ships will be the most modern, cutting-edge Guided Missile Frigates in the Indian Navy's fleet. These sophisticated weapon platforms are equipped with a powerful weapon & sensor package capable of neutralising threats in all three dimensions – Air, Surface & Sub-surface.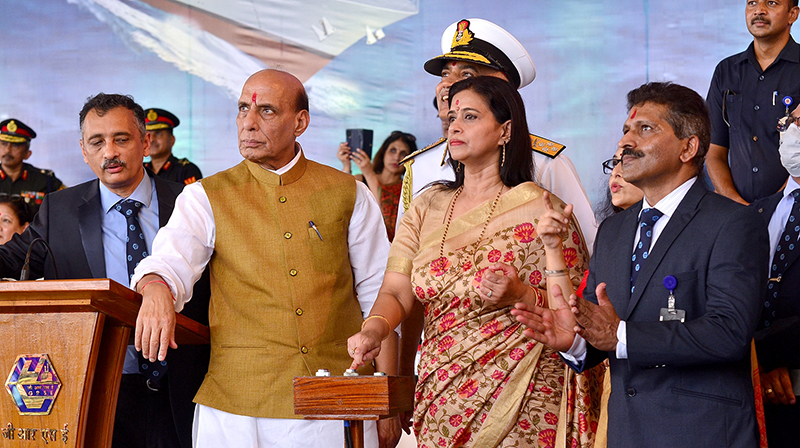 Congratulating GRSE and the Indian Navy for the launch, Singh said that this boost in India's maritime power would also increase the strength of its friends and partners.
"Indian Navy should be response ready for any event in the Indian Ocean region and at all times remain prepared as the first responder in case of contingencies whether domestic or international. And, in other regions, too, the navy should be ready to support our friends and partners," he stressed.
Singh said as part of its policy of maintaining cordial relations with all its neighbours, India sent critical medicines and essential goods to Sri Lanka, Bhutan, Nepal, Myanmar, and Bangladesh as assistance to tackle the Covid-19 pandemic.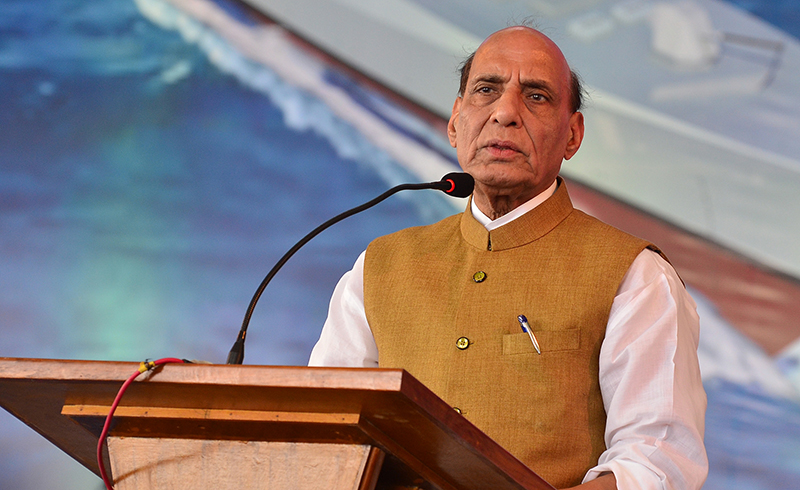 Referring to the Sri Lanka crisis, he said "despite being affected by Covid and Ukraine war we have given all possible help to our friend Sri Lanka to deal with the difficult situation".
"And, if today Bangladesh is progressing fast, as a neighbour, India is extremely happy," the Defence Minister said while assuring support to the country in the fields of health, economy, security and technology.
"The socio-economic development in Bangladesh is an example for many countries in the world," he said.
Taking an apparent dig at Pakistan, Singh said, "One of our neighbours is neck deep in religious fanaticism, is grappling with poverty, unemployment and terrorism...and at times it irritates India with its activities."
"It has a lot to learn from Bangladesh and introspect," he said, without naming Pakistan.
Singh said India has always stood with Bangladesh in times of need and would do the same in the future.
The Defence Minister further stressed on the expansion of infrastructure and increase of assets to eliminate challenges posed by new modes of unlawful activities while referring to a recent incident of drug smuggling in Spain using an underground drone.
In view of the unprecedented geopolitical events such as the takeover of Afghanistan by the Taliban in Sept 2021 and the protracted Ukraine War amid the Covid-19 pandemic, the navy and the coast guard should be well-prepared and more vigilant, he stated and added that the reorientation of training according to changing situations was the critical need of the time.
He also said a boost in remote sensing technology, satellite data and imagery, and maritime tracking was imperative to eliminate threats from civilian, military as well as illegal vessels with suspicious motives, loitering in the neighbouring seas.