Bipal Kumar Deb
Image Biplab Kumar Deb Twitter page
BJP picks Dr Manik Saha as Tripura CM  after Biplab Kumar Deb resigns
Agartala: In a dramatic turn of events in Tripura, Biplab Kumar Deb on Saturday resigned as the Chief Minister as the ruling Bharatiya Janata Party appointed Dr Manik Saha, who is the incumbent Party President in the northeastern state, to take over the mantle.
Deb tweeted: "Congratulations and best wishes to @DrManikSaha2ji on being elected as the legislature party leader. I believe under PM Shri
@narendramodi Ji's vision and leadership Tripura will prosper."
Saha is the Tripura state president of BJP.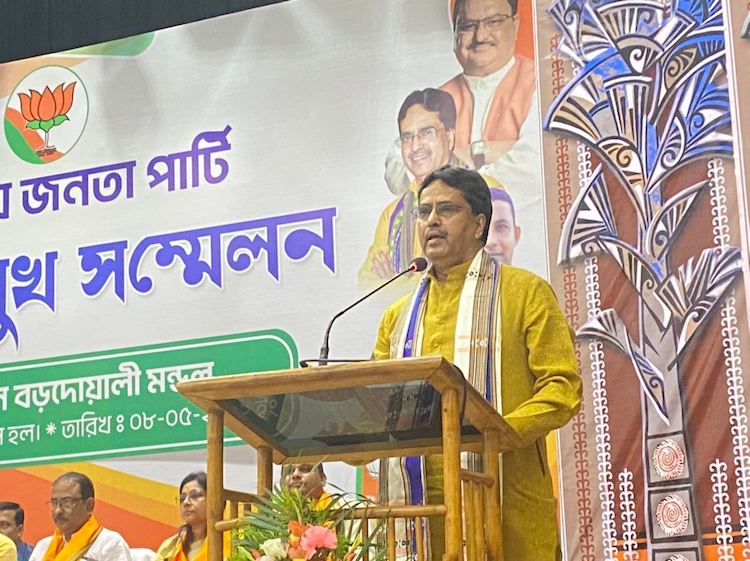 He (above) was elected as a Rajya Sabha MP recently.
After resigning from the post, Deb tweeted: "I thank Central leadership & people of Tripura for giving me the responsibility to serve Tripura as a Chief Minister. I have wholeheartedly served my State & will always work for the betterment of my State. Tripura shall definitely march ahead in the path of devt. Jai Hind."
He quit from his position nearly eight months before the assembly polls in the state.
Deb, accompanied by Union Minister for Environment, Forest and Climate Change Bhupender Yadav, went to the Raj Bhavan here and handed over his resignation letter to Governor Satyadeo Narain Arya.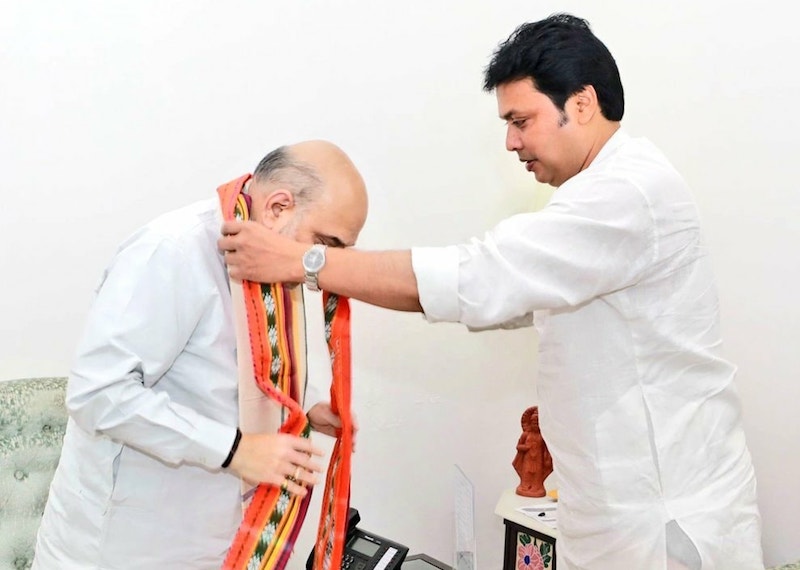 "I hereby tender my resignation from the post of Chief Minister, Tripura, with effect from 14.5.2022," Deb said in the one-line resignation letter.
Later, Deb said that he put in his papers at the instruction of the party leadership.
"My party has asked me to resign," he said.
Deb took oath in Tripura in 2018 after the Bharatiya Janata Party registered a thumping victory in the assembly polls ending the 25-year-long rule of the Left.
Biplab Kumar Deb had contested in the Tripura assembly elections for the first time that year and became an MLA from Banamalipur assembly seat at Agartala with a margin of 9,549 votes and was chosen to lead the state.
Meanwhile, the Trinamool Congress, which is aiming to get a foothold in Tripura, reacted sharply to the development. In a tweet it said: "Goodbye & good riddance to the CM who failed thousands of people."
Goodbye & good riddance to the CM who failed thousands of people in #Tripura!

Enough damage done.
So much so that even the top bosses at @BJP4India are fed up of his INCOMPETENCE.

Folks at BJP seem very rattled by what @AITCofficial achieved in the state. CHANGE IS INEVITABLE. https://t.co/KtXY5WP2ae

— All India Trinamool Congress (@AITCofficial) May 14, 2022