Karnataka Violence
46 arrested, 12 cops injured in Karnataka violence over social media post
Hubli: As many as 46 people have been arrested after a huge mob stormed the Old Hubli Police Station in Karnataka's Dharwad district, and pelted stones injuring 12 policemen to protest against a social media post, media reports said.
According to news agency ANI, the irate mob reached the Old Hubli Police Station demanding the arrest of the individual who allegedly made a provocative post on social media platform.
Section 144 was imposed on the entire city following the incident.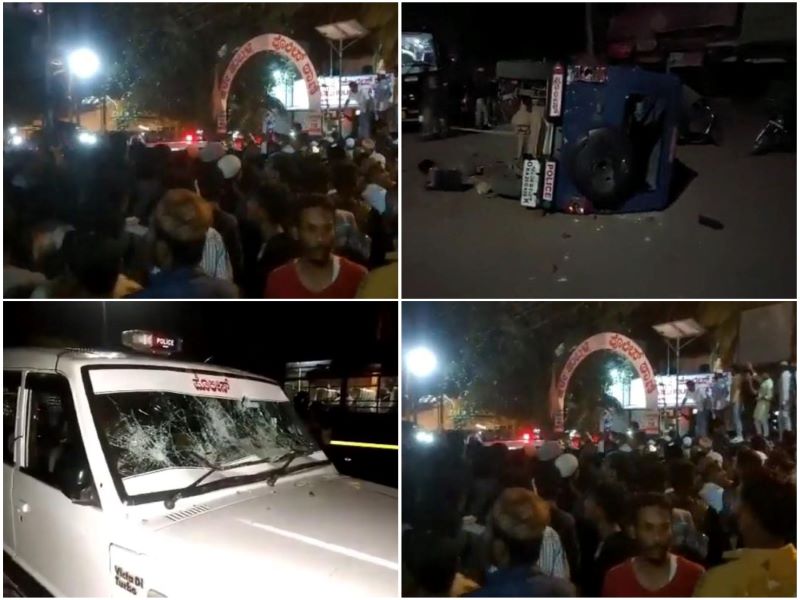 Police Commissioner Labhu Ram said six cases have been registered and investigations are underway to arrest those involved in the attack.
Some police vehicles were also vandalized by the mob, officials said.
"Six cases have been registered against those involved in the violence and the situation is under control now," said Labhu Ram, Police Commissioner, Hubli-Dharwad was quoted as saying by NDTV.
According to NDTV, Ram said the social media post was made targeting the Muslim community, which was objected to by the community and lodged a police complaint.
The man was arrested and a case was registered against him but the community was not happy with the action and a large number of people gathered outside the police station around midnight and went on a rampage, Ram said.
Karnataka's Chief Minister Basavaraj Bommai said on Sunday that the attack is most likely an organised attack, adding that a large crowd had gathered.
State's home minister state Araga Dnyanendra said the attack might have been pre-planned.
He said at least one thousand people gathered to attack the police station.
"I want to tell very clearly that whoever takes law into their hands, our police will not hesitate from taking stringent action against them (rioters). Whoever they may be... Hence, whoever is behind it and instigated the mob will be punished. I want to tell the organisations behind such incidents, not to break the law. Karnataka state will not tolerate it," news agency PTI quoted Bommai as saying.
Home Minister Araga Jnanendra said a police officer is in a very serious state.
"A police officer is in a serious condition. Some people involved in the attack have been arrested. It was a pre-planned attack," Jnanendra said.